July 2020 Northern Burma Clash Account
24 September 2020
Kachin and Northern Shan States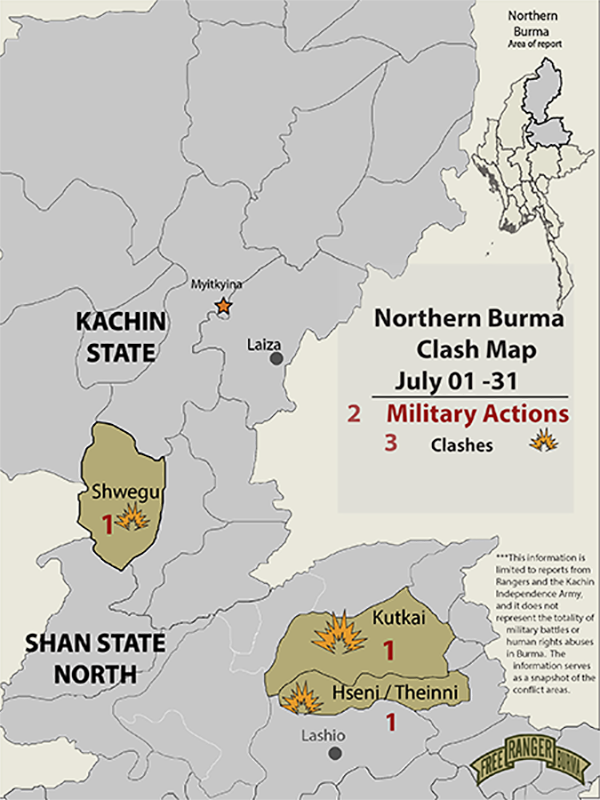 In July, a landslide caused a large number of worker deaths at a mining operation in Hpakant Township while sporadic fighting continued between the Kachin Independence Army (KIA) and the Burma Army in Shwegu, Kutkai, and Theinni townships.
Clash Reports
On July 9 at 0800 a group of KIA 5th Battalion soldiers were planting a landmine when they engaged Burma Army soldiers from Infantry Battalion (IB) 237 and Light Infantry Battalion (LIB) 389 approaching them, resulting in the death of one Burma Army soldier. The engagement happened along Lamai Yang (LG 063 889) in Shwegu Township.
On July 10 at 2100, fighting broke out between TNLA soldiers from 101st Battalion, 1st Brigade, and Burma Army soldiers from Light Infantry Division (LID) 99 at the head of Nampang Pa Village between Ngaw Nga and Mungyu, in Kutkai Township.
On July 19 at 1140, an estimated 60 Burma Army soldiers from MOC (10) raided a KIA Post at Kye Hkang Bum (MF 244 700), in Theinni Township.
Human Rights Abuses
On July 2 between 1100-1500, Burma Army soldiers carried out extensive checks on civilians and their supplies at Nam Tin checkpoint, in Hpakant Township.
On July 8, an estimated 20 Burma Army soldiers from IB 142 came to Ja Ing Yang, a gold mining area, and extorted three million kyats in Waingmaw Township.
On July 30, the combined forces of Burma Army IB 238 and local Pyitutsit (PTT) confiscated mining machines and backhoes that were exploring in the vicinity of Jahtu Zup Ja Maw (Jahtu Zup mining area), in Danai Township.
Miscellaneous Reporting
On July 2 at 0800, heavy rains triggered a jade mine collapse in Gwi Hka, Lagu Jawng (controlled by the Myanmar Tagaung Company and 1.1.1 Company), Hpakant Township. The collapse killed at least 172 workers and injured 54 others, but there may be more missing that are buried under the landslide.
On July 3 several entities donated a number of funds to the families of the victims. These included:
Kachin State government:  50,000,000 kyats
Hpakant Jewelry Company: 50,000,000 kyats
Burma Army representatives: 50,000,000 kyats, 100 bags of rice, 230 vices of oil, 80 vises of salt, and 300 vases of lentils
KNDPC Company: 10,000,000 kyats
Other sources: 375,680,000 kyats
On July 10 between 0800-1130, ten Burma Army soldiers posted at No. 28 Police Station drove in two 4WD vehicles to several locations in Hpakant Township in order to scatter illegal jade scavengers. They posted notices prohibiting illegal jade mining that could lead to possible landslides. Locations included Kate Maw, Ngu Pyin Maw, Sanghka Maw, Hpawa Maw and Mawsiza Maw.
On July 15 at 1030, worker Hla Maung (male, 23) fell into a drain and died in a mining block belonging to Kyaut Tsing Thit Yoit (Jade Leaf) Company, at Nam Maw (Hpakant Township).
On July 17 at 1030, a mixed group of jade entrepreneurs from Mandalay donated 100,000 kyats to each family of the miners killed in the July 2nd landslide in Gwi Hka, Lagu Jawng (Hpakant Township).
On July 20 at 1500, a landslide at an old jade mine above Met Lin Jawng in Hpakant Township killed a miner, Maung Man Shwe (age 25). His body has not been recovered yet. The mine belonged to the Yadana Tawngdan Company.
On July 21, 16 armed police led by a deputy police officer from No. 30 Special Police Station reinforced Gwihka Base (Hpakant Township) where Burma Army soldiers from LIB 11 are positioned. This was done in order to strengthen security for a mining company.
On July 28 at 1430, two houses in Dumbung Village (Mogoung Township) caught fire while the families were away. The fire was caused by a faulty wire circuit which was attached to a solar panel in a property belonging to Mr. Kareng Nai Shawng.
Air Activity
On July 2 at 1111, the commander of Northern Command, Major General Tay Za Kyaw, took a contingent of soldiers on a transport helicopter and landed at Hpakant Division Base. Accompanied by departmental staff, Commander Maj. Gen. Tay Zar Kyaw along with 15 cars (including three of the 4WD variety) escorted 25 armed police forces to inspect the site and went back at 1430. At 1530, they returned to Myitkyina.
On July 22 between 1010-1045, a helicopter and a jet flew over Myitkyina, Nhkai Bum and Mali Hka, in Myitkyina Township.