Burma Army Soldiers Rape Teenager in Kachin State as Attacks Continue
29 December 2018
Kachin State and Northern Shan State, Burma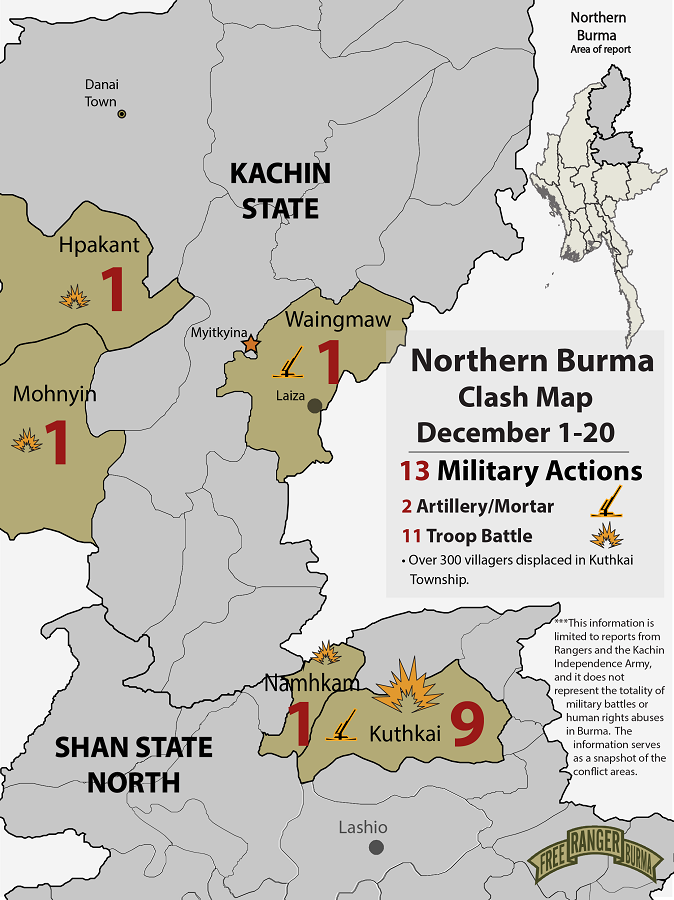 Amidst the holiday season, ongoing war that spans northern Shan and Kachin states has destabilized ethnic minority lives and territory in northern Burma.
Between Dec. 1-20, incidents of rape against young women occurred, at least six civilians were wounded by Burma Army artillery and gunfire, and over 300 villagers were displaced, according to reports by the Kachin Independence Army.
Battles between the Burma Army and ethnic armed groups (EAOs) occurred in central and western Kuthkai Township, around the towns of Kuthkai, Tamoenye, and Namhpakka, close to the border with Namhhkan Township. The EAOs are comprised of ethnic soldiers resistant to Burma Army incursions and control of ethnic lands and lives. 
Burma Army Soldiers Rape Teenager
At 1930 on Dec. 9, two Burma Army soldiers raped 17-year-old Dashi Hkawn Tsin, by the Hka Pa Stream between Dawhpum Yang and Kagam in Bhamo Township. She was later admitted to the Bhamo Hospital in critical condition.
In Myitkyina Township on the 10th, an unknown group raped and killed a 23-year-old primary school teacher, Mya Tazin, on the road that led to her school.
Civilians Wounded and Displaced
At 0800 on Dec. 7, a mortar shell fired by Burma Army Infantry Battalion (IB) 241 landed in a civilian's yard in Kuthkai Town but failed to detonate. Burma Army soldiers retrieved the unexploded ordnance several hours later.  The unit is under Military Operations Command (MOC) 16.
At 1500 the Ta'ang National Liberation Army (TNLA) attacked IBs 241 and 242 (of MOC 16) at their post near Kuthkai town.
The TNLA attacked another Burma Army outpost at 2100, this time at Tamoenye. The Burma Army responded with indiscriminate small arms fire into the surrounding area, severely wounding four civilians who were rushed to the hospital in Tamoenye.
Fighting on Dec. 10 between Burma Army Light Infantry Division (LID) 77 and combined TNLA/Shan State Progressive Party (SSPP) forces displaced 337 people from Huna Village and Nalung Village. The villagers took refuge in a Buddhist monastery in Na Mahkaw Village.
On Dec. 12 freelance jade miners fell victim to overly aggressive Burmese security forces. At 1640 Burma Army soldiers, operating as security for the Ngwe Byaing Phyu Jade Company, fired indiscriminately toward the miners, wounding two of them. Two freelance miners died in similar incidents last month.
Battle Around Namhpakka
On Dec. 6, 200 soldiers from Burma Army IB 218 of LID 11 and IB 290 clashed with TNLA 777 battalion and Myanmar National Democratic Alliance Army (MNDAA) 22 Battalion troops at Hu Kan Bum (hill), about 15 km east of Namhpakka in Kuthkai Township.
The following day the same forces clashed when the Burma Army attacked a joint TNLA and MNDAA outpost in Nam Um Village. Burma Army IB 123 based in Namhpakka provided artillery support for the attacking Burma Army units.
Military Actions in Kachin State
On Dec. 3, 80 soldiers from Burma Army LIB 111 stationed at Lawa Pa in Hpakant Township attacked Kachin Independence Army (KIA) soldiers at Gwi Htun Bum. LIB 111 initiated the attack at 1300 with an artillery barrage and then followed up with a ground assault that lasted until 1600.
In Waingmaw Township on Dec. 15, Burma Army soldiers stationed in Awng Ja fired 16 60mm mortars and small arms fire toward Lungkhrung Jung and Maisak Pa villages, less than 10 kilometers from the Kachin Independence Organization capitol in Laiza.
A major battle took place in Mohnyin Township on Dec. 15 involving a force of 80 soldiers from Burma Army LIB 120 and Shanni Pyitutsit (P.T.T), which is a militia operating under the control of the Burma Army. At 0900, the force attacked the KIA 28th Battalion headquarters at Maisak Kawng, above Tawng Pyin. The battle lasted until 1400 when the KIA withdrew with two wounded.
Tax Altercation Ends Violently
On Dec. 12, soldiers from the Restoration Council Shan State/Shan State Army-South (RCSS/SSA-S) were collecting taxes from Taw Nawk Village in Kuthkai Township. The villagers began to resist, and a fight ensued in which two RCSS/SSA-S soldiers ended up with wounds inflicted by swords, five villagers were killed and two wounded.
Tax Checkpoint Attacked in Namhkan
On Dec. 2 an unknown armed group attacked and raided a P.T.T. tax collection checkpoint in Namkhan Township, leaving three dead and three others wounded.
Police Forcefully Dismantle Orphanage
On Dec. 17 at 1300, in Shadau Village, Myitkyina, 30 policemen and 50 workers arrived to a boarding house for orphans, intending to dismantle the house. The local Catholic priest and nun, along with local villagers, resisted and the altercation ended violently as a fight ensued between the villagers and police.