Northern Burma Update: Burma Army Divides Kachin
January 18, 2017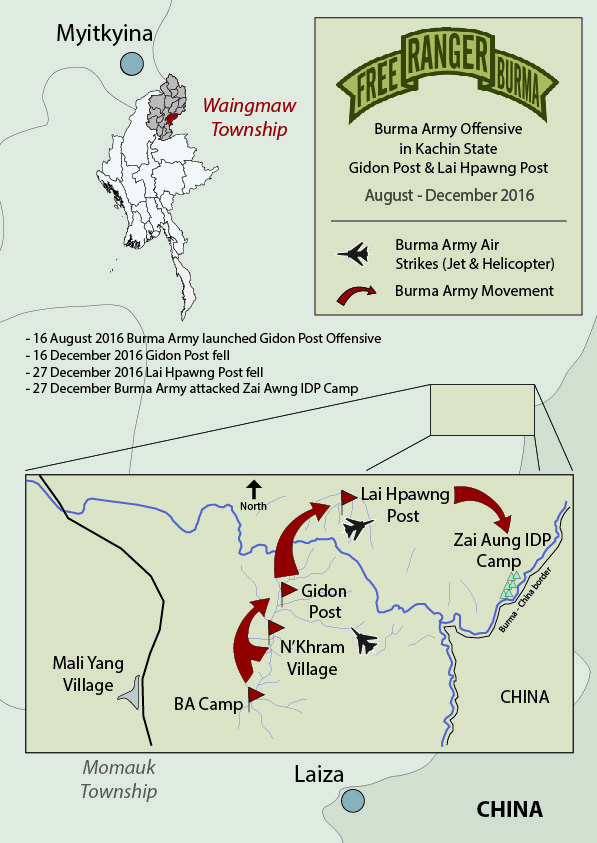 In August 2016 the Burma Army began a major escalation of operations in northern Burma, Kachin State, with daily attacks against Gidon and Lai Hpawng posts in Waingmaw Township.  The purpose of this offensive is to cut off crucial Kachin Independence Organization (KIO – a political body representing the Kachin people) access to IDP camps north of the road and divide southern and northern Kachin State.  These attacks occurred despite Burma's supposed transition to a civilian-led democratic government that claimed it would prioritize the peace process once again. The Burma Army employed large numbers of ground troops, mortars, artillery, helicopter and jet strikes in these attacks and on the 16th of December, exactly four months after the attack began, Gidon Post fell to Burma Army forces.
The full force of Burma Army mortar and artillery power, coupled with repeated ground assaults from the Burma Army's position at N'Khram Village and including troops from other positions, was then focused on the Lai Hpwang Post, which fell within the month.  The value of these posts in the defense of the people became immediately evident following their capture, when the Burma Army, on the same day, turned its attack on the Zai Awng IDP camp, firing mortars on the more than 1000 men, women and children living at the camp and forcing them to flee.
The capture of Gidon and Lai Hpawng posts gives the Burma Army a strategic advantage against Kachin Independence Army (KIA – the KIO's defense force) north of Laiza by effectively cutting Kachin State in two.  Laiza, a major city in Kachin State, is currently one of the few free cities in Kachin State that is unoccupied by Burma Army forces.  The Burma Army's indiscriminate targeting of civilians and attacks against IDPs, continued hostility and unwillingness to cease fire against ethnic resistance forces, and offensives which move the Burma Army closer to Laiza are creating a growing humanitarian crisis that undermines all efforts for the peace process in Burma.
An update from Wunpawng Ninghtoi (WPN – translates as "Light For The People"), a Kachin humanitarian aid organization providing critical assistance to people displaced by war in Kachin State.
"Intensive fighting between the Myanmar Government Armed Forces (Tatmadaw) and the Kachin Independence Army (KIA) continues in Kachin State. The recent fighting in Laihpawng area has resulted in the relocation of IDPs from Zai Awng/Mugga Zup camp to Lungbyen area and on the road between Hkau Shau and Mungga Zup.
On 10 January 2017, fierce battles involving air strikes and heavy artillery took place around KIA's 3rd Battalion position in Nagyang area – close to Zai Awng/Mugga Zup and Hkau Shau camps. This has prompted some 4,000 IDPs and local civilians from the areas, most of whom are women, children and elderly people, to cross the border and flee to China. Due to security concerns, the IDPs started crossing the border around 4 am this morning.
The situation has been extremely chaotic and precarious. The IDPs are deeply shaken by the experience, and having been forced to relocate several times, they are completely weary. Some elderly IDPs with health problems, such as high blood pressure, are particularly bearing the brunt of the hardship. As they had to flee in urgency, they were not able to bring much with them, including medicines and food. As of the release time of this statement, the IDPs have not been able to eat.
The security of IDPs in Magayang camp has also been compromised, and hence, they are preparing to flee elsewhere.
The Chinese security forces were checking/processing the IDPs who crossed into China. It has been reported that they have pushed the IDPs back into Myanmar. The primary and urgent concerns at the moment are of safety and security of the IDPs."
 
August – December 2016 Clash Account
Clashes – 505
Burma Army Jet (Attack) – 106
Burma Army Helo (Attack) – 41
Burma Army Jet (Recon) – 231
Burma Army Helo (Recon) – 83
Burma Army Drone (Recon) – 16
Burma Army actions against civilians:
Civilians Killed – 55
Civilians Wounded – 27
Civilians Tortured – 27
Civilians Extorted – 7
Civilians Robbed – 4
Civilians Forced into Labor – 8
Civilians Property Destroyed – 13 Houses, 2 Rice Patties, 2 Barn, 1 Cattle
Civilians Detained (without reason) / Abduction – 41
Displacement: 4000+ IDPs
***The figures above are limited to reports from FBR teams and do not represent the totality of military battles, supply, or human rights abuses perpetrated by the Burma Army.
Burma Army Units Involved in Gidon and LaiHpawng Offensives
Bureau of Special Operations 2
Military Operations Command (MOC) 3
Infantry Battalions (IB) 40, 276, 121 and Light Infantry Battalions (LIB) 381, 382, 383, 384, 385, 386, and 388
Artillery Battalions No. 364, 366, 371, 408, 901, 905, and 906
Gidon Post Falls
On 16 December between 0518-1000 on 16 December 2016 the Burma Army fired more than 700 mortar and artillery rounds from Kagam, Nhkram and Sama road junction toward Gidon Post, Waingmaw Township.
At 0845 two jets dropped four bombs on Gidon Post.
At 1016 one jet made two bombing runs on Gidon Post.
At 1138 one jet made two bombing runs and two helicopters made three strafing runs on Gidon Post.
Between 1330-1700 Burma Army conducted three troop raids from three sides on Gidon Post. Kachin Independence Army soldiers decamped from the post following the third Burma Army raid.
Lai Hpawng Post Falls
On 21 December between 0855-1700 the Burma Army fired 250 mortar and artillery rounds from Dabak, Point-1103 and Dingga toward Lai Hpawng Post.
At 0900 two jets struck Lai Hpawng Post.
At 0920 four jets struck.
At 1000 six jets struck.
At 1020 two jets struck.
At 1230 two helicopters struck.
At 1315 two helicopters struck.
At 1325 two helicopters struck.
At 1445 two jets struck.
At 1515 two jets struck.
Between 1415-1700 Burma Army troops assaulted Lai Hpawng Post with ground forces and overran the post.
On 27 December between 0740-1700 the Burma Army fired over 300 mortar and artillery rounds from Dabak, Point-1103 towards Lai Hpawng Post.
At 0945 two jets struck Law Hkum Post and Lai Hpawng Post.
At 1155 two jets bombarded Law Hkum Post and Lai Hpawng Post.
At 1420 the Burma Army combined forces from IB 38, 252, 260 and LIB 16 raided Lai Hpawng Post and overran it.
IDP Camp Attacked
On 27 December the Burma Army fired seven mortar rounds from Point-1103 toward Zai Awng IDP Camp, Waingmaw Township.