FBR REPORT: Shan Relief Team Training
Shan State, Burma
May, 2011
---
Dear Friends,
On May 3rd, 2011 four new Shan relief teams completed their training in southern Shan State, Burma. The training, conducted by Karen, Karenni, Kachin and Shan Free Burma Ranger trainers, covered subjects including reporting, medical care, land navigation, Global Positioning System (GPS), video and digital still cameras, leadership and the Good Life Club program for women and children, along with other subjects used by relief teams while in the field serving their people.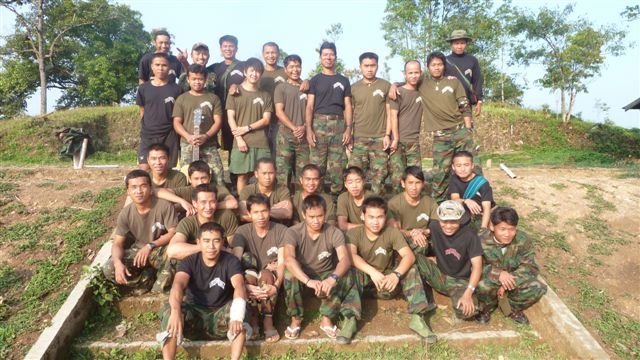 FBR Shan Team Training
In this part of Shan State, people continue to suffer from the oppression and misrule of Burma's dictators. Forced labor and extortion are commonplace as the Burma Army and its proxies have almost complete control. People have little access to medical facilities and usually not enough to pay for what is available. Drug dependence and the associated problems are also frequently seen as the Burma Army has continued to use the production of narcotics to fuel its anti-insurgency campaign, and many villagers have found it difficult to survive growing anything else. As we interviewed a family that was forced to leave their home they told us how the Burma Army forced them to work on military installations leaving the family no time to grow any crops for themselves.
The father told how he was making charcoal when the Burma Army came upon him and told him to give them tax for the charcoal. The father told them that he had not sold any of the charcoal yet and did not have any money. The soldiers beat him and cracked his head open. This happened to him on three different occasions.
As a part of their training the new Shan teams went into a nearby village to conduct a Good Life Program. They treated 115 villagers, interviewed locals, played games and sang songs with the children.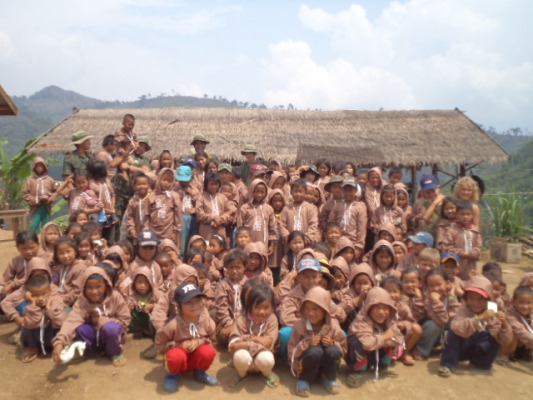 Good Life Club with Shan children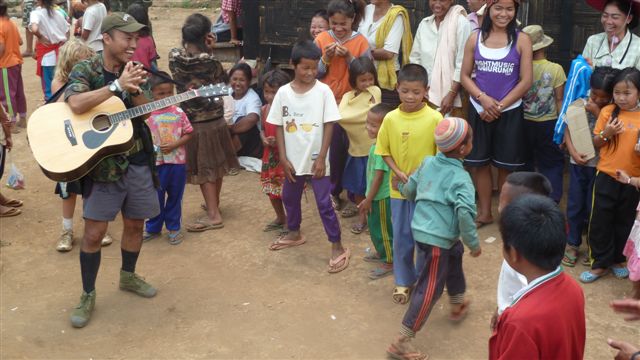 FBR team member leading games during GLC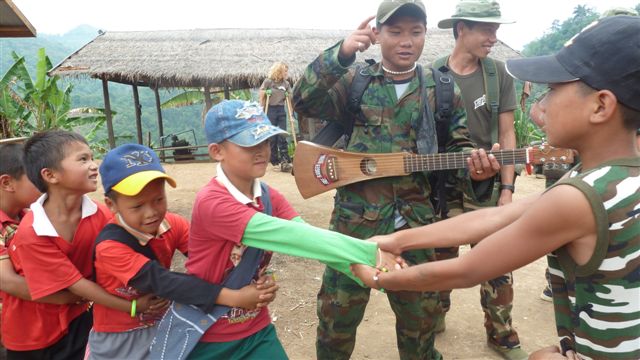 Tug of war during a GLC
We thank all of you who continue to make this work possible, and we ask that you continue to stand with the people of Burma and the courageous young men and women who have committed their lives to serving those in need. We also want to thank Partners Relief and Development for their support of the Good Life Club (GLC) program to the Shan people.
Thank you and God bless you,
The Free Burma Rangers
The training courses included:
Ethnic Unity
Leadership Principles
Map Reading and Drawing
Compass Reading
Land Navigation
GPS (Global Positioning System) use
Landmine Removal
Swimming and Lifesaving
Solar Power and Battery Management
Human Rights Violations Recording and Reporting
Operation Order Writing
SALUTE reporting
General Reporting
Counseling
Medical Training
Poncho Raft
Rappelling
One Field Training Exercise
Physical Training
Rope Bridge Building
Good Life Club Training
Icom Radio
Interview
Hand and Arm Signals
Media
Law of War
Security
Video and Photography