FBR REPORT: Two Karen Men Killed by Burma Army Land Mines
Karen State, Burma
24 November, 2005
 

| | | | |
| --- | --- | --- | --- |
|   | Pictures of two Karen landmine victims | |   |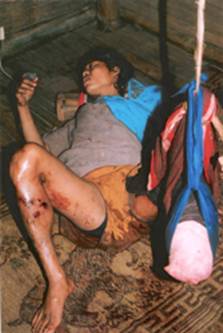 31/8/05 Saw Per Kaw hit by a Burma Army land mine.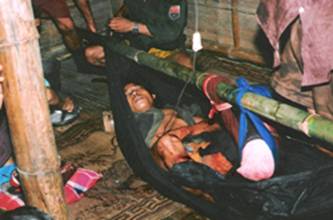 31/8/05 Saw Per Kaw getting treatment at a clinic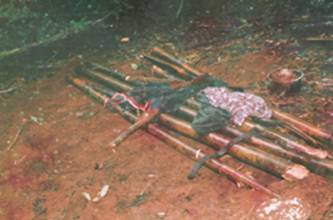 1/9/05 The place where Saw Thaw Kaw Htoo was hit by a land mine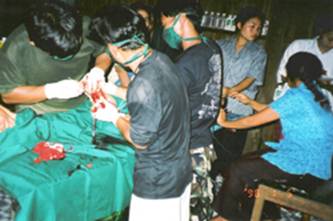 1/9/05 Medics work to try save Saw Thaw Kaw Htoo after he was hit by a land mine
Two Karen young men were killed after stepping on landmines on 31st August 2005 following an Burma Army operation in their area.
On 31 August 2005 at 1:00 p.m., a Mau Pu villager named Saw Per Kaw, age 24, stepped on one of the Burma Army land mines and lost his left foot. Saw Per Kaw died on 4 September 2005 at 2:00 p.m.
On the same day, 31 August 2005, at 4:00p.m., Saw Thaw Kaw Htoo, age 28, stepped on another Burma Army land mine, lost both of his feet and died immediately. He left behind his wife, who is seven months pregnant.
Burma Army LIB 590 and IB 60 had previously launched an operation against villages of displaced Karen in the Hti Hkgo, Ler Klah and Mau Pu areas of Nyaunglebin District , Western Karen State.
'This is a tragic loss of two young men. Our prayers are with their families. The Burma Army assault directly resulted in the displacement of villagers, the destruction of property and the laying of landmines which killed these two men.' A Free Burma Rangers spokesman said.
---
FBR Relief Mission Report 25 August – 30 August 2005
ENDS
 

 
Notes to Editor
 
 
 

 

Higher resolution versions of the photographs in this report are available by request to info@freeburmarnagers.org