August 2020 Northern Burma Clash Account
6 October 2020
Kachin and Northern Shan States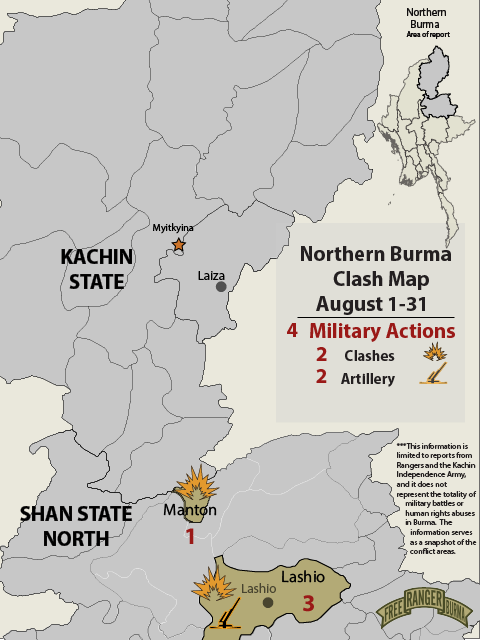 In August, reported fighting was sporadic between the Burma Army and various ethnic armed organizations (EAOs). Aug. 29 saw the largest reported engagements between company-sized elements of the Burma Army and the Myanmar National Democratic Allians Army (MNDAA) and Ta'ang National Liberation Army (TNLA) that involved artillery fire support assets and air power.
On Aug. 22 at 0830, Restoration Council of Shan State/Shan State Army-South (RCSS/SSA-S) soldiers stationed at Chyawng Tit fired a mortar four times at TNLA soldiers operating in the vicinity of Chyawng Hawng in Manton Township.
On Aug. 29 between 0730-0900, there was fighting between Burma Army soldiers of an unknown unit (estimated strength of 120) coming from Man Kang and approximately 80 MNDAA soldiers from Unit 204 in the vicinity of Bren Bum (MF 340 385), in Lashio Township. Mortars, artillery, and helicopters were used in the attack by the Burma Army.
On Aug. 29 between 1000-1300, fighting broke out between approximately 100 Burma Army soldiers from Infantry Battalion (IB) 79 and an estimated 80 TNLA soldiers in the vicinity of Bang Nawng (MF 360 456) in Lashio Township.
Non-Combat Related Incidents
On Aug. 24 at 1410 Lamai Bawk Htoi (male, 19), son of Mr. Lamai Brang Nu (mayor of Jahtu Zup Village), was beaten into a coma by Shanni Pyitutsit (PTTs) for passing through their Jahtu Zup Shanni checkpoint without paying the checkpoint fee. The victim was sent to Myitkyina Hospital due to the severity of the injury.
On Aug. 31, a retired Burma Army soldier, Sgt. Kyaw Kyaw (aged 52) allegedly raped an 8-year-old girl from Namhpu Yang Village. The accused was caught by the villagers and handed over to Washawng Adiministration Office, in Waingmaw Township.
On Aug. 3 at 2230 hrs, two men (Yan Naing Soe, 20, and Tum Shin Lwi, 23) fell from a height of 300 feet while scavenging for jade and died in a jade mine belonging to Myanmar Thura Company, Sabaw Maw, in Hpakant Township.
On Aug. 8 at 1320, two people were injured when a landslide hit and swept away two houses at Hkajan Block 1, Gwihka Village, in Hpakant Township. The two injured were sent to the Hpakant hospital.
On Aug. 18, flood waters from the Uru River flooded 60 houses in Hpakant Myoma Block, 60 houses in Ngapyaw Taw Block, 46 houses in Aye Mya Tar Ya Block, 50 houses in Mashi Kahtawng Block and 319 houses in Lawnghkang Village, in Hpakant Township.
On Aug. 25, Burma Army soldiers from IB 141 conducted battalion military exercises in the vicinity of Pindawng Training Unit, in Mogoung Township.
On Aug. 30 at 1048, a landcruiser carrying four people – Zau Tu (male, 37), Jangma La (male, 39), Seng La Awng (male, 28) and Seng Pan (female, 28) – fell into the Uru River while being transported on a ferry boat crossing from Seng Tawng to Hpa Pyin Village in Hpakant Township. Seng Pan died from unstated causes relating to the accident.