Burma Army Kills Forest Worker and Reinforces Mu Traw District
13 March 2020
Karen State, Burma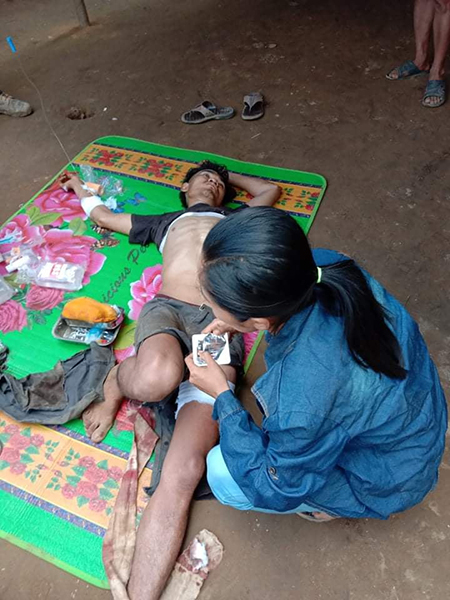 Reports about civil servants killed, villages bombarded by mortars, troop reinforcements, and contested road development are common news from Karen State. All these issues occurred again within the last six weeks.
Burma Army Soldiers Kill Karen Forest Worker 
Burma Army soldiers killed a Mu Traw District forest worker near Mae Wai and the Kler Mu Thoo Pleet forest area in Dwelo Township, Karen State, on March 5. Saw Maw Aye Than was shot by Burma Army Light Infantry Battalion (LIB) 338 as he and two other forest workers rode together on a motorbike nearby the Mae Wai LIB 338 post.  The Burma Army fired from 200 meters away with clear visibility from the camp to the road. One bullet passed through Saw Maw's abdomen from left to right and three bullets struck his left thigh. The forest workers fled and were able to find medical treatment, but Saw Maw died while being transported to a hospital.
The Burma Army soldiers based in Mae Wai live amongst the village and civilians, outside of the Burma Army camps. The KNU previously requested that the seven Burma Army camps in the area be closed. None of the camps have yet been disbanded.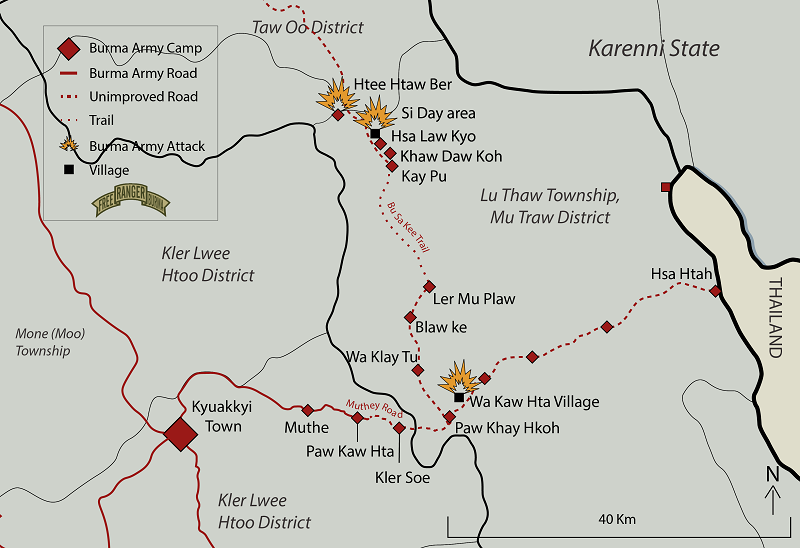 Troop Reinforcement and Contested Routes
Conflict is rife along the Muthe road and Busakee trail areas of Mu Traw District since the end of January. The Burma Army has moved large quantities of troop supplies, reinforced the Muthe road and Busakee axis near Burma Army Paw Khay Hkoh base to seven battalions, and delivered construction equipment along the contested routes. They have also shelled villages with countless mortars and villagers have been on the run.
On Feb. 5, Burma Army units fired 81mm and 60mm mortars, machine guns, and small-arms rifles into Ta Ko Der and Wa Kaw Hta villages along the Muthe road, central Lu Thaw Township, displacing 367 people from 51 families. Villagers lost count of how many shells landed around them after days of incoming fire.
Ta Ko Der and Wa Kaw Hta village elders requested medicine from Rangers for ill villagers as they are without medicine or clinics.
This time of year, the villagers usually prepare their fields for planting but they have been unable to start farming because of the conflict. The villagers will not have food for this year if they cannot return to prepare their land.
36 students and three teachers fled Wa Kaw Hta Village. Their final exam is coming soon, so they are studying in the jungle using a driftwood log as a chalk board.
Approximately 30 kilometers north in January and February, the Burma Army battled Karen National Liberation Army (KNLA) forces who attempted to prevent the Burma Army from moving a bulldozer from Ker Ter Ti Village north of the Busakee route.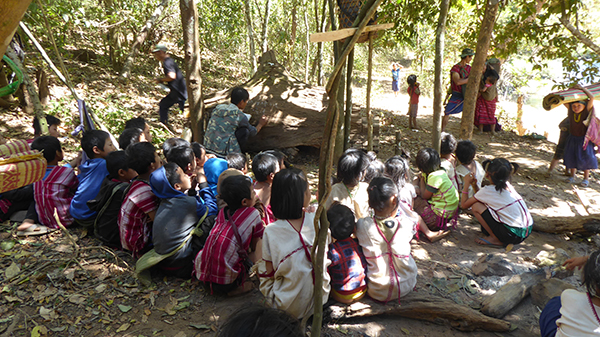 Burma Army Movements – Muthe Road Area in Central Lu Thaw Township
The Burma Army and KNU have agreed that the Burma Army can send vehicles to Paw Khay Hkoh along the single track, dirt, Muthe road. The Burma Army fires mortars if the KNLA attempt to stop Burma Army soldiers from construction on the road. When Burma Army supplies travel along the road the soldiers would previously stay within 50 meters of the road, a distance agreed upon by the Burma Army and KNLA. Now the soldiers patrol off the road beyond the limit.
The Burma Army has reinforced their troops to seven battalions, approximately 700 troops. The KNLA think the Burma Army is planning to push the road past Paw Khay Hkoh Camp.
The Burma Army resupplied Paw Khay Hkoh Camp with 14 military trucks laden with 420 sacks of rice on Jan. 28.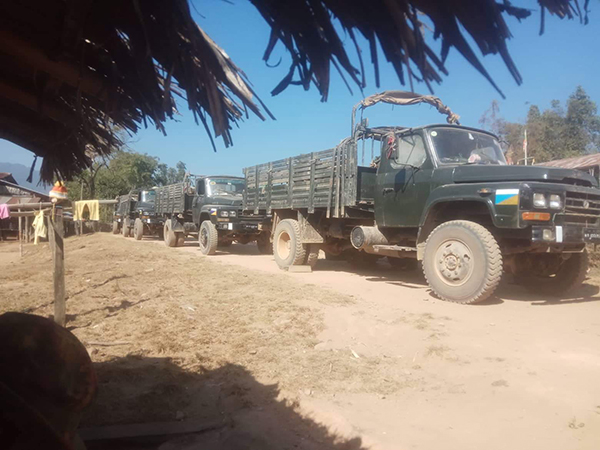 Burma Army Movements – Busakee Trail Area in Northern Lu Thaw
Many battles occurred between Burma Army and KNLA soldiers in northern Mu Traw (Hpapun) District, Lu Thaw Township, near the border with Kler Lwee Htoo (Nyaunglebin) District throughout January and February. The Burma Army lost the Busakee Road from Kay Pu to Ler Mu Plah before the national ceasefire. The Burma Army has tried to push developing the road ever since.
On March 1, Burma Army troops staying in Wa Klay Tu went down to Doo Htaw, and then Htee Ma Nu Plaw to Htaw Mu Pler Mae at 1700, where they shot automatic weapons into nearby rice fields. The Burma Army soldiers slept by the car road that night.
The Burma Army sent supplies from Yo Doh Koh to Khaw Daw Koh six times carried by 846 troops. More supplies were carried from Khaw Daw Koh to Hsa Law Kyo 14 times by 1,358 troops.
During the resupply between Feb. 27 and March 1, the Burma Army slept in Khaw Daw Koh, Hsa Law Kyo, and Ka Mee Hta areas, and not in the Burma Army posts as agreed in Kyaukkyi during the Jan. 10 meeting between the KNU and Burma Army.
On Feb. 26. Burma Army troops from Htee Htaw Ber Camp sent building material to Hsa Law Kyo Camp.
On Feb. 25, Burma Army soldiers from Wa Klay Tu Camp moved beyond the limited area and fired on villagers at Toh Kot Hta, Saw Nwae Plaw area. No villagers were injured. On the same day at 0750, Burma Army troops fired on KNLA troops at Htee Le Kha Hta.
On Feb. 24, Burma Army soldiers from Taw Mu Plae Mae Camp moved beyond the limited area and slept at Hsae Poe Day, Ler Mu Plaw area.
On Feb. 22-23, Burma Army soldiers fought with KNLA 102 Battalion. The Burma Army seized the camp and burned it down.
On Feb. 22, approximately 30 Burma Army soldiers from LIB 406, commanded by Soe Than under Military Operation Command (MOC) 8, moved to transport a bulldozer from Ker Ter Ti Village. On the way they battled KNLA troops for 30 minutes near Baw Kyo Leh Village.
On Feb. 2, a bulldozer arrived in the Si Day area. At 1510 on the same day Burma Army units fired two mortars around the Burma Army's Khaw Daw Ko Camp area as a precaution against KNLA defense forces. They also burned the area around the camp.