FBR REPORT: Burma Army Rotates New Troops Into Northern Karen State
Karen State, Burma
29 January, 2007
The Burma Army is now sending new troops to its camps throughout northern Karen State. These units are expected to replace the existing forces that have been engaged in an offensive that has displaced more than 25,000 Karen villagers since February 2006. For the past two weeks, except for occasional mortar and machine gun attacks, there have been no major operations in the northern three districts of Karen State. Attacks are expected to continue when the troop replacement is completed.
The following is a list of units expected to be replaced and the units that are replacing them:
note: the new units have already been deployed and are co-located with the old units. It is expected that the old units will soon re-deploy back to their bases.
| | | |
| --- | --- | --- |
| Old Unit:* | Replaced By: | Area of Operation: |
| MOC 10 | MOC 1 | Papun |
| MOC 15 | LID 88 | Papun and Toungoo |
| MOC 16 | MOC 9 | Toungoo and Nyaunglebin |
| MOC 21 | LID 11 | Nyaunglebin |
| LID 66 | LID 55 | Toungoo |
| LID 101 | LID 44 | Papun |

*MOC stands for Military Operations Command = 10 battalions (usually only 7 deployed)
LID stands for Light Infantry Division = 10 battalions
There are approximately 120 to 150 soldiers in each Burma Army battalion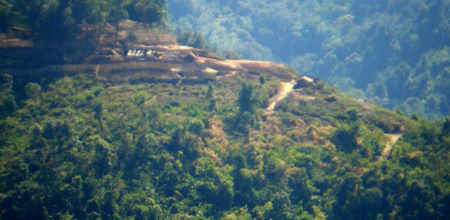 Busakee army camp and the Busakee road.
LID 66 troops have been stationed at this camp. LID 55 is now replacing them here and at other camps in Toungoo District, especially along the Toungoo — Busakee road.
In the meantime, some villagers from Toungoo District and Mon Township, Nyaunglebin District continue to flee to a safer area because of a shortage of food, inability to return to their villages for fear of landmines, and because the new Burma Army camps and increased presence of the Burma Army makes them more vulnerable to attack.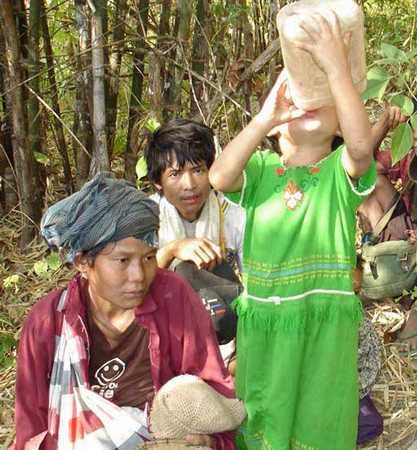 Villagers from Mon Township resting on their way to the road.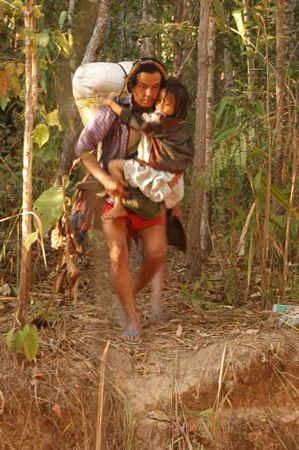 A father from Mon Township carries his daughter towards a Burma Army controlled road.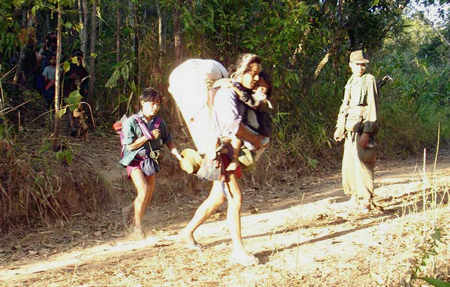 Father from Mon Township and his children cross a Burma Army controlled road.
ENDS