The Jungle School of Medicine: Training Medics and Caring For Villagers
21 August, 2021
Karen State, Burma
The Jungle School of Medicine-Kawthoolei continues to train new medics and care for surrounding communities, providing both acute care and community health initiatives to make long-term improvements in the health of the local people, and sending medics all over Karen State and sometime further, to care for those in need. In spite of the 200,000 people displaced in ethnic area by the ongoing fighting, and over 1000 men women and children killed in the streets of the cities, in spite of all this, JSMK, with your help, continues to give life-giving and life-saving help and teaching. We pray that all who come to our clinic, whether they are trainees, trainers, staff or patients, would come close to Jesus and be healed in his name.
Watch the video below to hear from some of JSMK's leaders and read the below report on the JSMK vaccination program, which has implemented a childhood vaccination regimen for five surrounding villages.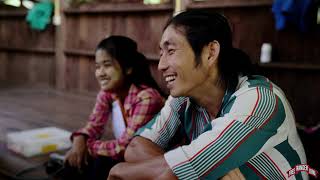 Nay Tha leads the JSMK medic team that visits villages to immunize Karen children against early childhood diseases. The program is supported by Free Burma Rangers, with generous sponsorship from the Central Christian Church in Springfield, Ohio, USA, and others.
The team, composed of 3 young Karen medics, hikes out two to three hours to villages, carrying a special cooler full of vaccines that would otherwise spoil in the tropical heat. There are no roads here, only footpaths through the jungle connecting these remote mountain farming communities. The team crosses bamboo bridges over rushing streams and navigates slick muddy climbs during monsoon season. They serve seven nearby villages, providing protection against diseases including mumps, measles, rubella, diphtheria, tetanus, pertussis, hepatitis A, tuberculosis, and polio. While there, they also provide vitamin A supplements to fight blindness, and intestinal deworming for the children.
Arriving in a community, they are hosted in one of the wooden houses built on stilts which typify Karen villages. Parents, alerted beforehand, begin lining up with their toddlers. One by one, the medics, now with their muddy boots off and wearing surgical gloves and masks, clean the skin of the children where the shots are given, then administer the vaccines. A child receives two to three shots at a time. Naturally a lot of crying results, but the parents respond with an understanding smile, having seen the benefits of vaccination to their children's health.
In a typical day the team may vaccinate a dozen toddlers, though in one village, Doh Heh Der, there are nearly 50 in the program. Overall, the vaccine program reaches approximately 100 children per year in the seven villages. On some excursions the team spends the night before returning to JSMK. During monsoon season when many families are away from the villages for farming, the JSMK vaccine team may visit them at their huts in the rice farms high up on mountainsides, to administer the vaccines to the children.
Medic Nay Tha, the vaccine program coordinator, comes to JSMK after overcoming many obstacles. Having grown up in a Karen refugee camp in Thailand for victims of Burmese army atrocities, he attended junior college at the camp through the International Institute for Higher Education. He learned to speak Thai, English, and Burmese as well as his native Karen language, and then went to work for the Karen government's health service, the Karen Department of Health and Welfare. Like the other medics, he attended the Free Burma Rangers basic training and then spent a year in JSMK's medic training course. He is equally at home caring for patients at the JSMK clinic as tramping up steep muddy paths in his native mountains.
Medic Nay Tha says that over the five years the vaccine program has been running, parents have remarked a sharp decrease in the incidence of childhood diseases. Acceptance among villagers is high, though there are still a few holdout parents discouraged by the immediate reactions to certain shots, such as low fevers. There is a plan to expand to two more villages in late 2021.
Thank you and God bless you,
Free Burma Rangers