Killing, Airstrikes and Displacement Continue, With 25,000 People Displaced as the Burma Army Steps Up its Attacks in Northern Karen State
27 April, 2021
Karen State, Burma
Dear friends,
This report is an update on the increasing attacks in Karen State, Burma, as well as a story by one of our team about children being killed here by the Burma Army. Killing continues in Karen State as the Burma Army moves troops and armored vehicles towards Butho Township, Papun District, northern Karen State. 25,000 people are now displaced. The Burma Army, while trying to resupply its camps, mortars villages daily and today, 27 April, the Burma military resumed airstrikes, dropping five bombs near Bwa Der and Dagwin villages in Butho Township, Papun District. This has pushed the number of IDPs from 24,000 last week to 25,000 today. At the same time, in the cities, the Burma Army continues to kill and hunt down protestors, killing over 750 people. Air strikes by Burma Army fighter jets have now begun targeting civilians in Kachin State as well. Below are new reports on Burma Army attacks in Papun District of Karen State.
12 April 2021, Lay Poe Hta Village Tract, Dwelo Township, Papun District: Burma Army Military Operation Command (MOC) 8, Light Infantry Battalion (LIB) 407, killed two civilians, 50-year-old Saw Pah Kay and 35-year-old Saw Nge Lay. They were killed by a Burma Army ambush along the road between Neh Ka and Wa Tho Koh villages.
On 12 April 2021, at 18:00 local time, Infantry Battalion (IB) 19 from Papun shot mortars into Doo Peh Lki Per He Kla Village. Villagers abandoned their homes and fled into the jungle.
On 13 April at 15:00 local time, in Ka Po Klah Village, Butho Township, Papun District, five villagers caused a land mine to explode. The explosion caused the death of Way Koo, and wounded four others: Thoo Taw, Pah Per Tha, Sa Lo Gyi, and Ng Pin.
On 13 April, 10:00 local time, Burma Army MOC 8, LIB 401, took security along the road between Kaw Pu and Ka Hee Kyo, Butho Township, Papun District. As their resupply trucks moved along the road, they mortared into any nearby villages to clear any resistance.
On 14 April 2021, 10:00 local time, MOC 8, LIB 410, from Hoh Kyo Koh camp in He Poe Der Village, Butho Township, Papun District, fired mortars into Mae Thaw Kee Village.
On 15 April 2021, at Htwe Thee U Village, Dwelo Township, Papun District, 195 new IDPs fled their village after they were threatened by Burma Army. In Ta Thoo Kee Village, 140 villagers fled their village as well. They fear for food and have had to abandon their farms.
On 17 April 2021, Saw Hsa Ri from He Poe Der Village, Butho Township, Papun District, lost his house after a Burma Army mortar round was fired by MOC 8, LIB 410. The round exploded in his house causing it to catch fire and burn to the ground.
On 17 April 2021, at Ta Keh Der Village, Luthaw Township, Papun District (GPS: 47Q LA 89714 60390), all 114 villagers fled out of the village as new IDPs as Burma Army mortared their village and moved troops near the village.
On 18 April 2021, the Burma Army moved 50 troops and four armored vehicles into Ka Ma Moung camp near Pa Heit Village, Papun District, to reinforce BGF Battalion 1014.
On 19 April 2021, the Burma Army sent 100 soldiers on patrol from BGF Battalions 1011, 1012, 1020 from Kaw Daw camp down into O Daw Village.
On 20 April 2021, 09:40 local time, soldiers from the Burma Army camp at Oo Thu Hta shot 10 rounds from an automatic weapon at civilian boats moving along the Thai/Burma border. No casualties reported.
On 20 April 2021, at 16:30 local time, a Burma Army fighter jet flew over Pah Nay Pah Koh Village, Luthaw Township, Papun District.
On 20 April 2021, 1035 local time, Burma Army LIB 20 fired mortars into Pah Gaw Lu Village, Luthaw Township, Papun District. Five rounds impacted in the farms of villagers.
On 20 April 2021, at 15:00 local time, Burma Army MOC 4, LIBs 704 and 709 from Kaw Daw Koh camp moved and set up a new outpost camp near Doh Kah Wah Kyo Village, Luthaw Township, Papun District.
Children Being Killed by Burma Army
The following is a personal reflection from a Free Burma Ranger team member.
Most of the children I know in Karen State don't know who Min Aung Hlaing is. Most of them don't really understand coups and what happens during a coup. None of the children I know in Karen State have fought the Burma Army, or even really know how to hate the Burma Army. But what they do know now is fear. Burma Army fighter jets started their bombing campaign against unarmed civilians in the dark of night on 27 March 2021. Imagine just settling in to go to sleep in a quiet and peaceful village when suddenly out of the darkness comes a noise you've never heard before, a fighter jet tearing the sound barrier, and then the jet starts spraying bullets from its machine guns and dropping bombs. Imagine the chaos, the panic, the fear.
On that first night of Burma Army bombings, 5-year-old Saw Ta Blut Soe was killed. The killing of just one five-year-old should be more than enough for the international community to step in and do something. But it wasn't.
Injured on that same night was 12-year-old Naw T'Paw. She was sitting on her father's lap when the bomb landed nearby. One piece of shrapnel exploded through the wall of the house they were in and went directly into her father's head, killing him instantly. Another piece of shrapnel grazed her ear and her face, wounding her.
The next day the jets returned and in the light of day targeted and bombed the local high school, as if they were searching for a place where children might be hanging out.
On 5 April 2021, Burma Army air strikes continued in Karen State, this time killing 16-year-old Saw Pah Dah Chit. He wasn't a soldier; he was just a teenager trying to figure his place in the world like all 16-year-olds.
And as the Burma Army shifts their momentum to ground attacks, they have continued to wound and kill innocent children as they shoot mortars into villages. On 7 April 2021, 11-year-old Naw Mee Wee was wounded when small bits of shrapnel sprayed into her body.
A few days later, on 12 April 2021, Burma Army mortars caught 15-year-old Saw May Ka Lo Oo with shrapnel; he had to be emergency-driven in the back of a pickup truck to get medical care for his wounds.
And these are just the reports that our Free Burma Ranger teams have reported on and collected themselves. The General Strike Committee of Nationalities in Burma has reported 41 children have been killed in attacks by the Burma Army from February 1st through April 14th, 2021.
Forty-one children killed? How is this being allowed to happen? The Burma military that is killing these children actually have support and financial backing from other international powers, but the innocent civilians that are dying on the streets and in villages don't. How is this ok?
My Karen friend Ma Nay has a two-year-old whose face lights up every time I come to stay with him. His son tries to say my name in English and loves to play and cuddle with me. My heart broke when I saw pictures of Ma Nay and his family hiding in a cave because Burma Army jets flew overhead. And yet, in the picture, his two-year-old is playing and smiling, resilient as ever. Resilient in a way that I don't understand, but thank God for creating us to be that way.
We pray that the Burma Army stops killing children and we pray that all the people in Burma would be able to find peace and justice.
Thank you and God Bless You,
Free Burma Rangers
New IDPs hide in the jungle as Burma Army mortars and planes disrupt daily life.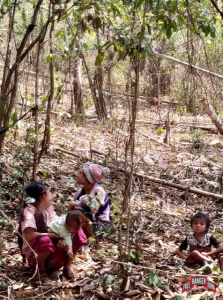 Over 450 new IDPs are displaced in Papun District of Karen State.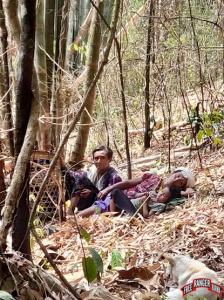 Fleeing villagers try to pack and move as much food as they can carry.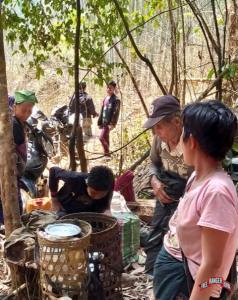 Villagers live in a constant state of fear as they don't know when they'll need to run next.