13-Year-Old Boy Killed by Turkish Mortars as Civilians are Terrorized in Northeast Syria
19 October 2020
Ein Issa, north of Raqqa in Northeast Syria
**WARNING: This report contains disturbing images**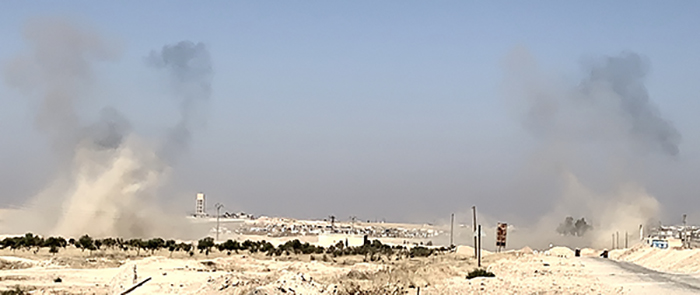 At 9:30 a.m. on 16 Oct. 2020, normal morning activity in the town of Ein Issa was interrupted by an explosion to the north, as mortar rounds from Turkish forces came in.
Within the next 15 minutes, four more 120mm mortars fell along the same trajectory, striking into an abandoned IDP camp on the north edge of Ein Issa town. The families had already fled so there were no casualties from these strikes, but shrapnel hit our ambulance as we moved to help. 15 minutes later a sixth 120mm mortar landed to the east of Ein Issa, closer in and parallel to the hospital. This strike landed in the midst of a herd of sheep, killing many sheep and injuring two men and a boy. The men received minor wounds but shrapnel tore through the boy's left leg just above the ankle, leaving his foot dangling and held on only by skin. He also received a gash high in his right thigh and shrapnel penetrated his right chest cavity. He was rushed to Ein Issa hospital in the back of a pickup truck, where the FBR team assisted the hospital staff in stabilizing him before he was evacuated to Raqqa. As he was being treated, his mother arrived at the hospital, screaming in anguish and we tried to comfort and pray with her. She told us his name was Akmed Hassan. We felt he would live. He seemed to be stable with a good pulse and airway when we evacuated him, but he died later of his wounds.
Akmed is the 11th child killed by Turkish forces in the Ein Issa area this year. We pray for a stop to these attacks, a withdrawal of the Turkish forces and their proxies, the Free Syrian Army, and help to get people back to their homes.
Thank you for praying with us and for all your love and help.
God bless you,
Dave, family and team