New FBR Book, Do This For Love, Available July 28
26 July 2020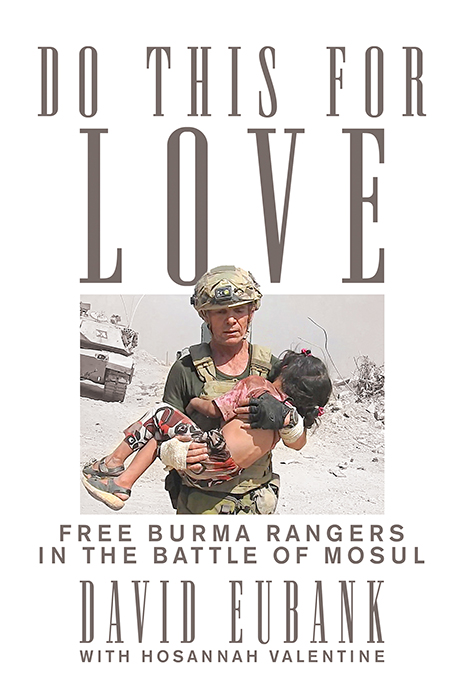 From Burma to Sudan and Iraq to Syria, the Free Burma Rangers have given help, hope, and love to people under attack. Compelled by love, a Ranger cannot run away if the people they are helping cannot run. In 2015, the call to love others and stand with the oppressed brought them from Burma to Iraq. This is the story of learning the difference between justice and revenge and loving others at all costs.
As coalition forces, led by brave Iraqi soldiers on the ground, slowly pushed ISIS out, the brutality of the terrorists was turned against thousands of civilians as they fled the fighting. There was no humanitarian template for responding to such ruthlessness; to attempt to help would take total commitment.
Birthed in the war zones of Burma to stand with villagers under attack by the Burma Army and provide medical care, relief, and reporting, the Free Burma Rangers came to Mosul with twenty years of war zone experience in the jungle. Led by their founder, David Eubank, a former U.S. Army Ranger and Special Forces officers, medics and cameramen from the teams in Burma, other foreign volunteers, and Dave's wife and three children, came to fill the gap between the frontlines and the humanitarian community. They came living by the conviction that every person counts and the only force that can defeat hate is love. Four team members were wounded and one killed as they lived out that conviction with total commitment. This is their story.
Available for Pre-Order Now Through Amazon
Release Date: July 28, 2020
Praise for Do This for Love:
"Dave and the Eubank family have miraculously lived through countless dangerous and difficult circumstances with the Free Burma Rangers, offering life-saving rescue, medical aid, food, water, and shelter to people – pushed from their homes by war zones overwhelming their lands – who would otherwise be helpless and hopeless. Some of us hear or read about biblical selflessness, some of us even write about it. Do This for Love will leave an indelible mark on you as the true story of the FBR's work in the face of ISIS brutality in Mosul, Iraq unfolds before you."
– Oliver L. North, bestselling author of The Rifleman
"An unforgettable glimpse into the heart and soul of a remarkable servant-leader, the story of his incredible family's walk in God's love, and their powerful examples' impact on lives savaged by conflict. Regardless of faith, a must read as the Eubanks' unflinching and unconditional love will inspire, humble, and renew your hope in the human spirit."
– Lieutenant General Bernie Champoux, U.S. Army, retired
"Humanity at its finest: the ever-benevolent Eubank family and their valiant Free Burma Rangers teach us what service to a higher purpose truly means. Their unwavering faith and selfless commitment to God, a noble mission, and steadfast values inspire us to make the seemingly impossible, possible."
– Colonel Chris Sorenson, U.S. Army, retired
"Dave Eubank is arguable one of the most combat-hardened warriors in the world today. Since the mid-1990s he has been putting his life on the line for the benefit of others, going boldly with humility into the hottest zones on the planet. What can you learn from him? Get a highlighter ready, because this book will help you understand the mind of a humble warrior and why the key to survival in the battles we all face in life comes down to avoiding being motivated by comfort, fear, or pride. This is a story of faith unlike any you have ever seen. It is not for the faint hearted or the milquetoast Christian."
– Chuck Holton, former U.S. Army Ranger, freelance War Correspondent, author and motivational speaker
"This is raw and real, what it is like for a man and his family to serve in God's Army. Their story reads like the latest thriller, the difference is – this is the real story of a family fighting in God's Army. You will laugh and cry when you read the exploits of Dave Eubank and his amazing family. I promise you will be on your knees thanking God for men and women like the Free Burma Rangers. I am proud to know there are men and women brave enough to go to the ends of the earth to spread God's Word. Their message throughout this hair-raising adventures is simple. Love each other. Do This for Love is an amazing story about an awesome Christian and his wonderful family."
– Sergeant Major (retired) Kyle Lamb, U.S. Army Special Operations
"Do This for Love is an action and faith filled account of an extraordinary family who lives and serves vulnerable civilians in conflict zones, with a radical love and profound moral courage based on their deep faith in God. David Eubank and the Free Burma Rangers are an inspiring example of the power of love to bring healing into our trouble world."
– Diane M. Foley, president/founder, James W. Foley Legacy Foundation
"Dave Eubank is a singular individual with a most unique calling, and that's an understatement. I've never met anyone like him – ever! His life is a refreshing blend of GI Joe and Adoniram Judson. You'll find Dave's story of the Battle of Mosul a compelling, heartwarming, and faith-inspiring one. If you've ever wondered if there are modern stories of Bible-like heroism inspired by faith and love, then you have the right book."
– Skip Heitzig, Senior Pastor, Calvary Church, Albuquerque, NM. Bestselling author of The Bible from 30,000 Feet
"The captivating story of Dave Eubank and his Free Burma Rangers reads as a modern version of the stories of the Knights of the Round Table. Free Burma Rangers also 'Take no battles in a wrongful quarrel for no law, ne for no world's goods', as in the Knights' oath. Today's secular West often looks back with aversion to its – admittedly not always exemplary – Christian heritage. But Dave Eubank, his family and many of his fellow rangers are genuine Christians who do what they do for love, and they take these biblical words seriously: 'For I was hungry and you gave me something to eat, I was thirsty and you gave me something to drink, I was a stranger and you invited me in, I needed clothes and you clothed me, I was sick and you looked after me, I was in prison and you came to visit me.' The multi-ethnic and multi-religious Free Burma Rangers made this their mission, when helping people oppressed by the military in Burma or by the ISIS in Iraq and Syria. In doing so, they get injured, and some die. They are the heroes of old transferred to our time."
– Ambassador Jiri Sittler, Czech Republic