Burma Army Soldiers Murder 40-Year-Old Karen Woman in Her Home
25 July 2020
Karen State, Burma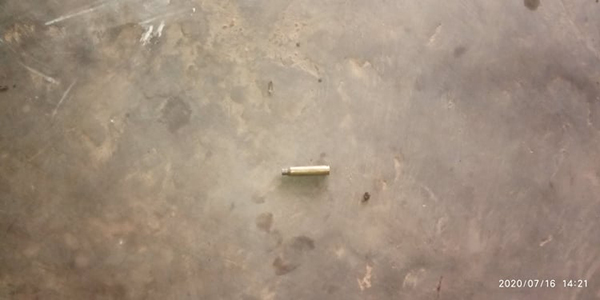 **Warning: This report contains graphic photos**
On 16 July 2020, two Burma Army soldiers from Light Infantry Battalion 409, under the command of Military Operation Command (MOC) 8, murdered Naw Mu Naw, the wife of Saw Bu Aye and mother of three (ages 18, 15, and 12). She was 40 years old and the daughter of Saw Maw Khin and Naw Nu.
After sneaking out of Ku Thoo Hta, a Burma Army military camp, at 6 a.m., the pair arrived in Po Lo Hta Village, Mu Traw (Hpapun) District, at noon. They ate lunch at a monastery and then went into the village where they arrived at Naw Mu Naw's house, inquiring about an empty rice sack. She told them the sack was full and not available. One of the soldiers then proceeded to shoot her three times – between the eyes, through the mouth and in the chest. Before fleeing the village, the soldiers took her gold necklace and earrings.
The Burma Army has since stated it has the soldiers in military custody and they have pled guilty to the murder. Still, Naw Mu Naw's family and Karen human rights groups have released statements asking the international community for help as the Burma Army continues to murder civilians with impunity. On March 5, Burma Army soldiers murdered Saw Maw Aye Than, a Karen forest worker. On March 31, Burma Army soldiers killed Saw Thet Mee, a Karen community leader. In their recent statement, the Karen Peace Support Network stated:
"Living in a ceasefire area is no guarantee of safety. Even where there are high profile cases which pressure the military to take action, trials are held in secrecy, any punishment is often secret, and it is not known if soldiers convicted of these type of crimes even serve their sentences. An approach like this from the top of the military encourages soldiers to feel that they can get away with such crimes.
Ending impunity is an essential part of building any genuine peace process, and to prevent further killings such as that of Mu Naw."
Information regarding legal proceedings or punishment for the two soldiers has yet to be released.
We pray for Naw Mu Naw's family and community as they grieve her loss and are again confronted with the reality of their vulnerability to the Burma Army, we pray for comfort and freedom from fear and hate. We pray also for the soldiers of the Burma Army, that their hearts would change to love. Thank you for being in this with us.