June 2020 Northern Burma Clash Account
23 July 2020
Kachin and Northern Shan States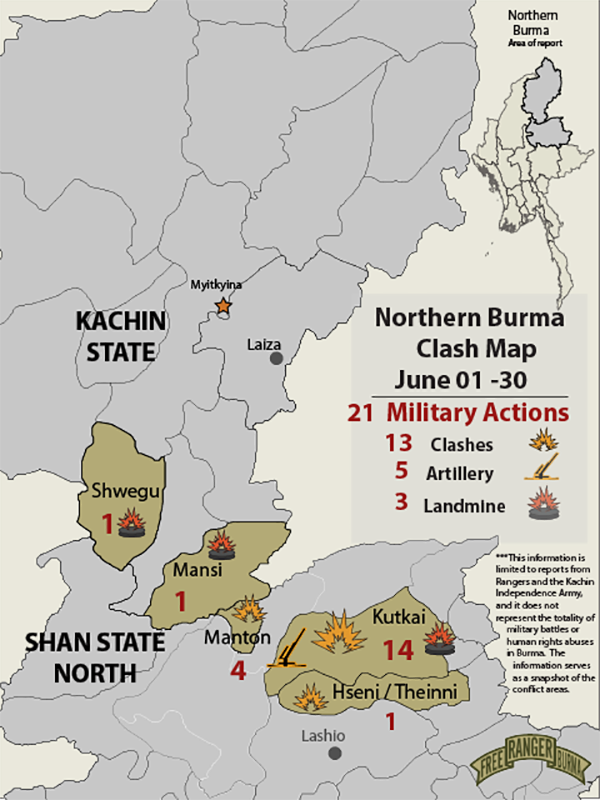 June saw very heavy fighting between the Kachin Independence Army (KIA), Ta'ang National Liberation Army (TNLA), and the Burma Army as firefights escalated into artillery barrages and landmines between all sides. Civilians were caught in the conflict as some were inadvertently killed by landmines while others suffered horribly due to Burma Army questioning procedures that resulted in the death of at least one person.
Clash Reports
On June 3 between 0910-0930, an estimated 60 Burma Army soldiers from Light Infantry Division (LID) 99, coming from Pying Lung engaged a combined force of TNLA 335th Battalion and Myanmar National Democratic Alliance Army (MNDAA) 511th Battalion in the vicinity of above Pying Lung Hot Spring in Kuthkai Township (MG 225 113). During the fighting, Burma Army soldiers stationed at Mung Ji fired eight 105mm rounds between 1000-1230 in support of the fighting. Between 1300-1450, fighting re-erupted at the same location. The Mung Ji Fire Base started another fire mission with one 105mm round at 1615. Three rounds were fired again at 1638. At 2209, TNLA soldiers attacked Burma Army Infantry Battalion (IB) 290's Tamunye Base in Kuthkai Township, where another attack took place later that night at 0514 (June 4).
On June 4 at 1020, there was a clash between TNLA soldiers and Burma Army soldiers at Banggum Bum near Htan Hpa Bum, in Kuthkai Township.
On June 4 at 1445, fighting erupted between TNLA Unit 471 and Burma Army soldiers in the vicinity of Dum Yum Village in Mandung Township.
On June 5, KIA soldiers from 17th Battalion headquarters stationed at Bangsha Ji (MF 169 728) defended their positions against Burma Army soldiers (70 estimated) from IB 79 coming from Naleng. Burma Army soldiers initiated the attack when they fired upon KIA soldiers that were fetching water.
On June 6 between 1245-1300, KIA soldiers defended the Magwi Ulu Nawng Post (LG 93718 24618) in the vicinity of Htan Hpa Bum against an attack by LID 88 in Kuthkai Township.
On June 6, between 1830-1850, KIA soldiers from Htai Post (LG 91886 25375) defended against an advance attack of Burma Army troops in Kuthkai Township.
On June 7, KIA soldiers laid mines in their outpost, abandoning it thereafter. When BA soldiers moved in, they ended up stepping on the mines.
On June 7 between 1230-1310, BA troops attacked the KIA 9th Battalion headquarters, in Kuthkai Township.
On June 17, a combined force of KIA soldiers from 8th Battalion and 29th Battalion engaged Burma Army soldiers from LID 88 in the vicinity of Nawngma Pa (LF 701 735) below Nawngma Bum (LF 690 741) in Mandung Township.
On June 19 fighting broke out between KIA soldiers from the 29th Battalion and Burma Army soldiers in the vicinity above Namhu Village between Huhku Bum and Namsum Bum in Mandung Township (LF 713 781).
On June 19 at 1300, an estimated 40 Burma Army soldiers from IB 148 coming from Balawng Wang Kaba (KF 586 337) engaged TNLA 2nd Brigade soldiers between Mungkai (KF 595 268) and Hu Chyam (KF 616 278) in Mandung Township.
On June 20 between 0820-0835, fighting occurred between KIA 29th Battalion soldiers and Burma Army soldiers when conducting a clearance operation by the KIA after fighting had taken place the previous day. Burma Army artillery shelled KIA positions during the fighting. At 1205 fighting broke out again and a number of Burma Army soldiers were reportedly killed or injured. Reinforcements from Baw Hkyi (LF 823 782) and Mung Pa (LF 820 715) were requested. At 1700, an estimated 50 Burma Army soldiers led by LIB 387 executive officer Major Nay Myo Aung and moving by foot from Hkinbuk Hkapra initiated KIA landmines in the vicinity of Kan Htarai Kawng in the outskirts of Bau Noi Village (LG 486 451) in Manje (Mansi) Township. Two soldiers were reportedly wounded. At 1725, fighting erupted between elements of the TNLA and Burma Army at Chyawng Pyen (LF 831 983) in Kuthkai Township. Burma Army artillery supported the fighting from a fire base in Kuthkai.
On June 21 between 1245-1500, Burma Army troops attacked Huhku Bum (LF 715 758) in Kuthkai Township where the KIA 29th Battalion is positioned. The attack attempted to envelope the position from three angles and was supported by 60mm mortars from Lun Hpwi Bum (LF 723 782). Many Burma Army soldiers were reportedly killed or wounded and the KIA forces later abandoned the outpost.
On June 29 between 1045-1058, Burma Army soldiers (55 estimated) from IB 237 arrived to reinforce elements from LIB 389 (26 estimated, led by Lt. Col. Hla Moe) that had detonated a KIA-planted landmine in Shwegu Township, killing one officer, four privates, and injuring other soldiers. Later, at 1900, more than 40 Burma Army soldiers from IB 237 arrived at Htilin Kawng Ja via Malihka Yele Village to medically evacuate the dead and wounded.
Human Rights Abuses
On June 2, an estimated 40 Burma Army soldiers from IB 50 confiscated gold mining machines from civilians mining along Meza Stream.
On June 5 at 1330, a Burma Army officer and a private from LIB 385 went to Hkun Nawng Village and questioned nine men: Lahpai Gu Lay, Zaw Wu, Bu Yi, Gu Si, Ngwa Tar, Zaw Paw, Zaw Lu, Ngwa Cha and Ngwa Lay- who were buying household accessories for the rainy season at a market stall of Mr. Sau Ying from Machyang Village. Their conversation reportedly went as follows:
Burma Army soldiers: "Are the things you are buying to send to the KIA Base? Who will use these? What for?"
Stall owner Mr. Sau Ying's wife replied: "They are not. They are Lisu tribe. They do not buy for KIA. These people are our customers. They always buy things here."
Despite the reply, the soldiers took the men away to their base. When they reached the base, the soldiers asked them, "Where are you coming from? What villages do you stay in?" After approximately 30 minutes of questioning the soldiers said, "Give us 100,000 kyats. If not, we will not let you off." As the arrested persons were afraid, they collected 100,000 kyats from amongst themselves, gave it to the soldiers, and were released.
On June 18, Burma Army soldiers from LID 88 advancing against the KIA 4th Brigade's front line slaughtered and ate a cow and two pigs belonging to Mr. Lazum Lum Dau from Namba Village, three pigs belonging to Mr. Mangshang Hkaw Sau and a pig belonging to Ms. Hawng Nan in Kuthkai Township. The same day, Burma Army soldiers from LID 88 arrested Zukdaw Lum Hkawng (male, 30) and Nhkum Seng Naw (male, 30) from Namba Mung Village (LF 737 756). The soldiers told them to send their two injured soldiers (who were severely wounded in the Nawng Mau Bum clash (LF 701 735)) with motorcycles up to Dawng Hkyeng (LF 750 748). The soldiers asked the two civilians the name of KIA commanders who led the KIA units in the recent fighting. After the two civilians told them they do not know, they were beaten and later released. Burma Army soldiers looted valuable items from their houses in Mandung Township.
Miscellaneous Reporting
On June 7 between 1000-1800, No. 28 Police Force took up security positions and dug trenches around Lawnghkang Bridge in Hpakant Township.
On June 23 at 1715, Udi Naw Tawng (female, 43) and Min Naing (male, 37) were killed and Mr. Kyaw Aung, Mr. Pai Bu, Maran Zau Ja, Maran Zau Naw, Lahpai La San and Maji Tu were injured by a flood of water that was caused by a land collapse along Basan Chauk Maw and Sabaw Maw in Hpakant Township. The area was being mined by Atipati Company and Myanmar Thura Company.