May 2020 Northern Burma Clash Account
15 June 2020
Kachin State, Burma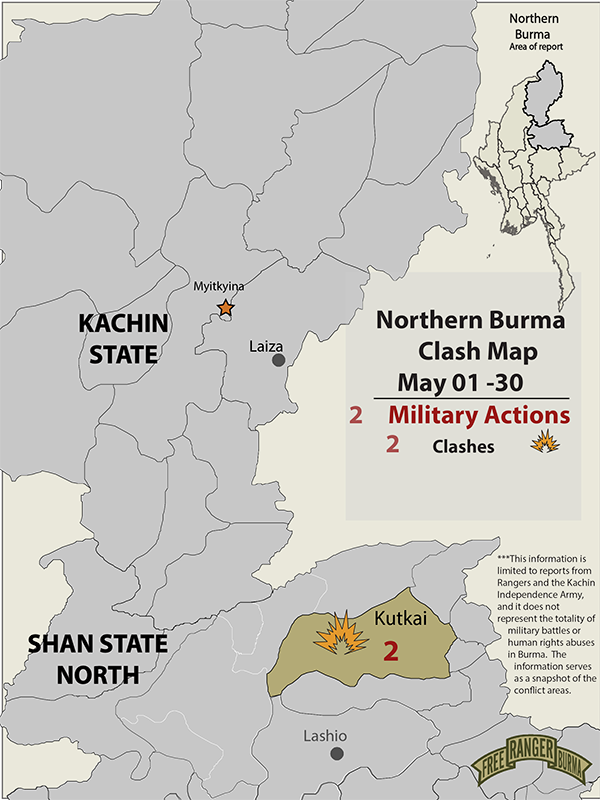 The month of May saw very little reported activity in Kachin and Shan states apart from an ambush on a Burma Army convoy in Kuthkai. There was a reported increase in air activity as well.
Clash Reports
On May 29 at 1000, Ta'ang National Liberation Army (TNLA) soldiers ambushed a Burma Army convoy that was transporting soldiers between Namgut and Hu Nawng villages resulting in one truck destroyed. TNLA soldiers seized arms, ammunition, and other supplies from the convoy. Two Burma Army trucks stopped at Hu Nawng Village and four trucks stopped at Namgut Village, in Kuthkai Township.
On May 31 at 0630, Burma Army soldiers from LID 99 clashed with TNLA elements at Bang Gawng Bum above Nam Um Village, in Kuthkai Township.
Air Activity
On May 11 at 1040, a helicopter from Myitkyina arrived at Manmaw (Bhamo), and flew over the following areas before returning back to Manmaw:
Nalai Ji
Nbungli Pa
Nmau Hka
Mungding Pa
On May 11 at 1300 a helicopter coming from Namtu flew over Maw Tawng Bum and Taw Ne where Kachin Independence Army soldiers from 8th Battalion were stationed in Namtu Township.