Remembering Saw Maung La Htoo
25 May 2020
Karen State, Burma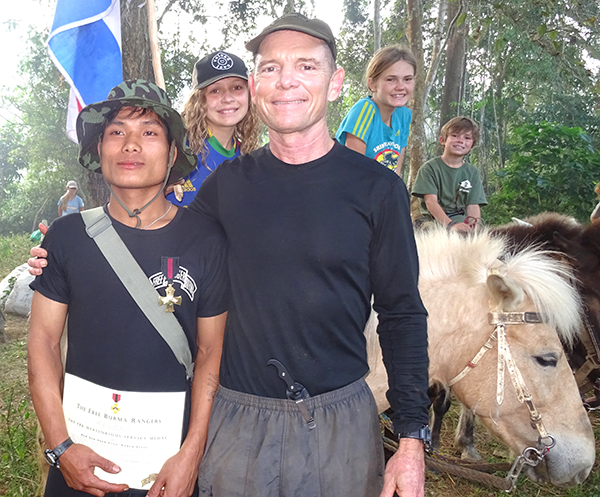 Dear friends,
We are very sad to tell you all that we lost one of our brothers on May 19. Saw Maung La Htoo was 30 years old and was killed when his musket misfired while he was hunting for food for his family. This was between missions as a way to help his family as his township is now under attack by the Burma Army. This is a tragic accident and loss of a kind friend, husband, father, and teammate, an expert woodsman, and one of our top FBR team leaders.
He led his team in Bu Tho Township, Papun District, northern Karen State, to help people under oppression in one of the most attacked areas of Karen State. He was always cheerful and was especially close to our family since he joined the FBR training in 2007. He was always smiling even when doing pushups and made us all laugh with his jokes. He had a way of respecting everyone but not letting anyone take themselves too seriously. He left behind a wife and two children; one is three months old.
On the FBR team he held every position: video, medic, Good Life Club counselor, security, photographer, and team leader. He always led from the front and was known as a humble and very able leader. He was selected to be a township officer by the Karen National Union and was a man that villagers turned to to resolve problems.
One of his Ranger classmates and Papun District FBR leader, Klo Law La Say said, "He was a great ranger and always took responsibility for all the situation in his township. We relied him and he never let us down. Only when his wife was giving birth did he ask for permission to be with her and not go on a mission. Then, once she and the baby were okay, he was back on missions. Even then he was always making sure his family was okay. He loved his wife and children very much and they loved him. We loved him too and miss him very much."
We are all shocked and we cried when the news was radioed to us to where we are now on a relief mission in Karen State, Burma. Please pray for his family and his people who have lost a precious loved one, husband, father, and teammate and who are also under attack by the Burma Army.
May God bless him and all of those who knew and loved him,
Dave, family and FBR