Helping Families Fleeing Idlib: Recommendations for Help
21 February 2020
Northeastern Syria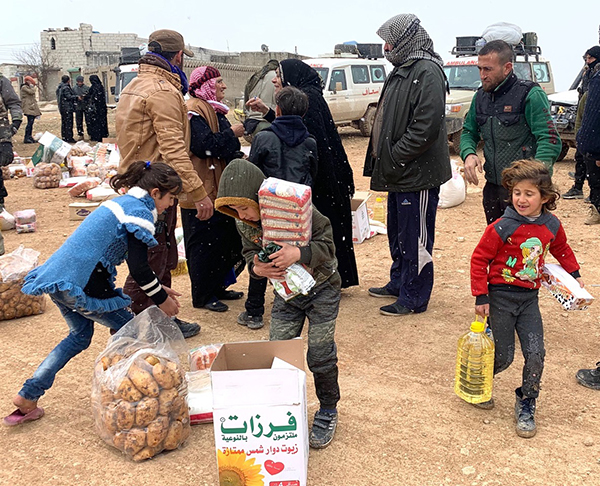 Dear friends,
Thank for how you help us give help, hope and love and shine a light for people in need. We are back from missions in Burma and are now in Syria helping people who are fleeing the carnage of Idlib. We have also been visiting old friends including a school at the front line outside Manbij that we helped to rebuild.
Situation
We are outside of Manbij, Syria, giving food, blankets and shoes to newly-arrived families from Idlib.
Over 800,000 have fled Idlib, with most heading north towards the Turkish border, while others have fled to the Afrin areas. The Turks are not allowing them to cross and many are camped out in freezing conditions and some have fled to the Afrin area as well. Over 1,000 have made their way to Syrian Democratic Forces (SDF) controlled areas, crossing in the Manbij area and also east of Jarabulus. They pay the various jihadist forces, such as the Free Syrian Army (FSA), to cross from FSA territory to SDF areas.
The SDF expects at least 5,000 more people to cross over into the SDF area this month. Every day more families arrive in groups of 10 to 30 families at a time. This is a trickle that is expected to turn into a much bigger flow of people. Right now, new arrivals are staying in abandoned houses and tents. The SDF are doing a great job feeding, giving shelter, and caring for these people and are now building a camp south of Manbij just for the Idlib IDPs and it should be completed by the end of the month.
We are providing immediate assistance to the families that cross into this area and are coordinating with larger NGOs for sustainable help.
Note: The anti-Assad forces in the Idlib areas are mostly made up of Turkish-supported jihadist groups such as Hayat Tahrir al-Sham (HTS), Al Nusra, and the FSA, but there are also small groups who oppose Assad and are not affiliated with the jihadist groups. The people who fled here told us that most of the civilians do not support any of the jihadist groups but are trapped in the middle of the fighting. Below are photos and our recommendations for help. At the end are some of the interviews we did with people of Idlib.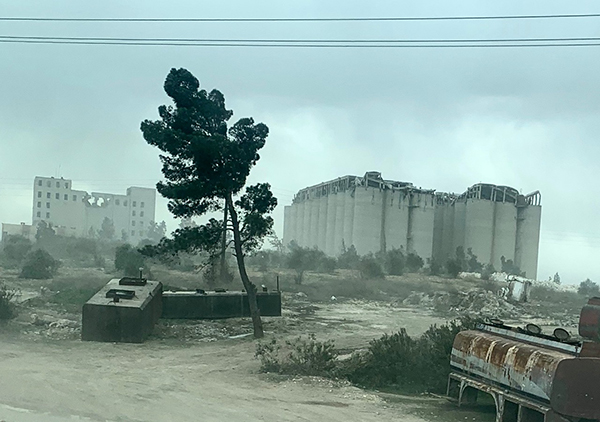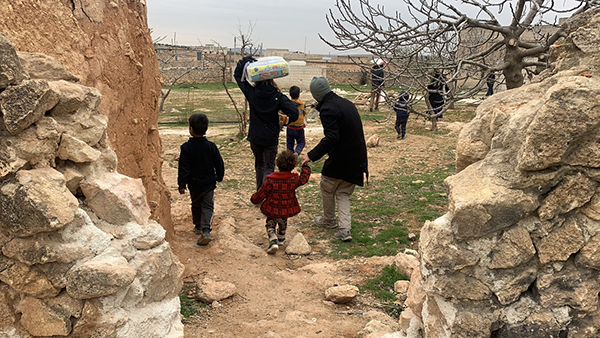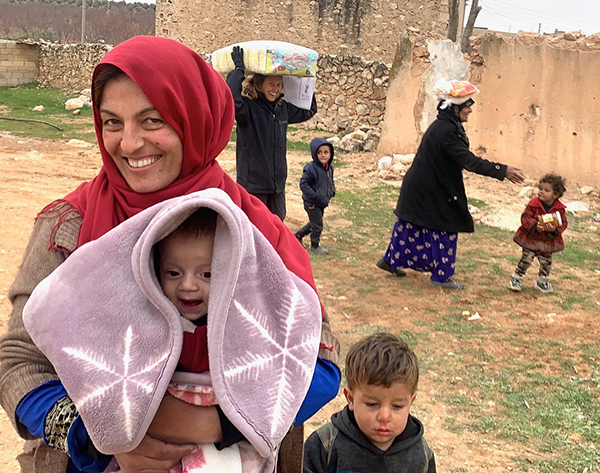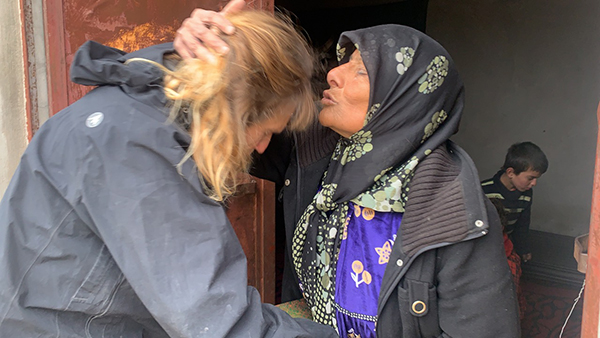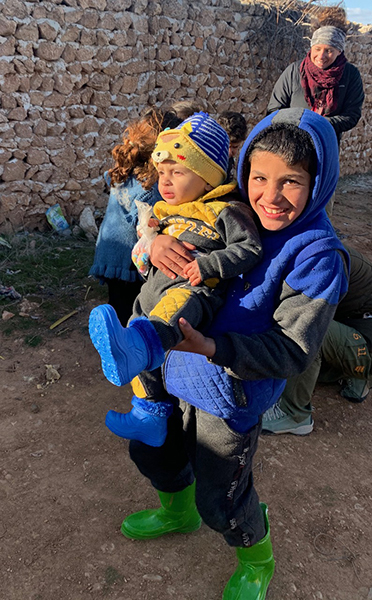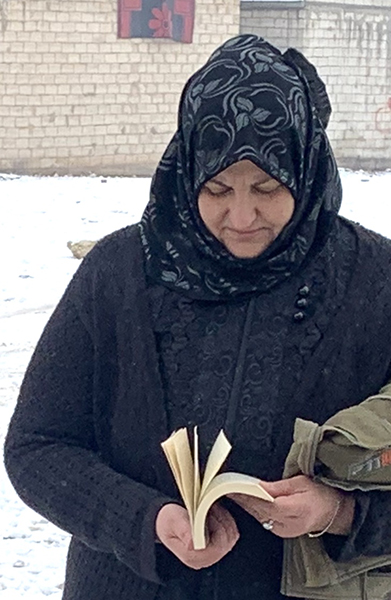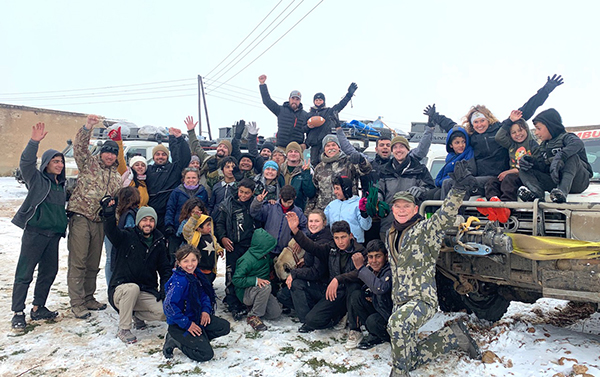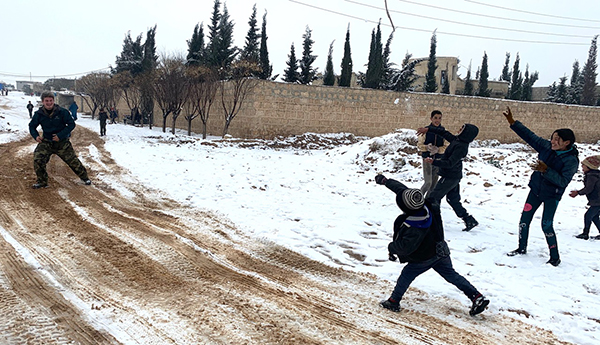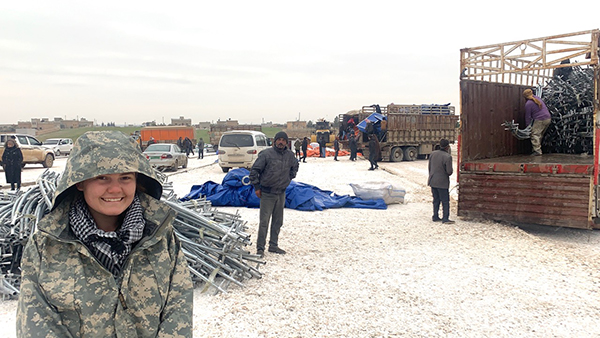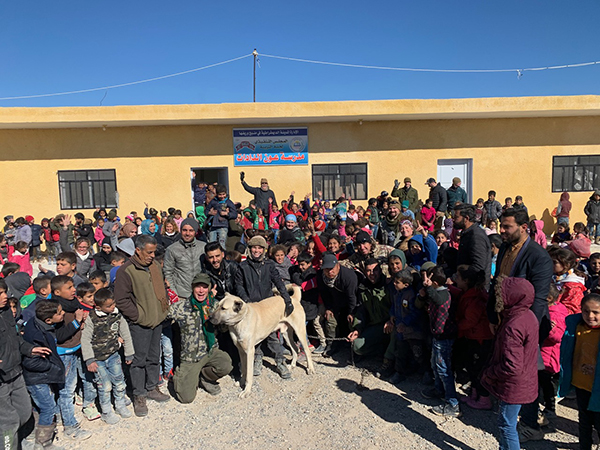 Recommendations for Improving the Situation in Northeastern Syria
Work with the SDF to establish a humanitarian corridor from Idlib to the SDF-controlled areas of northeast Syria.
Provide relief assistance to the people who come to the SDF area.
Work with the Kurdistan Regional Government (KRG) and SDF to increase the flow of humanitarian assistance and to support the rebuilding of the destroyed infrastructure and cities in northeast Syria. This will provide jobs, improve the quality of life, give hope and create places the old and new IDPs can settle in. This gives them an alternative to the hopelessness and frustration of the camps they are in now. Working with the KRG and SDF strengthens both of these important friends and helps them to be closer to each other.
Work with Turkey to provide humanitarian assistance to refugees from Syria who fled to Turkey. Some of these will be jihadist forces and must be watched, but many are families in need. Work with Turkey so that the Turkish forces and their proxies, such as the FSA, leave the zone in northeastern Syria they invaded in October 2019. Secure this border instead with US-supported Christian, Kurd, and Arab SDF forces. Facilitate the return of over 200,000 Kurds, Christians and Arabs who were displaced by the Turk/FSA invasion. Work with Turkey and the SDF to reconfigure the SDF border forces, i.e. in some areas, use Christian forces to secure the immediate Syria -Turkish border from Qamishli to Dereck to the Semalka crossing. The Christians have villages in many of the border areas and their presence creates a buffer force between the Turks and Kurdish forces within the SDF.
Work with the Russians to limit the attacks on civilians in the Idlib area while at the same time coordinating limited joint anti-jihadi (HTS, FSA, ISIS and others) operations.
Work with the Assad regime for a stop to these attacks and a transition to democracy.
Reasons to Support This Course of Action:
People in the Idlib area are in desperate need. It is a moral imperative to help them and the US has the ability to do it. Love is never crazy or wasted and has deep and far reaching rewards for all.
It is a way to make friends with these people, to show we care, and develop new relationships.
It is a way to right the wrong of our broken promises to the people of northeastern Syria and the SDF. It is also a way to rebuild our relationship with SDF and the Kurds, Christians, Arabs, Yezidis and others who are part of this area and who are suffering because we allowed them to be attacked.
This is a way that Christians would be protected and the Christian refugee communities who fled ISIS first and then the Turkish attacks would have a place to return to.
It is a way to strengthen the SDF who are of great tactical and strategic value to US interests.
Creates viable reason to redeploy US troops where needed in northeast Syria.
Welcoming the mostly Arab people who have fled Idlib makes the US control of the oil production areas in northeast Syria more equitable, viable, and sustainable.
Limits Iranian, Russian, and Turkish power, and limits Assad's power.
Dilutes and stops the spread of the FSA, HTS, and other jihadist forces.
Creates a true safe zone in northeast Syria that helps people. This is in contrast to Turkey's zone of invasion and Assad's zone of death and destruction.
Puts the US in a morally strong position from which our enemies will respect us more and our friends trust us more.
Thank you and God bless you,
Dave, family, and FBR
Notes on Distributions to Families Displaced from Idlib:
In February 2020, the Free Burma Rangers, together with members of the Manbij Civil Council, visited and provided two weeks' worth of relief supplies including food supplies, blankets, shirts, shoes, and socks, to 149 families (over 600 people) newly displaced from their homes in the Idlib Governorate area of western Syria who had fled to areas controlled by the Syrian Democratic Forces. Some families had been in these sites for 10 days and some for four days. Sites and distributions were as follows:
Site 1
Location: Near Rasm al-Akhdar, which is 9.4km southeast of Manbij and adjacent to an older, larger IDP camp in the middle of flat, agricultural land.
Coordinates: 36°29'15.29"N, 38°01'31.11"E
Distribution Information: The new Idlib IDPs numbered approximately 22 families at the time of our distribution and were living in old UN tents. During Feb. 8-10, the team distributed food packs, shoes, shocks and blankets for 22 families along with food for two weeks.
The food packs included:
25kg flour
25kg potatoes
20kg rice
10kg beans
10kg lentils
10kg sugar
800 gm tea
2 gallons cooking oil
1 box of chicken bouillon
1 jar of jam
Additionally, we distributed diapers and baby formula to those with babies. We were told that 14 more families were expected so the following day we brought 15 more packs of food. We also did a Good Life Club (GLC) program and gave the children snacks, drinks, and GLC t-shirts.
Both of these days were quite cold with temperatures in the 20-degree Fahrenheit range. During the first distribution we were caught in a snowstorm, while the next day was sunny but colder due to a strong wind. We noticed many of the children were barefoot or in sandals and that evening purchased shoes and socks for every child, along with some hats and gloves.
The next morning we gave these out and proceeded to visit sites closer to the front line, where we did a brief assessment and were told there were 55 families at different sites in the area who needed food packs. We gave the rest of the shoes we had to the families we met, ordered 55 more food packs along with enough blankets to give each family three blankets, and prepared to return the next day.
Site 2
Location: Near Al Arimah, west of Manbij
Coordinates: 36.466926, 37.692976 (36°28'00.86"N, 37°41'35.17"E)
Distribution Information: 22 families were staying here in abandoned houses. On Feb. 11, the team distributed food packs similar to the previous ones but about half as big. Flour, potatoes, sugar, jam, and bouillon amounts remained the same and everything else was cut in half. We added sweet wafer cookies as well and every family also received three blankets.
Site 3
Location: Near Qawugli
Coordinates: 36.486464, 37.689153 (36°29'11.27"N, 37°41'20.95"E)
Distribution Information: Delivered food packs and blankets to 13 families.
Site 4
Location: Near Jubb al Hamir
Coordinates: 36.431737, 37.703838 (36°25'54.25"N, 37°42'13.82"E)
Distribution Information: Delivered food packs and blankets to 13 families.
Site 5
Location: Near Qarah
Coordinates: 36.444537, 37.730154 (36°26'40.33"N, 37°43'48.55"E)
Distribution Information: Delivered food packs and blankets to three families.
Site 6
Coordinates: 36.467304, 37.730154 (36°28'02.29"N, 37°43'48.55")
Distribution Information: Distributed supplies to 6 families.
Sites 7, 8 and 9
Location: On the northwest side of Manbij
Distribution Information: Distributed aid to 55 families.
Summary of Interviews: 
Interviewees were from Jabal al Zawiya mountain area, south and slightly east of Idlib city. Their area is being bombed by the Syrian Regime and Russian forces and is controlled by rebel groups. Most interviewees named the al-Nusra Front/Jabhat Fatah al-Sham, Euphrates Shield and FSA groups. One man also named Hezbollah and one woman named both Hayat Tarir al-Sham and Faylaq al-Sham and further added that her family was asked to leave so these groups could fight the regime. Other interviewees felt threatened by both al-Nusra, who one man said was the same as ISIS, and Turkey and Turkish supported groups. No one wanted to flee to Turkey.
All but one of the interviewees took 4-5 days to arrive (the exception was a man who drove himself and took 24 hours of driving) and reported having to pay $100-$500 to the FSA for transport to SDF lines. Some were detained and forced to pay at FSA checkpoints. One man reported that the FSA was stopping those unable to pay from escaping and sending them back to Idlib.
All of these families are grateful to the SDF for taking care of them. Their needs are food, water, blankets, heaters. There are many more families who want to come.
Below are notes from some interviews, all of which were conducted on 12 February 2020.
Name: Female Interviewee 1
Hometown: Jabal al Zawiya area
Traveled together with 5-10 other families. She said everyone has left her village. She's been in the IDP site for four days
It took one week to get there. They had to walk for two days and used five different vehicles to travel. Some they had to pay for and some drove them out of charity.
Her husband was killed seven years ago in a barrel bomb attack that killed 150 others.
Now, it is Assad and Russia bombing her village. She has relatives in the SDF area who told them to come.
In her village, Euphrates Shield and Al Nusra are in power.
Name: Amana Mustafa Tayb
Age: 21
Hometown: Jabal al Zawiya mountain area
Interview Notes:
Three children
Arrived to her current location 10 days ago after five days of traveling, sometimes walking, sometimes driving. They traveled in a group of 10 families. They were stopped along the way, near Afrin, at FSA checkpoints but were able to get through eventually.
She had to pay $200 to get from Idlib to Manbij.
In her area, the Russians and Assad's army are bombing and the rebels don't allow the civilians to stay because they want to fight Assad.
In her area is Tahrir Sham and Faylaq Sham.
Name: Mustafa Daoud
Age: 55
Hometown: From outside Idlib near Zawiyah Mountain
Key Quotes:
"Hezbollah came to our neighborhood… they work with the regime."
"We left because [an] Iranian-backed militia [Hezbollah] came and killed the neighbor's kids. Seven of them… cut off the one-month old's head. They kill us and abuse us because we are Sunni." [NOTE: The children were beheaded day before Mustafa left his home]
"Jabhat al-Nusra is also around Idlib. We are caught in the fighting between regime and al-Nusra. Al Nusra also killed us… they are just like ISIS. ISIS beheaded my brother and I was arrested by al-Nusra. While I was in prison they beheaded one American in front of my eyes… perhaps a journalist… maybe a last name of Johnson. They arrested me because they thought I worked with Free Syrian Army but I don't work with any kind of militia. They electrocuted me in prison… other people also. I'm nearly blind in my right eye after they tortured me. I have the scars from this."
"I ask America to help us and help to protect us from al-Nusra and all the other militia. America respects all religion and does not destroy the mosque or the church."
Interview Notes:
Has been at IDP location for 20 days (at time of interview)
Took car from home which took about a day of driving to arrive. Left 10pm … arrived 3pm next day
Mustafa said that, four years ago, while he was driving in his car it was run over by a regime tank. It crushed his left leg and injured his abdomen and back. He's had 17 surgeries since. He had been on his way to work (selling Coca Cola and Pepsi to different shops) at the time.
The situation there is dire. They have nothing, few clothes. It's cold and they don't have enough blankets and mattresses.
Everyday up to 200 families leave Idlib and try to come to SDF-controlled areas. He is very grateful to the SDF for their hospitality.
Al Nusra also arrested his 70-year-old father.
Three of his cousins were farmers. The regime came, killed them, and burned their bodies.
Most of the area from Al Majilliyah north to Arba'in is controlled by al-Nusra, including Farkiyah and Nahlah. They are headquartered in Al Barah and Balyun.
He introduced his daughter, Meriam, who has three kids. She came with her father and is 24 years old. Her husband was killed by al-Nusra. "They came early in the morning to our home, about four years ago, and kept me inside. They took him outside and shot him with DSHKA… they had no reason to kill him."
According to Mustafa, some Christians in Idlib were captured by al-Nusra. The women were forced to marry members of al-Nusra. He never saw any Yezidi.
When they left they first went to Afrin then through Jarabulus and then came to Al Arimah.
Group Interview 1
From: Jabal al Zawiya area, Idlib
Interview Notes:
All of their homes destroyed
Separate families but they are all friends
Came to Manbij because it is safe despite regime and Russian presence. They didn't go to Turkey because the Turks shoot people who try to cross the Turkish border. They have friends who tried to go to Turkey and were shot.
They traveled from Idlib to Afrin, Al Bab to Manbij using backroads
Turkish and Turkish-supported forces stopped them at checkpoints on the way to Manbij and extorted them through charging fees to pass through checkpoints. Those who didn't have money had to sneak past checkpoints.
The situation in Idlib is shooting, bombing, and airstrikes – everything
Their families are still in Idlib and they are trying to get them to Manbij.
Euphrates Shield, HTS/Jabat al-Nusra all fighting in Idlib
Interviewees were males in their mid 20's supporting 6-12 (extended) family members each. They all worked in a coal factory and one in a bakery in Idlib
One man lost his left leg from an airstrike in Idlib.
They hired drivers to smuggle them for parts of the journey from Idlib to Manbij. One price was quoted for $100.
They are living in empty houses and structures with their families.
Immediate needs are blankets, mattresses and heaters
Over the next two weeks they want to find permanent places to live with better shelter.
They do not know anyone who has gone to Libya.
They want to live in peace and they don't want anyone like Russia or Turkey controlling them.
Group Interview 2
From: Araiah Village, Jabarah Zawahai area, Idlib
Interview Notes:
They came from Idlib because of shootings and airstrikes.
They did not have any casualties in their families.
They have 3-7 people in their families.
They came to Manbij by crossing Sarmadat, Afrin, and Jarablus to Manbij. They were blocked along at the way by Turkish-supported group checkpoints.
Jabat al-Nusra was in charge of their village, Araiah Village, but they were sold out by Turkey and now Euphrates Shield is now in charge.
They need blankets, mattresses, water tanks and heaters.
All are farmers except for one man. One was wounded by an airstrike before he left for Manbij and he didn't have a job.
Name: Hussein
From: Idlib
"Thank you to the SDF. They will help us."
Interview Notes:
Left Idlib around Feb. 1
Came via Saswe, Badanuke and Jarabules
Left with his family of seven
It took them four days to arrive in Manbij. They drove and walked to get to Manbij. They had to pay a smuggler to get them to Manbij.
Generally, all of their area has been attacked by airstrikes from the regime and Russia
The situation in Idlib is a very sad and serious situation.
Other groups operating in Idlib are the FSA, Turkey, and Jabat al-Nusra
Turkey "sold the people of Idlib; there is an agreement with Jabhat al-Nusra to let them control that area."
There is an agreement with Jabat al-Nusra to let them control that area
Airstrike caused them to leave their homes.
Turkey is not good with people and doesn't care for civilians.
Name: Male Interviewee 1
From: Idlib
Key Quotes:
"We came out because of Turkish airstrikes. We were under attack from the Russian regime."
"Our home was destroyed by airstrikes two months ago. I don't have a house anymore."
"We don't know how we got here because we were so focused on not getting killed on our journey to Manbij."
"I don't want to go to Turkey because Turkey is a colonialist country."
"Erdogan took our farmland registration and can now reregister that land and sell it to someone else. They also put military checkpoints on the land."
"Turkey is a child killer."
"Erdogan is the biggest terrorist."
"Right now we are here with 200 families. Maybe tomorrow 200 more families will come."
"We need medical care, tents, money, and heaters. It is very cold, and we don't have anything."
"When we came here, the Turkish backed militias took everything from us."
Interview Notes:
We left Idlib about 10 days ago. We came to Manbij here and the SDF gave us a place to stay and live.
The SDF did a great job and know how to treat and deal with people.
His family is five people – his wife, himself, and their three kids.
He came with 27 people in his extended family.
They need basic things to live like water, food, mattresses and blankets.
Four people died in his house when Turkey bombed it (his brother, two of his kids, and his first wife).
Right now Turkish-backed forces are controlling the area where his home was.
Turkey is the head of this issue. Turkey said they came to help the civilians, so now the fighting is between Turkey and Turkish-backed forces against the regime and Russia.
The main terrorism group is run by Erdogan. He is the leader of the terrorist groups who are backed by Turkey.
Erdogan creates terrorists groups in the Idlib area. He brought people to get them to fight against Assad and Russia.
Turkey wants to colonize Syria.
People have been killed by airstrikes and others have fled Idlib by driving, walking, or paying someone else to smuggle them out of Idlib.
A lot of people try to run away on the highway.
Erdogan pushed the people who fled Idlib to go back to Idlib saying Turkey would help but later Turkey bombed them.
There are a lot of families who tried to leave Idlib but Turkey blocked them from leaving. If Erdogan would let the people leave, everyone would leave Idlib.
There were many checkpoints by Turkish-backed forces on the way to Manbij. If you have money, they will let you pass. If you don't, they will make you return to Idlib. They even took IDPs' vehicles instead of money if they did not have any money.
There are IDP's who don't have any money and who only have the clothes on their back who have just left Idlib.
So far, more than 200 families have entered SDF territory from Idlib.
There is no medical care at all in Idlib.
There is a lot of Turkish intelligence pretending to be IDPs from Idlib.