Burma Army Issues Shoot-On-Sight Order, Extorts Civilians in Northern Burma
January 2020 Northern Burma Conflict Report
18 February 2020
Kachin and Shan States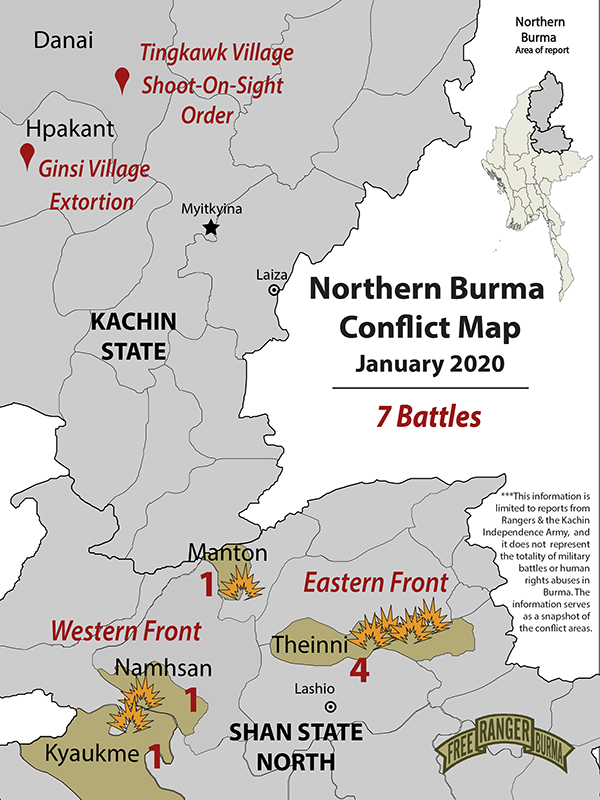 The war in northern Burma this January was characterized by the Burma Army's attempts to uproot ethnic armed organizations (EAOs) in northern Shan State's west side and to keep pressure on their defensive positions to the east. Kachin State remained calm; however, the Burma Army threatened civilians. Battles have been ongoing in Burma's north since the ceasefire between the Burma Army and the Kachin broke in 2011. Neither ceasefires nor peace talks have stopped the Burma Army from prolonging the war by seizing territory and resources in northern Burma.
The Ta'ang National Liberation Army (TNLA) and Burma Army battled in the west side of northern Shan State in the mountainous area between Kyaukme and Namhsan townships. The western front is a continuation of the Pyin Oo Lwin District attacks launched by the TNLA against the Burma Army in August 2019. On the east side of the state, the Kachin Independence Army (KIA) and the Myanmar National Democratic Alliance Army (MNDAA) defended the mountain range that runs east to west across Theinni (Hseni) Township from Burma Army Light Infantry Division (LID) 99, amongst other units. The Burma Army has yet to uproot the KIA's 17th Battalion in Theinni Township who defend fixed positions. The Burma Army has kept pressure on EAOs in the east to free soldiers for the west, as well as to allow the Burma Army to redirect resources into the military offensive in Rakhine State.
Though Kachin State was not characterized by battles in January, the Burma Army remained a threat to civilians. The Burma Army announced a shoot-on-sight order north of Tingkawk Village, Danai Township, in an area the Burma Army is clearing for a new military outpost. The villagers fear people may stumble into the unmarked territory accidently. In Hpakant Township, a villager was denied entry to Ginsi Village for refusing to give their food to Burma Army sentries stationed around the village.
Northern Shan State [Battles = 7]
Kyuakme Township [Battle = 1]
On Jan. 28 between 1100-1230 hours, an estimated 100 Burma Army soldiers from Light Infantry Battalion (LIB) 301 under LID 88, coming from Ba Leng, and an estimated 60 Burma Army soldiers under LID 88 coming from Pang Koi, approximately 160 combined soldiers, clashed with TNLA soldiers coming from Maw Sang below Low Swi Bum in Kyaukme Township, not far from the Namhsan border and Jan. 25 battle.
Manton Township [Battle = 1]
On Jan. 19 at 1030 hours, TNLA soldiers command detonated a mine at Burma Army troops heading to Namsan Jang Law in Manton Township.
Namhsan Township [Battle = 1]
On Jan. 25 at 0930 hours, approximately 60 Burma Army soldiers under LID 88 were coming from Htang Ngam when they clashed with TNLA No. 2 Brigade soldiers between Ngaw Swit and Kung Sa in Namhsan Township.
Theinni (Hseni) Township [Torture of MNDAA, Battles = 4]
On Jan. 2, four MNDAA soldiers sought to purchase fresh pork from a butcher's house in Namdau Village, Theinni Township. Three soldiers entered the house while the fourth waited outside. Burma Army soldiers happened along and arrested the soldier outside, and the remaining three MNDAA fled. The Burma Army tied and beat the captured MNDAA soldier and demanded that he show them the direction the other MNDAA had gone.
On Jan. 7 at 1120 hours, KIA soldiers from 17th Battalion defended Padang Bum against a Burma Army troop attack in Theinni Township.
On Jan. 13 at 0814 hours, an estimated 50 MNDAA soldiers and 60 Burma Army soldiers from LID 99 battled at Lau Gung Hpaw in Theinni Township.
On Jan. 13 at 1840 hours, MNDAA soldiers battled approximately 60 Burma Army soldiers from LID 99 around Lau Gung Hpaw. The Burma Army soldiers were coming from Hu Yau in Theinni Township.
On Jan. 20 between 1400-1500 hours, approx. 60 Burma Army soldiers stationed at Bang Myi battled approximately 40 MNDAA soldiers from No. 202 Battalion at Loi Kang Bum, Theinni Township.
Kachin State
Danai Township [civilian kill order, Burma Army outpost construction]
On Jan. 22, approx. 50 Burma Army soldiers from Infantry Battalion (IB) 74 and IB 86 led by Major Naing Linn were drawing bamboo, cutting leaves for roofing, and clearing the jungle near Nbungli Pa Dingsa between Tingkawk Village and Namhpyek Village to set up new military bases behind the rubber yard at Sai Hpraw Hka, No. 33 Yuzana Road, Danai Township.  An estimated 20 Burma Army soldiers from IB 86 provided security near No. 33 Yuzana Road and Nbungli Pa Dingsa to prohibit civilians from entering those areas.
Villagers tending cattle and oxen were told to leave the area and warned the area had become a restricted zone. The Burma Army soldiers threatened the villagers that if they trespassed, they would be shot. No nearby villages were warned about the new restriction, and the villagers are now concerned about managing their livelihoods and travel.
Hpakant Township [extortion]
On Jan. 4 at 1700 hours, a truck carrying rice to Ginsi Village was stopped at a Burma Army checkpoint at the Ginsi Village entrance.  Burma Army soldiers said, "One bag must be given to us if you transport 10 bags." The rice vendor, unable to pay the extortion, returned to Mugawng in Hpakant Township.
*** The information above is provided by and limited to reports from Rangers and the Kachin Independence Army.  It does not represent the totality of battles, human rights abuses, or civilian displacement.  The information and map provide a snapshot of the conflict.