US Congressman Attends Graduation of 141 Rangers at Tha U Wah Training Camp
31 December 2019
Karen State, Burma

On 27 December 2019, 99 new rangers comprising 22 teams, and 42 advanced rangers, stood at attention on the drill field of FBR's Tha U Wah Training Camp in Karen State, to be honored for completing the Free Burma Ranger Servant Leadership and Relief Team Training. 
This year we were honored by the presence of Congressman Ralph Abraham from Louisiana who came to encourage the rangers and learn more about how to help people under attack by the Burma Army. Congressman Abraham traveled into camp by foot, boot, raft, and foot again, inspiring and educating the new rangers.
He shared about faith and the founding of America and how George Washington's humility, leadership, and faith enabled the Revolutionary Army to defeat the British at Trenton at great odds. He encouraged the young rangers that just as brave and committed young people helped make America, the future of Burma is also in the hands of these young rangers. During the graduation he talked about teamwork, again drawing from United States history, and stood in solidarity with the rangers and ethnic leaders.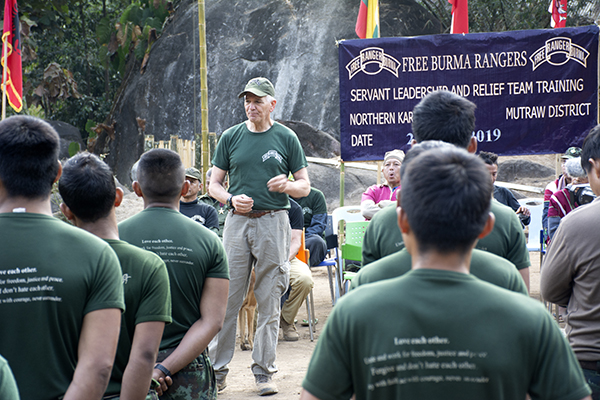 After graduation, Congressman Abraham took part in a memorial for Zau Seng, our Kachin videographer and medic who was killed in Syria, as we put his ashes in the river that he loved that runs through our camp. This ceremony followed Zau's cremation and funeral service last month in Syria.
Before he went to Syria this year, Zau Seng helped train these rangers. After the ceremony for Zau, we conducted a baptism for four rangers who gave their lives to Jesus. As the Congressman is a veterinary and medical doctor, he went from the baptism to inoculate the horses and mules which the rangers will use on the upcoming mission to carry supplies.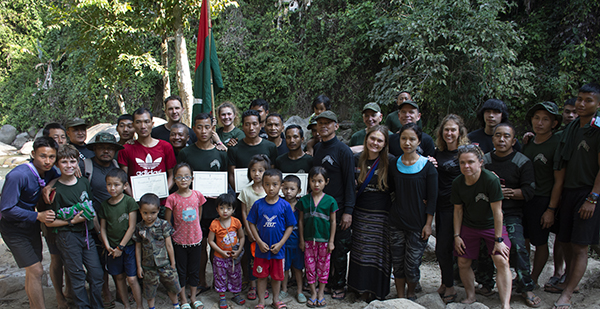 We thank God for Congressman Abraham and all that he has added to the training and the teams. He is an ambassador of love, freedom, and hope.
This training was the end of more than two and a half months of training that had begun on this same field with opening ceremonies on October 16.
By the end, the rangers had completed classes and practical work in topics including the following:
     Ethnic Unity

     Leadership Principles

     Map Reading and Drawing

     Compass Reading

     Land Navigation

     GPS (Global Positioning System) Use

     Landmine Removal

     Swimming and Lifesaving

     Solar Power and Battery Management

     Human Rights Violations Recording and Reporting

     SALUTE Reporting

     General Reporting

     Video and Photography

     Medical Training

     Field Training Exercises

     Physical Training

     Rope Bridge Building

     Poncho Raft Use

     Rappelling

     Good Life Club Training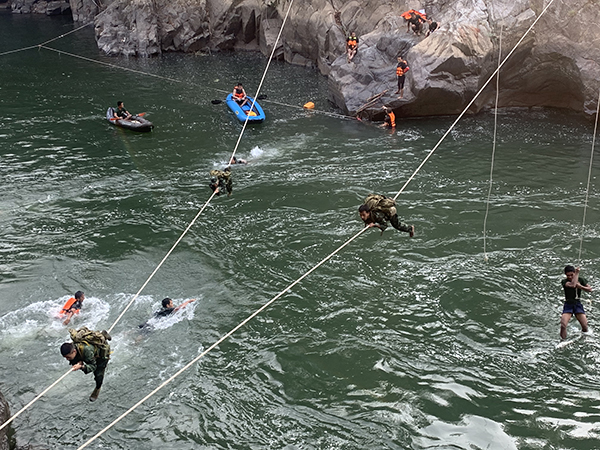 Men and women from the Arakan, Chin, Kachin, Karen, Karenni, Lahu, Lisu, Naga, and Shan ethnicities all came to be trained. Eleven ethnic organizations were represented this year.
There are three requirements for FBR team members:
1) They must be literate in at least one language, to be able to send out reports.
2) They must have the physical and moral courage to be able to do physically hard and dangerous missions, and cannot run away from the enemy if the villagers they are helping cannot run.
3) They must do this work for love; they are not paid by FBR.
The new rangers are now leaving to begin their first missions. Thank you for being in this with us and please continue to pray with us for these new rangers and for freedom for them and their country.