WORLD Magazine: Front-line focus: With U.S. troops in retreat in Syria, American aid groups step into the gap
29 December 2019
Tel Tamir, Syria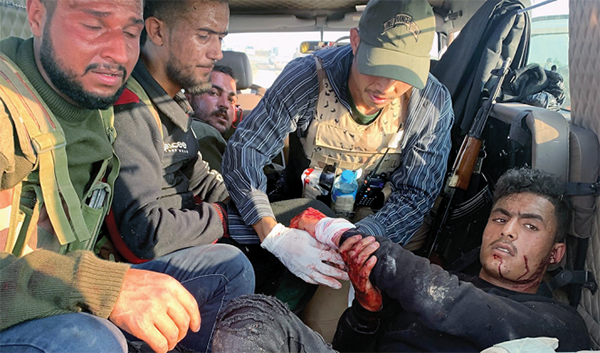 From the article:
At the 2 a.m. watch, gunshots aren't far away. Automatic rifles trade fire in rounds that echo across the old buildings of Tel Tamer. At a compound adjoining the hospital, two watchmen with Free Burma Rangers stand guard, their faces framed between a glow of red lights coming from the emergency room and green lights of a minaret from the mosque across the way.
Unable to sleep, I join them, and ask whether this much shooting is normal.
"As long as the bread factory is going, we know we're OK."
Warm light and malty aromas emanate from the three-story factory. The gunfire makes it impossible to forget this town of Christians, Arabs, and Kurds is the front line for an ongoing assault by Turkey.
As the United States began its retreat from northeast Syria in October, these Americans moved in. Free Burma Rangers, led by Dave Eubank, is a Christian-based volunteer medic corps. In 27 days serving alongside Kurdish-led forces in northeast Syria, its team members evacuated 149 wounded and 83 dead. One of their own also was killed. Burmese medic Zau Seng came under Turkish fire while the team treated the wounded in November. An Iraqi translator working with the group was wounded in the same attack.
Read the full article here.