Rangers Conduct Emergency Mission to Mone Township, Karen State
28 December 2019
Karen State, Burma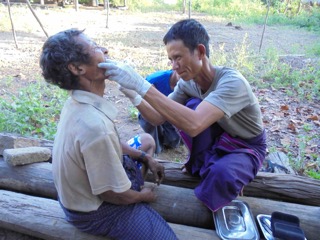 In December 2019, a Free Burma Rangers team carried out an emergency mission to Mone Township of Karen State. A team of four Rangers and two volunteers visited 13 villages to provide medical care, distribute medical supplies, and monitor the current situation.
The 13 villages were abandoned in 1975, 1999 and 2002, and they were rebuilt and resettled in 2016. At that time, the villagers faced hardships from government development projects in the area and the presence of the Burma Army Light Infantry Battalion (LIB) 351, which initially prevented reconstruction in the area. The population has lacked food security and access to basic medical care since 2016.
The Rangers were called to the area to treat patients unable to travel to or afford medical care in the plains area of central Burma. The Rangers treated 295 patients with various ailments including but not limited to: hypertension, infections, acute injuries, dental needs, gastritis, and chronic joint pain. The Rangers also replenished the local healthcare workers' stock of medicine and medical supplies.
The villagers are afraid the National Ceasefire Agreement will collapse. A Burma Army presence in the area has augmented their fear. The Rangers documented two Burma Army camps at Kyauk Pya, and Myaw Oo, which Burma Army LIB 440 occupied, and two militia camps at Aw Law Se and Kyo Pin Seik.
The Ranger team concluded their report by calling for further missions in the area. The Rangers hope to continue to monitor the conflict and provide health care and health awareness to the estimated 8,070 Karen villagers in the area.