Amidst a Climate of Fear, Shan Rangers Provide Relief in Shan State
23 November 2019
Shan State, Burma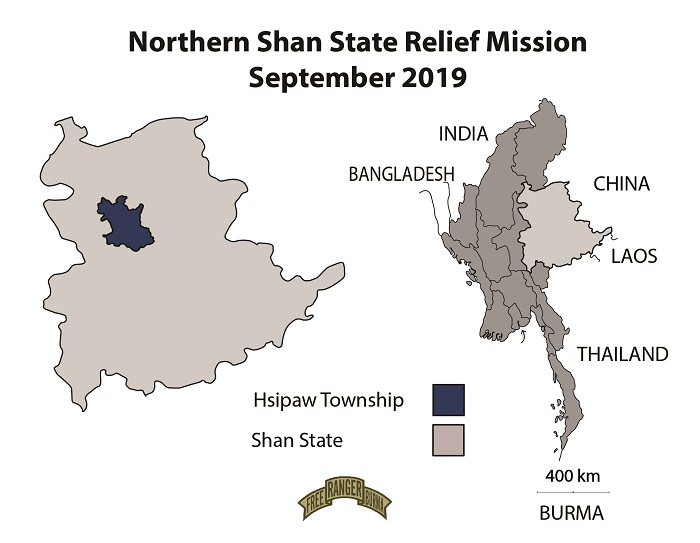 Villagers in northern Shan State's Hsipaw Township fear the sight of soldiers, Burma Army or Ethnic Armed Organization (EAO), as conflict rages. In September, Rangers traveled incognito as civilians during their mission to reduce tension in villages where people fear uniforms. The Shan Rangers are members of Shan EAOs, yet as Rangers their mission changes to providing emotional and spiritual encouragement, material, and life support to the oppressed in the conflict areas.
"The villagers are still afraid of the fighting. Nowadays, some old ladies are really frightened, and their hypertension is getting worse when they see people wearing soldiers' uniforms. We saw many houses, temples, and schools were damaged because of the fighting," the Shan team leader said.    
Having removed their uniforms, the Rangers brought out their guitar and conducted GLC programs for 433 students from seven schools in seven towns. They sang and danced with children who had been given a new smiley-faced Good Life Club (GLC) shirt. The Rangers provided medical clinics, rice supplies, and cash gifts to people who had suffered loss.
Fifteen Shan villagers reported the conflict had destroyed property, caused injury from landmines or crossfire from the war, or killed family members. One man was killed just outside his home by shrapnel from a Burma Army mortar round that exploded nearby. He died lying on the ground at the entrance to his home, leaving his wife and two children behind.
The Rangers' interviews included two stories about landmines disabling civilian men amidst their daily activities. One man was driving a motorbike near his village when a landmine exploded. It was determined that the Restoration Council of Shan State (RCSS) placed the landmine, and they paid some indemnity to the victim. Another man was looking for firewood in the forest near his home when he stepped on a landmine. He awaits funding for surgery to place a steel rod in his leg.  
Northern Shan State has been a black zone for travel and a conflict area for decades. Fighting in 2019 has created thousands of new internally displaced people (IDPs) who have fled attacks by the Burma Army against ethnic groups in Shan State. This war is seeping into all aspects of villagers' lives, so that their home life, work, and daily activities – are indeed carried out in a climate of fear.