Sahale and Suu Eubank Represent the Free Burma Rangers Internationally
20 November 2019
Washington, D.C, and Switzerland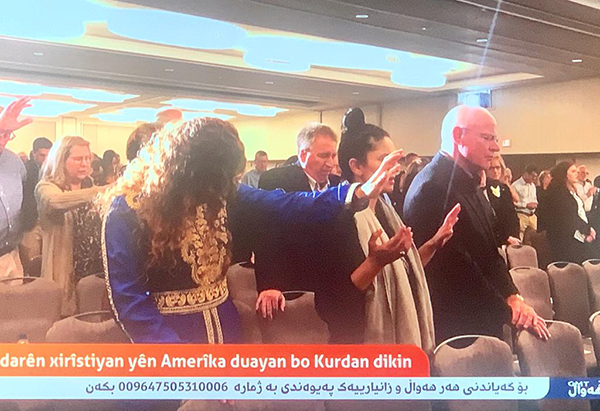 This fall, Sahale and Suu Eubank represented the Free Burma Rangers at events in Washington, D.C., and Geneva, Switzerland. On 28 Oct. 2019, Suu represented the Free Burma Rangers at a Pray for Kurdistan event, hosted by Frontier Alliance International in Washington, D.C. Video of her time is available here and starts around the 2:21:00 mark. Below are their reports and photos about their respective events.
Suuzanne's Report
On October 28, I had the opportunity to attend a prayer event for Kurdistan hosted by Frontier Alliance International in Washington, D.C. It's very rare to see just one Eubank someplace because we've always done things as a family. But, my father was in Syria, my mom and brother were at a missions conference in Alaska, and my sister was helping with our training camp in Burma. I went to D.C. with Shannon Allison and Dave Boyce, who are a part of our Free the Oppressed Foundation and have been on missions with us.
At the event, I shared about how, in Syria right now, the Kurds are defending their homes against the Turkish and Free Syrian Army forces who have invaded the Kurdish region, causing an ethnic cleansing of Christians, Yezidis, and Kurds.
During some of our previous work on the frontlines in Kurdistan, I noticed how brave and resilient the Kurds are. In the battles we've shared, from the fight against ISIS outside of Membij to the last ISIS stronghold in Baghouz, I witnessed them persevering through many trials with hope and commitment. I've been very blessed to have spent time with such an inspiring group of people who fight for the freedoms of not just their own people but everyone.
Please pray for the leaders of the Kurdish forces to have clarity of what to do, the people to have hope and be able to return back to their homes, and for leaders around the world who have power to help in this situation. 
God bless you,
Suuzanne Eubank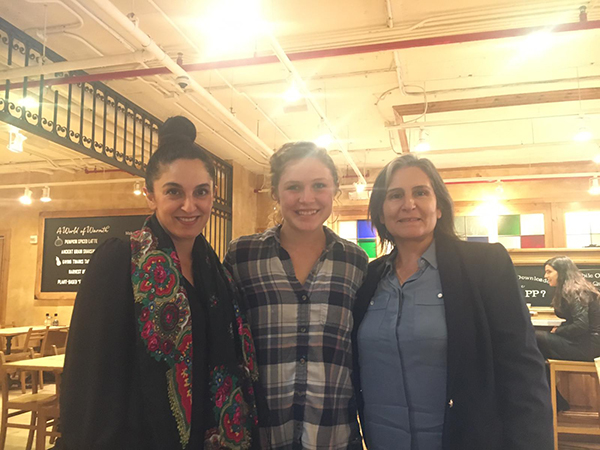 Sahale's Report
In October my father asked me to speak for him in Geneva for Geneva Peace Week 2019. At the time I was at our training camp in Burma teaching English and supporting the instructors in swimming and physical exercise training (PT). Two days before I left our training camp I sprained my ankle doing morning PT with our new rangers causing me to rely on crutches. Then, on Nov. 3, I received a message from Dad, who was on a mission in Syria, saying Zau Seng (our Kachin videographer), who I had known for thirteen years, had been killed by a Turkish drone strike. 
As I flew to Geneva I didn't know what to expect, but the last thing I expected to find was a family. Since 1994, T.A.P.S. (Tragedy Assistance Program For Survivors) has helped families who have lost loved ones to war by providing comfort and hope 24/7 through a national peer support network and connection to grief resources, all at no cost to surviving families and loved ones. When I arrived I met the director of T.A.P.S, Bonnie Carroll, who had lost a husband on Nov. 12, 1992.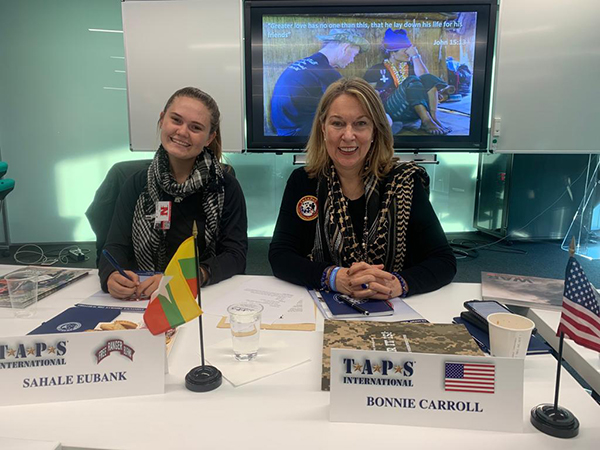 I was asked to speak at the "Turning War Grief into Positive Peace" session which T.A.P.S. hosted. My fellow speakers were Fatma Megrahi (Libya), Salma Seraj (Afghanistan), Justine Rukeba (Rwanda), Dr. Nada Ibraheem (Iraq) and Janessa Wilder (Euphrates Institute). Each shared amazing stories of loss and grief but ended their stories with hope. Justine Rukeba from Rwanda shared how she was the only survivor of her immediate family from the Rwanda genocide. When she told her story she said, "I didn't know who to grieve for, maybe my family members but which one? Maybe my country, but how can you truly grieve for a whole country?"
Hearing these women's stories gave me peace and inspiration. I found that when you surround yourself with others who have shared in similar grief, your sorrow becomes less and finding joy becomes easier. These stories of women who had lost everything but still decided not to despair inspired me. These women played an important role in my grieving process. Each stepped into my life as a mother, aunt, or grandmother figure.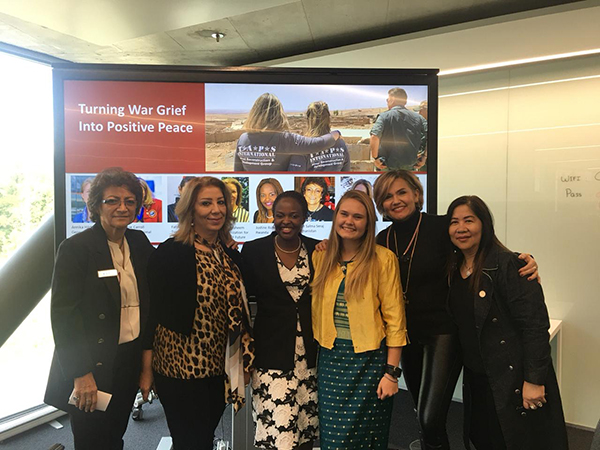 During the Geneva Peace Week, I attended many different conferences explaining peace in different aspects. However, the session T.A.P.S hosted was by far the most impactful because they didn't just deal with numbers or statistics, they also opened matters of the human heart. This gave the audience and speakers a chance for true hope and motivation for humanity and peace as a whole. Having a community that has shared similar experiences of loss helps overcome grief and leads to joy.
Grief is something we all deal with, it transcends religion, race, and geographical boundaries. Sorrow and grief in conflict zones have taught me to love people unconditionally, which caused me to grow into a person who can share sorrow deeply with others. It has reminded me of the truly important aspects of life, love, truth, freedom, and generosity and never taking life for granted. Grief causes me to grow even though it is extremely painful. My great aunt who has polio and is paralyzed from the waist down once told me, "Those who have not suffered are insufferable." John 14:27 has helped me through moments of grief. It reads, "Peace I leave with you, my peace I give unto you: not as the world giveth, give I unto you. Let not your heart be troubled, neither let it be afraid" (KJV).
The biggest insight I've gained to transform war into positive peace is to never surrender to the evils of this world. Never surrender to despair. Believe that in the end love will win and that there is hope for humanity. Never surrender to fear because fear blocks us from living life and loving others to the fullest. Never surrender to hate and be quick to forgive and trust. Never surrender to the past because tomorrow is a new day. We surrender only to love because we believe love will overcome evil.
Thank you and God bless you,
Sahale Eubank