Northern Burma Clash Account – October 2019
18 November 2019
Kachin and Northern Shan State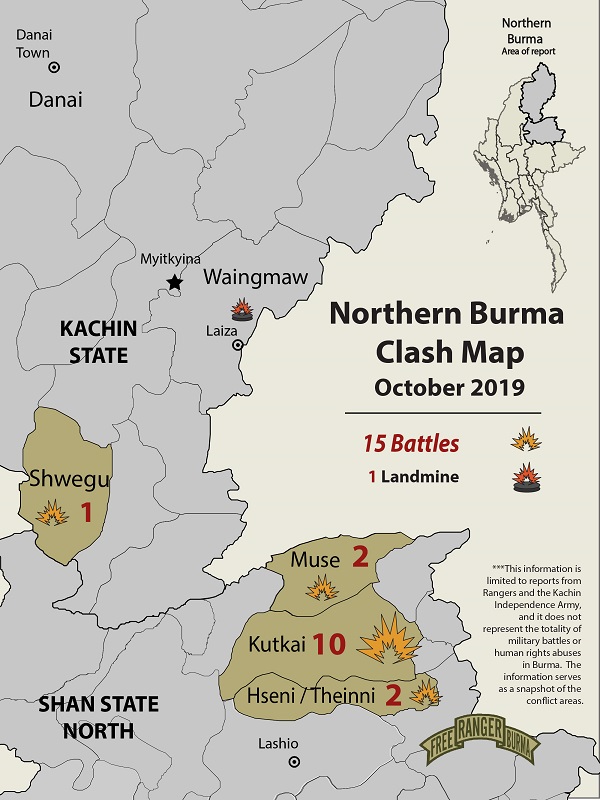 October Clash Account Summary
Battles 15
Theinni Township 2
Muse Township 2
Kutkai Township 10
Shwegu Township 1
—–
Injured Civilians 15
Displaced Civilians 231
—–
October has seen a continuation of conflict within and around Kutkai Township, with Burma Army units being supported by air. Conflict in Northern Burma has reduced in Kachin State over the last year and increased in northern Shan State, where trade routes and ethnic enclaves reside in contested territory.
Kutkai Township, Shan State
Civilian Casualties / Displacement
On Oct. 26, 231 villagers fled from Nam Hwi Village, Nawng San Village, and Maru Hpakga Village due to nearby battles between the Burma Army and the Ta'ang National Liberation Army (TNLA). The villagers, 112 males and 119 females from 68 families, fled to Kachin Baptist Church compounds at Maw Han Village.
Battles
On Oct. 26 at 1200, Burma Army troops from Light Infantry Divisions (LIDs) 88 and 99 from Kutkai attacked a TNLA outpost in Maru Hpaga Bum. Then, at 1300 two Burma Army helicopters supported ground troops by firing on Maru Hpaga Bum. 
On Oct. 25 at 0930, Burma Army and TNLA soldiers battled at Mungmyit Sinli, Kuthkai and Nam Pa Chi. The Burma Army banned traveling in vehicles at Bum Sum Shi near Kutkai and the Lashio-Muse road. 
On Oct. 24 at 0500, approximately 50 Burma Army Light Infantry Battalion (LIB) 324 soldiers clashed with Kachin Independence Army (KIA) soldiers from 8th Battalion along Nam Yi between Pang Gaw and Pang Wa, Kutkai Township. Two Burma Army soldiers were killed. 
The same day, at 1730 approximately 60 Burma Army LID 99 soldiers battled 30 TNLA 474th Unit soldiers between Maw Han and Nam Mwi Nawng San, Kutkai Township. A Tamunye-based Burma Army unit fired mortars and one landed at Maru Hpakga Village, injuring a 35-year-old woman and her 12-year-old daughter, who was hit in the calf. 
Oct. 16 at 0600, Burma Army soldiers and TNLA soldiers battled near a cemetery in Kutkai Township. On the same day at 0700, TNLA Unit 665 and Burma Army soldiers (unit unknown) battled between Manjak and Hkulung, Kutkai Township. 
On Oct. 12 at 1600, three civilians were wounded by Burma Army mortar rounds. Burma Army soldiers fired the mortars from Kutkai into Manbang, Man Awng Village. One adult female, one adult male, and a two-year-old infant were injured. 
Oct. 11 held three reported battles in Kutkai:
At 0730 TNLA soldiers defended against a Burma Army attack in Gauri Pa, east of Namgut Hunawng.

At 1045 Burma Army LIB 417 and TNLA soldiers battled in Jelen Namngu Village.

At 1104 Burma Army and TNLA soldiers battled at the Loibyak road junction between Maisak and Mankang.
Theinni Township, Shan State
On Oct. 11 at 0530, Burma Army personnel mistakenly fought themselves. Light Infantry Division (88) soldiers atop a hill near Sinli Town No. 1 Middle School and Sinli Town security guards battled. Two civilians were injured. 
Oct. 9 at 0630, 5th Brigade TNLA soldiers entered Sinli Town, subsequently battling with Burma Army soldiers riding in a military vehicle. Seven civilians were injured in the fighting. Two civilian homes in Quarter 1 were hit by mortar shells and three civilian cars damaged.   
Muse Township, Shan State
Oct. 16 at 0700, Myanmar National Democratic Alliance Army (MNDAA) soldiers and Burma Army soldiers clashed at Hpawng Seng Tadwi Village, Muse Township. 
On Oct. 11 at 1040, the combined Burma Army LIBs 423 and 427 clashed with TNLA Unit No. 113 at Namgau.
Danai Township, Shan State
On Oct. 19 at 1800 the Burma Army Infantry Battalion (IB) 126 seized six public engine boats carrying 90 barrels of fuel and 100 bags of rice heading to Dalu Ja Maw (Dalu mining area) and Tummani in the southern Danai River area below Hkalung Village. The 126th later drove the supplies to Danai Regional Operations Command Base in Danai Township. 
On Oct. 2, Burma Army soldiers at Seng Tawng Post near the Danai River erected a checkpoint and extorted civilians. Supply boats were forced to pay 100,000 kyats and passenger boats 50,000 kyats. People unable to pay were prohibited from operating their boats.
Shwegu Township, Kachin State
On Oct. 14, approximately 50 Burma Army soldiers from IB 141 attacked the KIA Awng Jat Post in Shwegu Township. The attack was launched while most of the KIA soldiers were being relieved offsite. 
Waingmaw Township, Kachin State
Civilian Landmine
On Oct. 26 at 1330 a man from Namsan Yang stepped on a landmine near Lazing Kawng while fishing, and was seriously wounded.