Chin Rangers Support IDPs in Rakhine State's Conflict Areas
9 November 2019
Rakhine State, Burma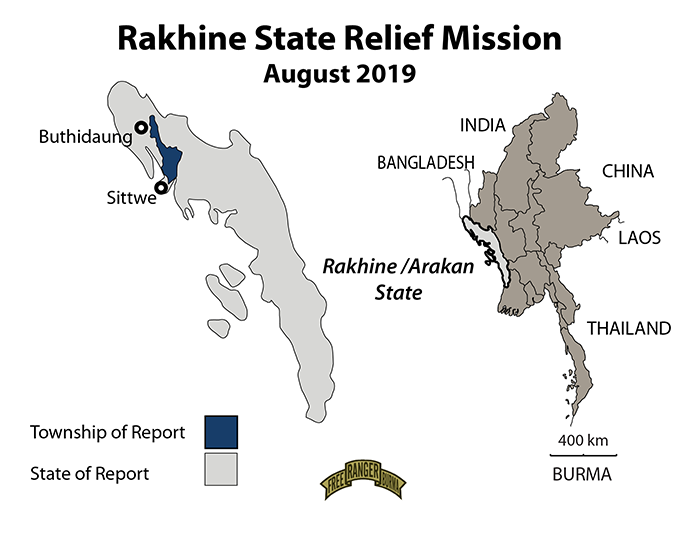 Camp names and specific details have been omitted for security purposes.
In August, Chin Rangers supported restricted internally displaced person (IDP) camps in Rakhine State, western Burma, with food aid. The IDPs told the Rangers about a Burma Army prohibition for camps to receive support, though the Rangers and IDPs succeeded at smuggling in supplies. Widespread military conflict has also prevented most outside assistance.
The 2016-17 Rohingya refugee crisis that poured into Bangladesh originated from Rakhine State and has yet to be resolved. In 2019, a new conflict emerged between the Burma Army and Arakan Army (AA) of Rakhine State, increasing civilian displacement into IDP camps. Battles have been frequent and severe, and the Burma Army has used helicopter strikes against the Arakan.
"We need to send information to others for support and help. The IDPs lack food and medicines, and accessories. We want to help Chin IDPs from Rakhine State and Chin State," the senior Chin Ranger said. 
The Rangers met with IDPs from two IDP camps which, together, hold 177 houses and 819 people. The IDPs talked about insufficient food and housing, and they requested extra rice and supplies to construct homes for 27 families. Our teams provided 132 sacks of rice to the camps.
A Burma Army Light Infantry Battalion (LIB) and Burmese police operate nearby the camps the Rangers supported. Locals told the Rangers that police convoys (trucks) had struck landmines on two occasions in their area recently. It is unclear which armed group placed the landmines. 
IDPs and villagers lack access to food because they cannot forage in nearby forests. The rainy season yields ripe bamboo shoots and other edibles to forage for consumption or sale. These are inaccessible due to landmines or the risk of capture by the Burma Army or AA, both having required locals to porter supplies. IDPs and villagers are routinely questioned for information about AA activity by the Burma Army. In some circumstances, IDPs related to Arakan soldiers cease communication with those friends or family lest they be harassed or arrested by the Burma Army. 
The IDP camps lack education, though many children attend school at the nearby village high school. The students' limited access to food, shelter, and education resources have contributed to many students failing their 10th Standard requirements. The 10th standard is the final secondary education year for Burmese students, typically aged 15-16. Younger children struggle to continue to high school and stay at home with their families.
 "We plan for the next mission. If possible we want to support by foods for Chin IDPs and medicine for Falam Township in Chin State. The GLC program is also essential because it is God's program through FBR and we want to express a message of love and reconciliation to the Chin people. So we want to say, thank you very much for support us to our Chin tribal people, may God bless your mission!"
Faithfully
FBR Team leader
Western Burma, Chin State