Turkish Drones Strike and Kill As We Feed Displaced People in Northeastern Syria
26 October 2019
Syria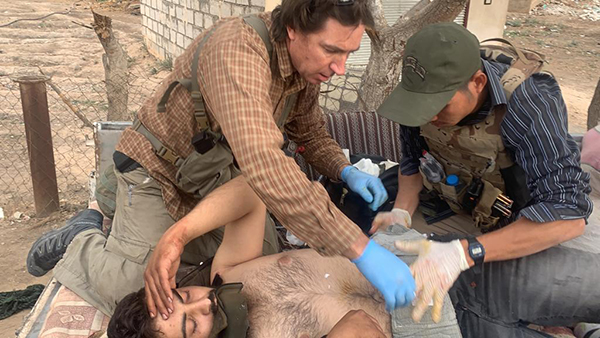 Dear friends,
Despite there being word of a ceasefire in effect, the Free Syrian Army, supported by Turkey, continues to attack the Syrian Democratic Forces and civilians in the area. Thursday, the Turks conducted multiple airstrikes with drones all around us. I could see one 100 meters in front of me, another 200 meters behind me, and many more that were attacking SDF positions. These drones have also been targeting and taking out ambulances so now ambulances are not moving anywhere near the front. We continue to move at night with prayer to find those who are wounded.
Thursday night we heard that there were four wounded soldiers from two different Turkish drone strikes. As we went forward to try and find them, we had to constantly hide from the drones ourselves. We reached a village, and met with the only family remaining there. The village had included about 1,000 families but they had fled. The family explained how they were now the only ones left and how they had to hide from the drones even as they moved around their home area. They would run between the living and kitchen areas so that the drones wouldn't see and hit them. It felt like an end-of-the-world scenario with the abandoned streets and drones constantly flying overhead.
We had to wait to try and find the wounded soldiers until the drones flew away. Around 3 a.m. we found one and got him out. He's badly injured but we believe he is going to live. Another soldier died before we could get to him.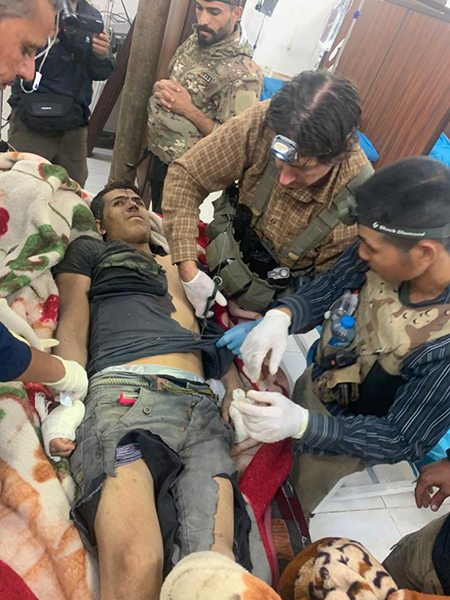 Then, later Friday morning around 9 a.m., it began to rain and so we were able to move and find the other two near where they had been hit Thursday night. One had a serious head injury and one had his stomach ripped open.
"The dogs tried to come and eat my stomach last night. It was wide open and I had to fight them off," one soldier said. I don't know if they'll make it but we got them to the Tel Tamir hospital and then they were moved again to Qamishli.
So, these Turkish airstrikes continue during this so-called ceasefire along with attacks by the FSA, supported by rockets, mortars, and artillery. On Oct. 24 they attacked from noon until night, both near us and west of us. The attacks disrupted a distribution we were doing that day for about 120 families but we were able to complete the distribution, which was just bread and water.
Yesterday, we got another call to go and help two more SDF soldiers, one who had been shot in the leg and one who had been shot in the hand. We loaded up two armored ambulances and drove right in front of the FSA because there was no other way to the wounded men. About 200 yards from the FSA position, they opened up on us but missed. We got the two wounded out and our medics, Joseph and Jason, took care of them as we drove them to Tel Tamir Hospital and the Kurdish Red Crescent team, who are our partners here.
Friday night we saw a Syrian Army convoy as it passed between Hasakah and Tel Tamir. It had over 100 vehicles of troops heavily armed with machine guns and 120mm mortars as they continued on their way to Tel Tamir. I heard they were going to try and stop the FSA/Turkish advance at different points along the front between Tel Tamir and Ras Al Ein.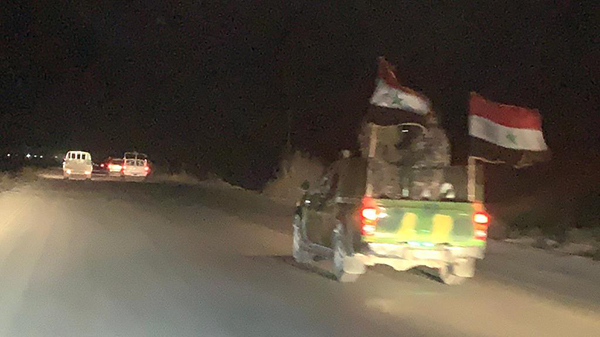 Today, Oct. 26, the FSA continued their attacks all day with more than 20 artillery rounds going over and behind us. We are north of Tel Tamir and east of Manajeer Village, which the FSA has taken over. Three of the rounds landed in the village we are in, about 150 yards from us, but there were no casualties because the rounds landed amongst the buildings.
Today has been the biggest day of fighting so far. We're near Soda Village, which has fallen, and have been hit by artillery and Turkish drones. Three Turkish armored vehicles came into the village with cannons, machine guns, and dismounted infantry. The FSA hit our casualty collection point but we were able to get our guys and wounded people out. We've fallen back to evacuate more people but the fighting is in front of us and behind us now, very close to Tel Tamir.
There's a lot of fighting, a lot of wounded, and a lot of dead. There is no ceasefire and I wish the world would finally admit it. I have the blood of dead Kurds on my clothes. That's from today. That's what's really happening.
This onslaught is ongoing.
We thank you all for praying and we thank God for allowing us to get two more people out.
Dave Eubank and the Free Burma Rangers