Burma Army Intensifies Its Attacks Against Ethnic Groups in Northern Burma
8 September 2019
Northern Burma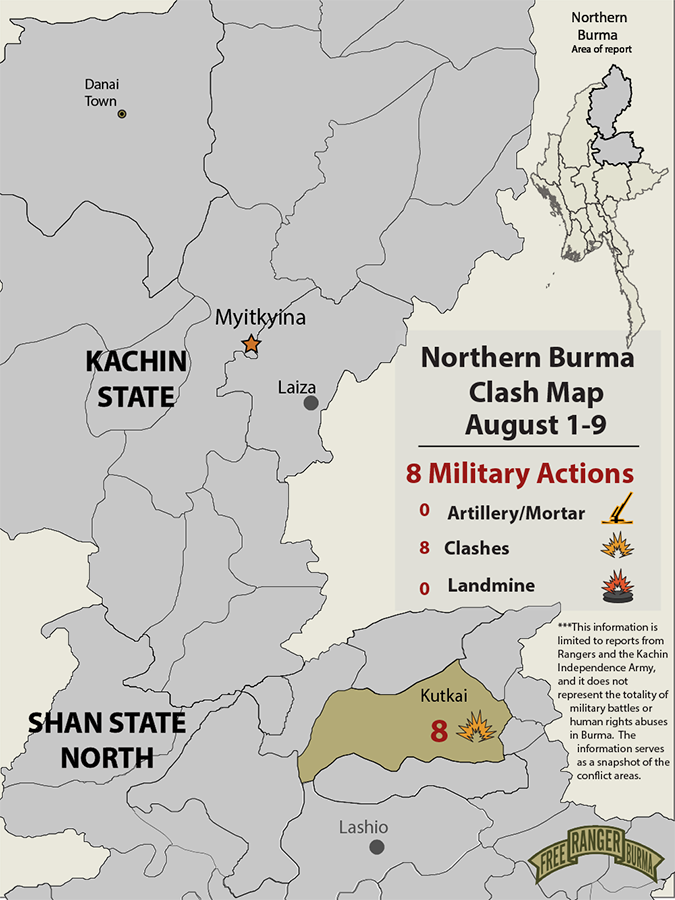 On August 7th, Lahpai Hting Nan (37, male) from Pyinlung Village, Kutkai Township, was arrested, shot, and killed by elements of Burma Army Light Infantry Division (LID) 99 while the Burma Army troops were maintaining a security presence in his village. Sources say that he entered the area not knowing the Burma Army troops were operating there.
Ungsau La Sam (41, male) from Block 2 of La War Village was found dead with two gunshot wounds to the chest on Aug. 2. His family said he had left his house the previous day to gather vegetables in the jungle.
During the morning of Aug. 6, two Kachin Independence Organization (KIO) Health Department medics were arrested by Burma Army Infantry Battalion (IB) 238 at a dock in which they were in the process of traveling to Danai Village in Danai Township. On Aug. 8, Captain Hkin Zaw from Burma Army Light Infantry Battalion (LIB) 13 coerced community leaders from Sabaw Maw Village to submit a monthly fee to Burma Army command in Hpakant Township. LIB 13 is currently attached to LID 33.
In early August, Burma Army infantrymen from LID 99, MOC 10, and IB 290 engaged with the Ta'ang National Liberation Army (TNLA), Myanmar National Democratic Alliance Army (MNDAA), and the Kachin Independence Army (KIA) Second Battalion in a number of locations on an almost daily basis. Fighting occurred in or within close proximity to the villages of Mawhan, Shaije Pa, Nawng Hpyu, Shaije Pa, Jinghpaw Nayi, and Man Yan Bum. The majority of these engagements were harassing attacks on either mounted or dismounted Burma Army elements on the move by either the TNLA or the MNDAA. In one instance during the evening hours of Aug. 8, TNLA soldiers attacked Burma Army troops from the IB 290 outside of their forward operating base between Tamoeyne and Daknai.