Meeting Vice President Pence at the Ministerial to Advance Religious Freedom
19 August 2019
Washington, D.C., USA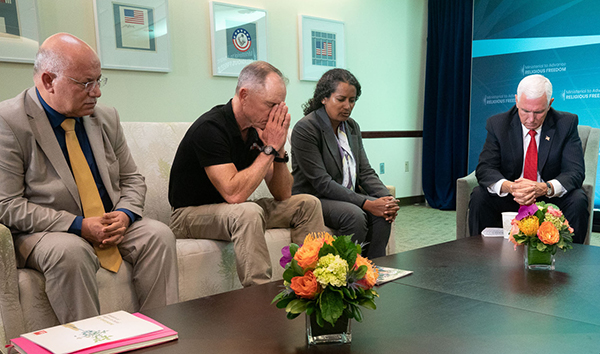 Dear all,
We are thankful for the wonderful time at the Ministerial to Advance Religious Freedom. This was a God-centered and at the same time inclusive event. We are grateful to all at the American Center for Law and Justice, The US Commission of International Religious Freedom, and the State Department who enabled my daughter Suu and I to attend this event. 
We could feel the presence of God throughout the event and it felt like a bright light of love was emanating from the center of the State Department. The staff who put this event together were very well organized, gracious, patient, welcoming, and helpful. It was a special blessing for us to meet old friends and make many new ones.
Among many highlights was meeting people who had been set free from imprisonment for their faith and seeing them shine. "The President just saved their lives," was the response from a State Department official after a group of released prisoners of conscience were recognized at the White House. Meeting with Rev. Brunson who had been held in Turkey, Heather Mercer who had been a prisoner of the Taliban in Afghanistan, a Kachin pastor, Langjaw Gam Sang, held by the Burma Army, and Farid Uddin Ahmed, a wheelchair-bound survivor of the massacre at the Al Noor Mosque in New Zealand whose wife was killed trying to save him, were some of the personal highlights of this ministerial.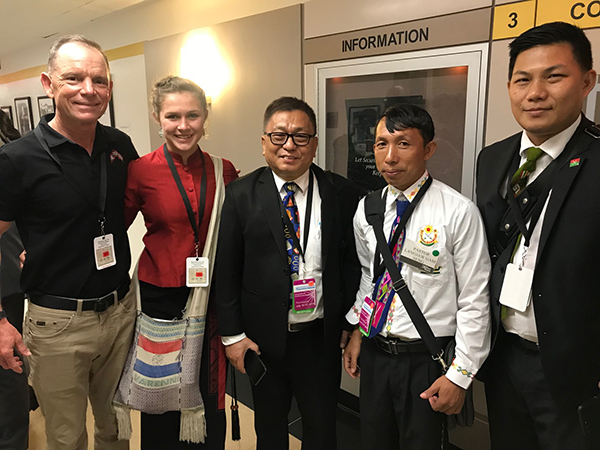 Ambassador Brownback, Secretary Pompeo, and Vice President Pence made people of all faiths feel welcome. The message I heard from these leaders were words to the effect that these men followed Jesus and were at the same time united with all at the ministerial by a common faith in something greater than themselves. Meeting with Ambassador Brownback, whom I first met in Thailand many years ago, was an honor as was the time we spent with Vice President Pence. The Vice President gave some of us time to share what we had experienced and the situations of oppression we witness. His faith, humility, grasp of the various situations, and his motivation to act inspired all of us. Nadine Maenza, Pam Pryor, General Boykin and others also inspired us with their words and actions.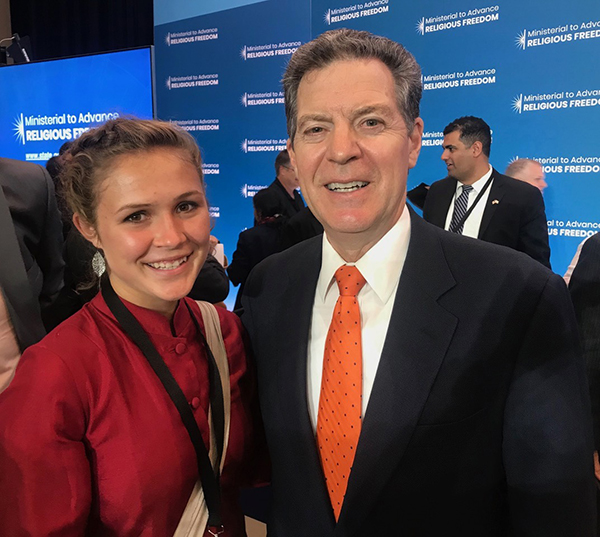 All of those who supported this event as well as the attendees were imbued with a sense of humility, respect, and encouragement. There was a genuine interest in each other's work among all we met in the ministerial. We could also feel the love that overflowed outside the venue. We met up with my friends in the Yezidi delegation as they exited the last day and they were beaming. They told me how much they appreciated the support from the U.S. and were inspired by the meetings. People came away not dependent on the U.S. but reinforced and lifted up by the U.S.
The outside sessions carried on with this same feeling and we left feeling supported, connected, educated, hopeful, grateful and inspired.
Thank you and may God bless you,
David and Suuzanne Eubank, family, and the Free Burma Rangers