Burma Army Offensives in Kachin and Shan States Continue with Detentions and Checkpoints

1 July 2019
Northern Burma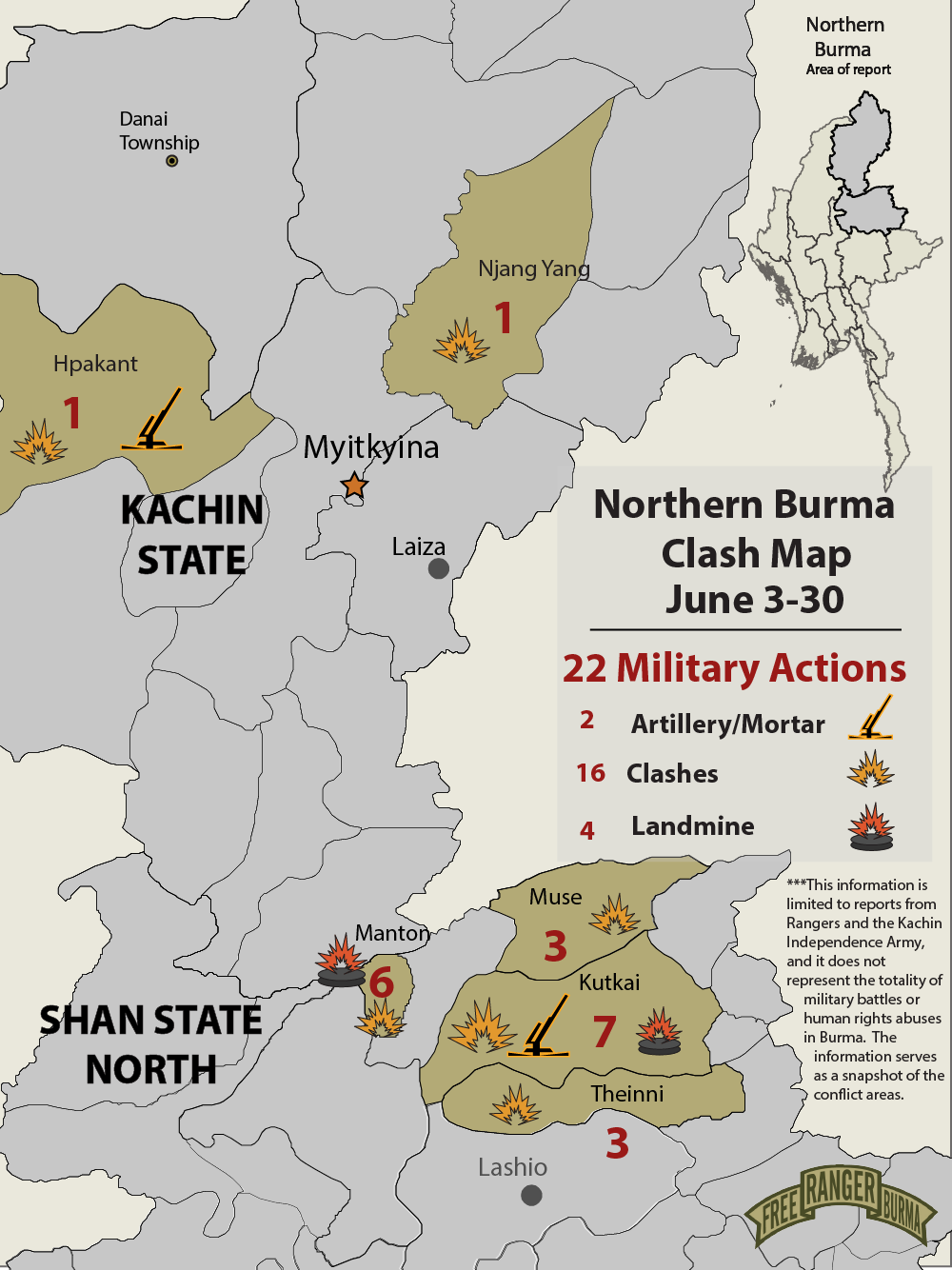 In several locations throughout northern Burma, elements of the Burma Army planned and carried out complex attacks on Kachin Independence Army (KIA) positions in Kachin and Shan states. Some of these were successful in overtaking KIA positions while others were beaten back. During this period, Burma Army and Burmese police conducted detention and searching operations in Danai and Hpakant townships.
On June 3 an estimated 50 Burma Army soldiers from Infantry Battalion (IB) 86 told ferrymen transporting goods by motorboat up the river to Dalu Village in Danai Township, Kachin State, that they would no longer be allowed to operate their ferries.
On June 6 at 0930, another estimated 50 elements from IB 297 detained 30 people mining in Ja Wang Maw. About 20 people were employees of mining manager Aye Yi. The detainees were driven to Hkawnglaw Hka Post, where IB 297 is based.
On June 12 at 0930 hrs, a combined force of Burma Army and police (estimated 20 people) established a snap vehicle checkpoint to search vehicles and people at an intersection between Sharaw Hka and San Chyoi in Hpakant Township.
Hpakant (Kachin State)
On the morning of June 6, at 0815, a KIA sentry was standing guard in Kamaing Sub-Township when he spotted about 60 Burma Army soldiers from Light Infantry Battalions (LIB) 12 and 119 attempting to move quietly along the route. He opened fire on them. Only 17 KIA soldiers were stationed at the post, but they attacked the Burma Army soldiers aggressively, forcing them to retreat. During the retreat, other Burma Army soldiers from LIB 11, who were stationed at Namjan on Maihting Bum [Hill], began firing mortar rounds toward the KIA position. The fighting during the retreat itself only lasted for 15 minutes, ending at 0830, but the Burma Army kept up the artillery fire, averaging one round every 15 minutes for the next few hours. In total, they fired 16 rounds.
When the artillery fire stopped, Burma Army soldiers returned to attack the KIA post from two sides in a pincer maneuver. The KIA soldiers defended their position but had to retreat after 20 minutes. They retreated behind the hill while the Burma Army captured the post.

The KIA waited for three hours to see if they could retake the post, but forces from Namya Pyitutsit arrived as reinforcements. The KIA soldiers found that their location had no water and decided to move further away to a more tenable position. 
On June 13 at 1030 hrs, Burma Army LIB 119 arrived at Namsheng Bum and conducted a reconnaissance of a KIA 44th Battalion militia post in Hpakant Township via an unarmed aerial vehicle (UAV) launched from Gauri Village.
Njang Yang (Kachin State)
On June 4, Burma Army IB 37 built a new post at Maitawng Village between the Myitkyina and Putoa roads. 
On June 8, Burma Army IB 137 engaged a KIA post at Ningdang Kawng with small arms fire.
Chipwe Township (Kachin State)

From June 6 to June 11, Chinese soldiers made a brief incursion into Myanmar. A platoon-sized element of armed Chinese soldiers carrying mine detectors traveled through Chipwe Township near the KIA Zi-un Post. The area is controlled by KIA 7th Brigade and Burma Army IB 141 is stationed in the vicinity.
Kutkai (Northern Shan State)
On June 10 at 1130 hrs, an estimated 80 Burma Army soldiers under Light Infantry Division (LID) 99 coming from Bang Hpik clashed with Myanmar National Democratic Alliance Army (MNDAA) forces at Loi Mun Village in Kutkai Township.
On June 15 at 0500 hrs, Ta'ang National Liberation Army (TNLA) soldiers exchanged fire with Burma Army soldiers under LID 99 (60 estimated soldiers) in the vicinity of Nawng San Village, Kutkai Township.
On June 28 at 0600 hrs, Burma Army soldiers from LIB 418 (60 estimated soldiers) under LID 99 coming from Dak Nai clashed with TNLA soldiers from No.777 Battalion at Zi Hu Hpyet.
On June 28 at 1010 hrs, Burma Army soldiers fired six mortars towards Maru Hpakka from their Tamunye Base at a rate of one round every 10 minutes in Kutkai Township.
On June 28 at 1730 hrs, Burma Army soldiers from LID 99 were ambushed by a claymore mine laid by KIA militiamen, killing three soldiers and injuring four others. 
On June 29 at 0930 hrs, Burma Army soldiers from MOC 10 (estimated 50 in size) clashed with TNLA soldiers from No. 447 Battalion between Balawng Hubung Village and Bangsak Village.
On June 30 at 0945 hrs, fighting occurred between Burma Army troops and TNLA soldiers from No.447 Battalion between Mung Paw and Saihkau.
Theinni Township (Northern Shan State)

On June 16 at 1400 hrs, Burma Army soldiers (70 estimated) from LIB 376 coming from Manlung exchanged fire with MNDAA soldiers (40 estimated).
On June 19, Burma Army soldiers (70 estimated) from LIB 376 were coming out of Bang Ya Yung when they exchanged fire with MNDAA forces at Ta Lau Shwi Village in Theinni Township. 
On June 17 at 1050 hrs, Burma Army soldiers from LIB 505 were coming out of Namsung Village exchanged fire with TNLA troops from 1st Brigade at Nam Nyu Bum Village.
Manton (Northern Shan State)
On June 23 around 1230 hrs, Burma Army soldiers (estimated 60) from LIB 113, attached to LID 99, advanced toward Loikaw Village near the Loikaw cemetery. A squad-sized element of KIA soldiers from 8th Battalion mounted a defense against the advance. The KIA soldiers tried to slow the advance by remotely detonating a mine at Gun Rang Junction around 1445, but failed to stop the Burma Army soldiers. Thirty minutes later, at 1525 hours, the KIA attempted another defense between Loikaw and Pang Law. During the fighting, the KIA alleges that their forces killed the LIB 113 commander, which led the LIB 113 soldiers to break contact.
On June 27, KIA militiamen attacked elements (80 estimated) from LID 99 that were traveling between Nawng Hpan and Hkaw Kai. The attack was initiated with a remotely operated mine at 0830 hrs and continued for a short duration.

On June 28, TNLA soldiers remotely detonated a mine near Burma Army troops in the vicinity of Mu Nawng Village, wounding seven soldiers.
On June 27, TNLA troops engaged Burma Army troops coming from Loikaw. The fighting began at 1213 hours and was between Manmau and Bangjam.
Muse Township (Northern Shan State)
On June 23, Burma Army soldiers launched simultaneous attacks from three different locations between 0800 and 0830 hours. These attacks appear to have been planned in coordination. Burma Army soldiers (60 estimated) from LID 99 attacked a forward position of the KIA 38th Battalion outside Hu Tau Village.
Burma Army soldiers (80 estimated) from LIB 14 (attached to LIB 99) encircled and attacked KIA 36th Battalion forward positions at Myen Dang Bum.
Burma Army soldiers from IB 147 clashed with combined troops of the MNDAA and the TNLA 99th Brigade at Uraw Bum.