Fighting in Northern Burma Shows Renewed Military Campaign by the Burma Army
15 June 2019
Northern Burma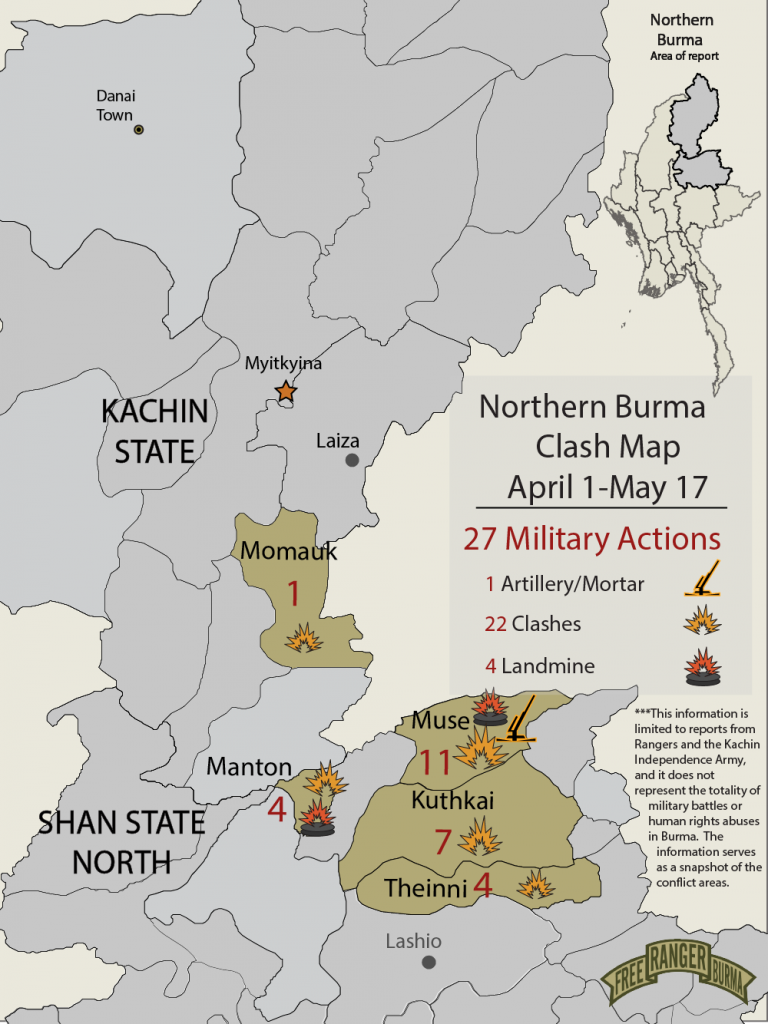 During April and the first part of May, Burma Army soldiers from two Light Infantry Divisions (LID), several Light Infantry Battalions (LIB), and three Infantry Battalions (IB) traversed northern Shan State and Kachin State, engaging in clashes nearly every day with different ethnic armed organizations (EAOs).
The Burma Army units involved were LID 99 and LID 101; LIBs 11, 12, 109, 363, 365, 418, 419, 420, 426, and 427; and IBs 10, 90, 252, and 253. The ethnic armed organizations involved were the 8th, 9th, 34th, and 36th battalions of the Kachin Independence Army (KIA), troops from the Ta'ang National Liberation Army (TNLA), the Myanmar National Democratic Alliance Army (MNDAA), and the Shan State Army-North (SSA-N), which is a wing of the Shan State Progress Party (SSPP). The affected townships, in order of most fighting to least, were Muse, Kutkai, Theinni, Manton, Momauk, and Hpakant. Other non-clash incidents also occurred in Danai and Waingmaw.
The geographic spread of the clashes as well as their frequency and the number of units and troops involved indicate renewed military campaigning by the Burma Army. In several townships, the incidents were chance encounters between Burma Army troops and ethnic troops, but in a few, particularly Kutkai and Muse, the fighting was a coordinated effort.
MUSE (N. Shan State)
In Muse Township a five-day clash broke out between Burma Army LID 99 and the KIA 36th Battalion after the KIA detonated a mine under a bridge that Burma Army troops were crossing.
The clashes started on April 18. In the afternoon at about 1500 hrs, 60 Burma Army soldiers from LID 99 were moving along the road from Maihpung Village. Just as they were crossing over the Nam Hkawm bridge, militiamen from the KIA 36th Battalion detonated two remote mines under the bridge. The number of injured or killed Burma Army troops is not known, but LID 99 reacted aggressively to the attack. After a day's pause to organize, they sent out groups of 80 to 100 soldiers to nearby villages to find the KIA. Heavy fighting started as the KIA defended against the Burma Army's advances and the fighting continued through the rest of the week until April 24.
On April 20 at 0730, Burma Army troops began fighting with the KIA while advancing to Nam Hkawng Bum ("Bum" means hill). The fighting continued sporadically through the morning until 1500, when Burma Army soldiers stationed near Mile Marker 105 fired ten 120mm mortar rounds into the KIA's vicinity.
The next day, April 21, about 50 troops from LID 99 headed toward Kaidu Kawng Village, only to be met by combined troops from the KIA 36th Battalion and the Shan State Army-North (SSA-N), who had come to the KIA's aid. The first wave of fighting happened around 1420. After a brief lull, fighting picked up again at 1530 when another 50 Burma Army troops came in as reinforcements. About 100 soldiers attacked Kaidu Kawng Village, as well as Bau Noi Village. The Burma Army soldiers then branched out and headed toward Kunghkang Bum, where they fought again with KIA militiamen at 1800.
All morning long on April 22, from 0800 to 1200, Burma Army soldiers pressed an attack on a KIA 36th Battalion station at Yihku Kawng. Then, around 1430, they found and attacked the 36th Battalion headquarters, which is located in an old Howa village. After taking a short while to prepare, they attacked the headquarters from three sides. Fighting between LID 99 and the KIA around the headquarters continued through the rest of April 22 and stretched into the morning of April 23.
On April 23 the Burma Army called in reinforcements and a convoy of 15 Burma Army military trucks started driving from Munggu. Once the KIA became aware of the convoy, they sent militiamen to attack it. The militiamen detonated two remote mines along the route, one at Nampa Tek at 1246 and two at Namtau Village at 1300, 15 minutes later.
No other fighting is recorded until May 1 at 1220, when the KIA 36th Battalion attacked 40 Burma Army soldiers from LID 99 in Maw Tawng Village by detonating a remote mine. They killed three soldiers.
KUTKAI (N. Shan State)
In Kutkai Township, the area around Dima Village was a hot spot, with Burma Army soldiers from LID 99 and LIBs 418, 419, and 420 all encamping nearby. On April 7, an estimated 400 soldiers demanded and took rice and chicken from villagers in Nam Um Village, which is between Dima and Mawhkam. When the villagers protested, the soldiers threatened to set fire to their houses.
The KIA 9th Battalion was the main ethnic armed group near Dima. On April 18, between 0940 and 1200, they clashed with about 60 Burma Army soldiers from LIB 418 at Gadung Kawgn, between Dima and Mung Li. In the afternoon at 1500, they clashed with another 50 Burma Army soldiers between Dima and Dak Nai.
Altogether, the KIA 9th Battalion had an active month. In addition to the mid-April fighting around Dima, they engaged with the Burma Army in other areas of Kutkai. On April 5 at 1710 in the afternoon, they met and fought 50 Burma Army soldiers between Man Hawng Village and Hu Hpyet Village. On the 29th, KIA militia clashed with an estimated 50 Burma Army soldiers from IB 10 at Kawngmu (around 1400 hours) and another 50 soldiers from LID 427 who were advancing toward Bum Pri Bum. The KIA defended against LID 427's advance, but the Burma Army soldiers stayed persistent. The fighting, which occurred near Nam Pati Village, stretched over two days.
The TNLA also clashed with the Burma Army in Kutkai on two separate occasions. The first engagement occurred on April 10 at 0945, when an estimated 80 soldiers under LID 99 clashed with TNLA soldiers at Makawk Pa. One civilian caught in the middle, 71-year-old Mr. Sham Lat, received a neck injury. The second clash happened on April 22 at 1330. TNLA No. 112 fought with Burma Army troops near Nam Sare Village, above Nam Hkam Village.
THEINNI (N. Shan State)
In Theinni Township, Burma Army soldiers clashed with ethnic armed troops on a few separate occasions, though there did not appear to be any coordinated Burma Army campaign. The first incident occurred on April 19 in the early morning between 0630 and 0800. An estimated 80 Burma Army soldiers from LIB 363, coming from Mung Yaw, clashed with 60 combined troops from the MNDAA and TNLA around the old site of Pang Huk Village.
On April 27 at 1330 hrs, there was heavy fighting between an estimated 120 combined Burma Army soldiers from LIBs 365 and 419 and KIA soldiers from 17th Battalion at Laushi Village.
MNDAA troops clashed twice with Burma Army soldiers while traveling through the hills. On May 2 at 1115, MNDAA soldiers from Unit 201 fought briefly with some 80 Burma Army soldiers from MOC 10 at Loi Dau Bum. On May 11 at 1430, another 80 Burma Army soldiers from LIB 109, traveling from Loi Chyan Village, clashed with MNDAA soldiers at Nawng Heng Hill.
MANTON (N. Shan State)
Manton Township saw a few clashes and one day of all-day fighting during April and May.
On April 25 at 0710 in the morning, KIA soldiers from 8th Battalion clashed with Burma Army soldiers at Kawng Ai Da near Dung Gyeng Village.
On May 8 at 1315, KIA soldiers from 34th Battalion detonated four remote mines against Burma Army troops from IBs 252 and 253 who were advancing up the road toward Battalion headquarters. The attack happened at a road junction near Nhkum Kahtawng Village. The Burma Army troops counterattacked and continued fighting through the afternoon. Soon fighting spread to the nearby village of Pyaw Dawng Kawng, with main clashes at 1536 and 1630. By the time fighting ended near sunset, a total of 19 Burma Army troops were reported killed; five from the mine detonations and 14 from the subsequent fighting.
A week later on May 15, at 2130 at night, KIA soldiers from 34th Battalion defended against an attack by an estimated 80 Burma Army soldiers at Nam Lam Zup. The soldiers belonged to IB 80 and came from Lapran Tangdi (a Ta'ang village).
MOMAUK (Kachin State)
Only one incident is recorded in Momauk Township. On April 2 at 1325 hrs, there was a chance encounter between eight KIA soldiers and seven Burma Army soldiers from LIB 426. The KIA soldiers were checking landmines in a cornfield between Dingga Village and Hka La Village when they ran into the Burma Army soldiers.
HPAKANT (Kachin State)
Hpakant was largely spared any fighting with the Burma Army, but still had its share of problems. On April 22 at 2340, a massive landslide at a mining quarry near Nba La Hka Maw Village overturned 11 backhoes and 30 dump trucks, leaving an estimated 56 workers injured or killed. Three separate companies were mining at the quarry: Myanmar Thura, Naga Ko Kaung, and KNDPC. The ongoing war is not Burma's only problem – poor infrastructure and hazardous working conditions continue to take many lives each year.
As for incidents related to the Burma Army, two happened during April and May, both of which included intimidating and assaulting civilians. On April 6, some 60 Burma Army soldiers from LIB 11 attempted to get information on the KIA's whereabouts. They questioned Mr. Zakhung Sin Gan, a watchman employed by Mr. Lamung Gun in the Kamaing Maji Quarter. When he could not give them the information they were looking for, they beat him. The soldiers were stationed at Ma U Pin.
On May 2 at 2100, another group of about 40 Burma Army soldiers from LIB 12, stationed at Kapmaw, arrested the manager and several employees of the Buk Sung Ma woodworking center in Lahkraw Hkahku. The reason for the arrests was not given.
DANAI (Kachin State)
No fighting was recorded in Danai Township during April and the first half of May, but Burma Army soldiers may be making preparations for increased activity in the future. On May 16, Burma Army soldiers positioned at a post above Dabyi Hka Zup, south of Danai River, did not allow the civilians to go to or from Awng Lawt Village. They also banned the boats returning from the crop yards.
WAINGMAW (Kachin State)
There was no fighting in Waingmaw Township, but on May 10 in the morning, a house in the Hpare IDP Camp caught on fire, destroying everything inside. Four families lived in the house, but there were no recorded deaths.