Mission Report: Visiting Syria with Congressman Tom Garrett
11 December 2018
Syria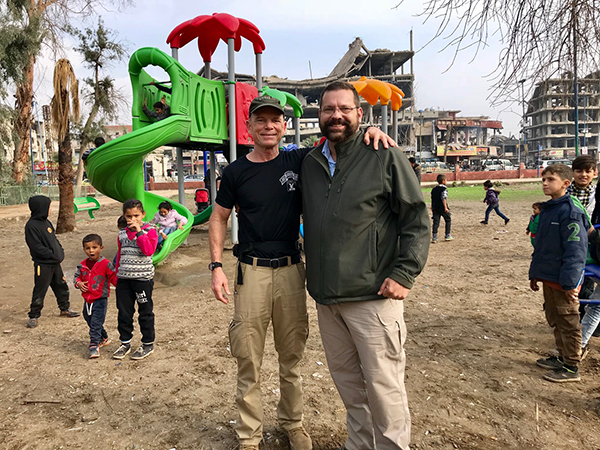 Dear friends,
Thank you for all your prayers and support. We just returned from Syria where we accompanied US Congressman Tom Garrett and a private delegation from the US. The congressman is a man of God and a man of action and was a great inspiration to all he met. I met Tom earlier last year in Washington, D.C., and was impressed by his care of those in need. He helped lead the effort to free imprisoned pastors in Sudan and is a man willing to take risks to help others. Below is our report along with background information on Syria.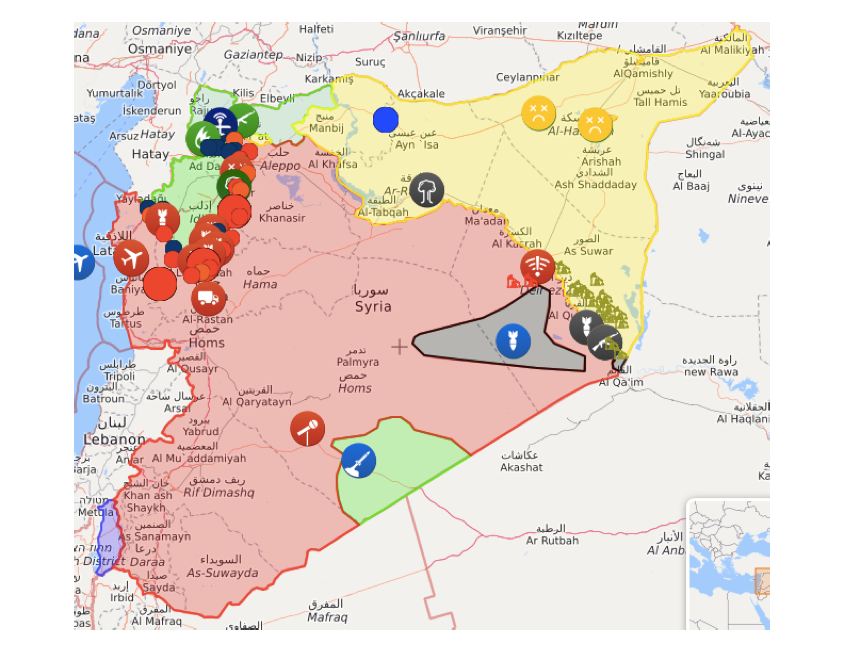 Map Key
The yellow area is the newly formed Self-administration of North and Eastern Syria (SNES). This is protected by the Kurdish, Arab and Christian force known as the Syrian Democratic Force. Their "capital" is in Ayn Issa which in Arabic means "The eyes of Jesus." It is an Arabic name for the predominantly Kurdish political project named after a predominantly Christian prophet and is in an area formerly controlled by the Islamic State of Iraq and Syria (ISIS).
The red area is controlled by Assad with the help of Russia and Iran.
The northern green area is occupied by Turkey, the Free Syrian Army (FSA), and Euphrates Shield forces which have been well documented to have conducted war crimes.
The southern green area is known as the "opposition" controlled area. This is everything from Salafi groups, which are Islamic groups that surrendered to the regime and have been relocated, anti-Assad groups and neighborhood security.
The black area is still controlled by ISIS.
Background
The Syrian Democratic Council (SDC, a political body) and Syrian Democratic Force (SDF, a military body) is a multi-ethnic non-sectarian democracy movement of Kurdish, Arab, Circassian, Yezidi, and Syriac (Christian) peoples. This form of government is unique in this area and gives hope to many. This anti-ISIS, pro-democracy coalition controls most of Syria east of the Euphrates to the Iraqi border and north to the Turkish border. The SDC/SDF also controls two areas on the west side of the Euphrates: the Manbij area in the north and Tabqa in the south, across from Raqqa, the former capital of ISIS. During the initial part of the Syrian civil war, of which ISIS was a part, the groups who would later unite as the SDC/SDF had an informal agreement with the Syrian government that the SDC/SDF could have some autonomy in eastern Syria in exchange for defeating ISIS.
Assad had no choice but to cooperate with what was, at that time, a Kurd-led force of the newly-formed People's Protection Groups (YPG). Later the YPG, Arab, Christian, and other groups united to form the SDC/SDF. The US supported the SDC/SDF for their pro-democracy ideals and because they were the most effective force against ISIS.
Once ISIS was mostly defeated and pushed back to smaller pockets, Assad made it clear that he wanted the rest of Syria back and that the Kurds, Arabs, Christians, and others would not have autonomy in this region. Now, the SDC is in negotiations with Assad's government but there is an impending threat of attack.
At the same time Turkey has made it clear it will not tolerate any Kurdish leadership or military force in Syria. In 2016, the Turks attacked into Syria to take Jarabulas and Al-Bab in northern Syria where the Euphrates River comes in from Turkey. This was done to block Kurdish access to Afrin, an area with a diverse population of Kurds, Yezidis and Christians in the northeast corner of Syria. Afrin was one of the most peaceful areas in Syria until January 2018, when the Turks, FSA, and a Turkish-backed militia Euphrates Shield, launched attacks there. By March 2018, the Turks and FSA had taken it over and displaced over 200,000 Kurds, over 35,000 Yezidis and over 3,000 Christians. Since then, Sharia law has been established, Turkish language has been forced in schools, and street names have been changed to the names of leaders of the Ottoman Empire, and a reign of terror continues.
On our trip, when we asked people what the biggest threat was, they usually responded that ISIS was still a threat but that the biggest threat was Turkey, followed by the Syrian Army (which is supported by the Russians) and Iran. Iran has sent militias to support Assad's regime and to attack US interests in the region. The Kurds, Arabs, and Christians of northeastern Syria feel they are on very shaky and dangerous ground.
In the midst of these potentially lethal challenges, the Kurds and the Arabs are trying to come up with a new way to live together and govern in northeastern Syria. They have begun to institute a democracy with equal rights for women and minorities and religious liberty for all. This has caught the imaginations of both Kurds and Arabs and they hope this can be a model for all of the Middle East. But it has brought only anger and threats from the Turkish and Syrian governments.
Additional Resource for Download:
The Social Contract of the Democratic Federation of Northern Syria (DFNS) – since renamed due to lack of US support. This project was meant to be a catalyst for a federal Syria. One of our team members was present on 29 December 2016 when 165 leaders of the Kurds, Arabs, and Christians signed this document.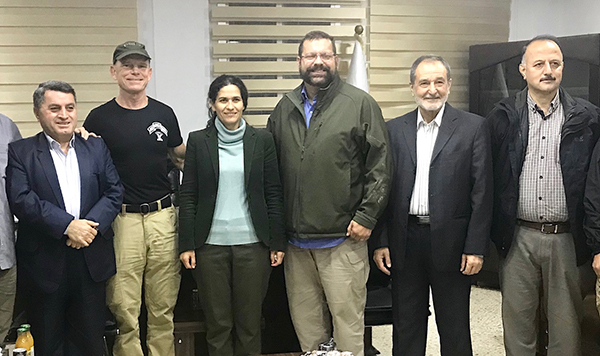 Mission
On this mission we were able to meet Arab, Kurd, Muslim, Yezidi, and Christian leaders. With each group Congressman Garrett shared his faith and that God has a way for all people and that each person has the right to live as they choose as long as they do not hurt others. We first met with the leaders of the Foreign Ministry of the Syrian Democratic Council, in Qamishli, northeast Syria.
From there we traveled west and crossed the Euphrates to Manbij. Manbij is an Arab majority city that was liberated from ISIS in 2016. FBR had been there before its liberation when Eliya worked with a US Special Forces medic to save lives in a mass casualty situation. We had also been to Manbij later in 2016 after it was liberated. Karen and the kids and part of our team did children's programs outside of Manbij with displaced people while Eliya, Shannon, and Ka Paw Say (known as Monkey) were at the new front line west of Manbij. Here we faced ISIS and could clearly see the black flag of ISIS.
After the battle of Mosul in 2018 we came back to this same area and were surprised to see that instead of ISIS, the Turkish-supported FSA now occupied the same front lines and the city of Al Bab to our west. Along with ex-ISIS forces, the FSA includes Al Nusra and Al Qaeda militants.
The Turks and FSA have launched multiple attacks into Syria. Their goal is the defeat of the Kurds and the SDF. The Turkish government has made it very clear that they will not accept any Kurdish forces in Manbij or any Kurdish power for that matter anywhere Syria. The SDC/SDF has been the most effective partner for battle against ISIS and have the goal of a democratized, non-sectarian, free Syria.
In order to deter Turkish and FSA attacks as well as limit ISIS movements, the US has established observation posts in Syria along the Syria/Turkey border. This has angered the Turks who consider the Kurd-led SDF as part of the outlawed separatist Kurdish PKK force in Turkey.
It was in this context that we met with the SDF Manbij Military Council, which is a mixed Arab and Kurd team. The council told us the FSA attacks them along the front lines almost every day. They took the congressman up to the front line north of Manbij, near the Sajur River, to see the situation. At the front line we looked across the river where the FSA had positions and were told that the Turkish Army had a camp four kilometers behind the FSA. As we walked along the front we could see fresh bullet holes in the wall from an FSA attack earlier this day. This part of the line is held by SDF militia originally from the town of Jarabulus to the north. ISIS held Jarabulus until the Turks and FSA invaded in 2016. There was no fighting as the ISIS troops joined in with the FSA and Turks.
"We lost many of our families to ISIS in Jarabulus and now the Turks and FSA control it. When will we ever be able to go home?" asked the local SDF commander.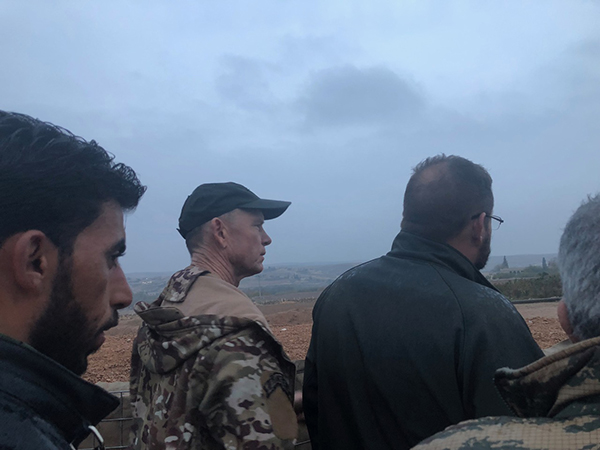 From the front line we went back to Manbij and met with the Manbij Civil Council, a group of Arabs and Kurds working together to try to bring services back to the people and to rebuild their homes and lives. They are trying to find a way for all the diverse groups to live together and I believe they are a model of what the rest of Syria could look like.
From Manbij we went down to Ayn Issa. It was here that we met the top political leaders of the SDC. Congressman Garrett encouraged them that they didn't have to agree on every political issue but needed to act in respect, justice, and freedom for each group. He told him about our American history and how the 13 original states did not agree on everything but, with respect, unity, and compromise, they found a way to work together. Our country was also helped by foreign powers such as the French who came to help and German and Polish volunteers who gave invaluable service. The congressman went on to say he would speak to our government and the American people to encourage them to keep supporting the people in this liberated part of Syria. Every meeting was finished in prayer, and a bond of love and understanding began to grow between us and the people we met.
From Ayn Issa we went to Raqqa, the old ISIS capital, and here we were able to show the congressman the playground Reload Love helped us build (see video here). It is one of six playgrounds that we had built together in Syria and it was wonderful to see children happily playing on it.
From there we went to Tabqa on the west side of the Euphrates River. Tabqa is an SDF-controlled pocket facing off against the army of Assad. Here, the civil council told us of the needs they had in rebuilding, education, health, and most importantly their security.
"What will happen if Assad attack us?" one lady asked. Another woman on the council told us her husband was captured by ISIS three years ago and she still did not know if he was alive or dead. We prayed with her and gave her some assistance for her children and then continued on to the Deir ez-Zor area.
The main city of Deir ez-Zor is on the western, Syrian Army-controlled side of the Euphrates. Assad's forces also control a salient just east across from Deir ez-Zor and it is from this salient that Syrian militias have launch multiple attacks against the SDF and SDF-controlled oil refineries. These militias, along with Russian mercenaries, attacked the oil fields this February. As this area is also defended by American forces, the militias and Russians were devastatingly defeated. The Syrian militias, now backed by Iranian militias, are poised to attack again.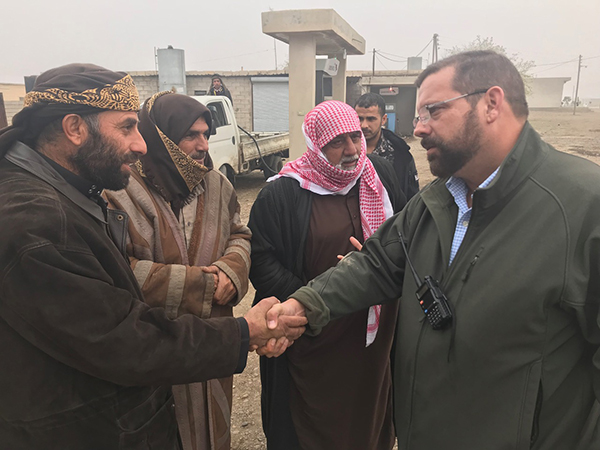 On the eastern, SDF-controlled side, we reunited with our friends from the Deir ez-Zor council whom we had met on earlier trips. We have put in a playground there as well and stopped to drop off photos from the last children's program we did in October. The leaders of the council are a special team of men and women. The first time we meet with them, we prayed with them and they told us, "We too believe in God and we need prayer. We feel that what gives you strength is your faith and that is true for us too."
The Deir ez-Zor area is one of the most challenging areas due to the long control by ISIS and the fact that ISIS still controls the southeastern-most part. The congressman was able to have deep and meaningful discussions on how the international community could help the SDC build a mixed society free of extremism here.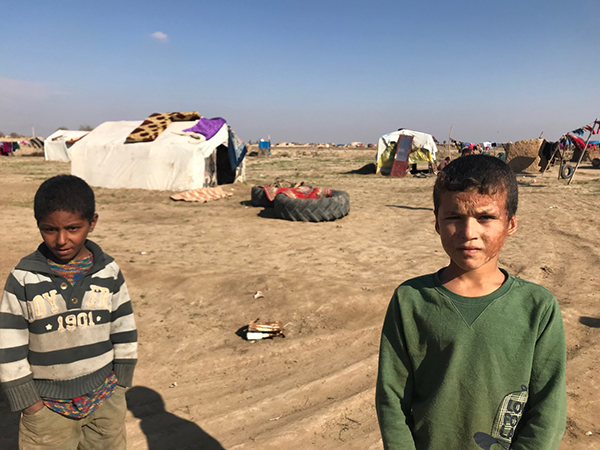 Hajin Front and ISIS
From Deir ez-Zor, Congressman Garrett continued on to more meetings north in Hassaka while our FBR team went to the front line against ISIS in Hajin, further south along the Euphrates River. The Hajin front is 20 miles from the Iraqi border and it is the last major stronghold ISIS has in Syria. Here, there are up to 2,000 ISIS fighters who have dug in for their last stand. The SDF with coalition support has been trying to defeat ISIS here but has suffered heavy casualties. While we were there ISIS captured and executed six SDF soldiers.
On the west side of the Euphrates, the Syrian Army, supported by the Russian Air Force and Iranian militias are attacking ISIS remnants. Further south across the Iraqi border, the Iraqi Army and Iraqi militias are trying to seal the border off and also conduct air and artillery strikes against ISIS.
As we drove down on the east side of the Euphrates towards Hajin, we had to skirt around the Syrian Army controlled salient on the eastern side of the Euphrates. We drove through the desert and passed close to heavily defended SDF controlled oil refineries. We drove east and south until we had passed the salient and back into the SDF controlled area.
This area had recently been liberated from ISIS – ISIS signs and destroyed buildings were signs they had been here. The roads were crowded with local people who had never left along with returnees and over 10,000 displaced people from areas currently under attack. The newly displaced were scattered for 20 miles in groups of five to 100 families in tents.
As we continued east towards the front, we could see many of the Arabs who been forced to flee were very unhappy. Groups of men approached our trucks begging for help and asking why they weren't being helped more. One angry group of men shouted and threw rocks at our vehicles. A few days after we left the area, a relief convoy was fired upon in the same area and one driver was badly wounded. Not only were people angry at the need for more help but it was clear that there were ISIS sympathizers here. About a mile before the front line of Hajin we saw a group of tents close by both sides of the road. These were people who were displaced from the Hajin area during the fighting.
We stopped and got out and the people gathered all around us, saying, "Please help us, please help us go home. You don't need to give us food or shelter just let us go home. We have our fields and homes. Look, you can see our homes from here. We want to go back and it is not safe here. Please tell your leaders to let us go home."
They continued, and, pointing to two buildings 150 yards away, said, "Do you see those buildings over there? Two days ago ISIS attacked us from there with machine guns and RPGs, wounding two children and a old woman. You can see the bullet holes here in our tents. Look, that father is bringing his little girl who was shot in the leg."
The little girl was crying and held out the bullet that had hit her. It had been removed earlier and the wound stitched up. Eliya cleaned her wound and gave her more treatment. She stopped crying and we prayed with her and the families there. We helped another girl with a burned leg and could see the people here were in a very insecure situation. The front line is very porous and there are still ISIS among the population on both sides of the front.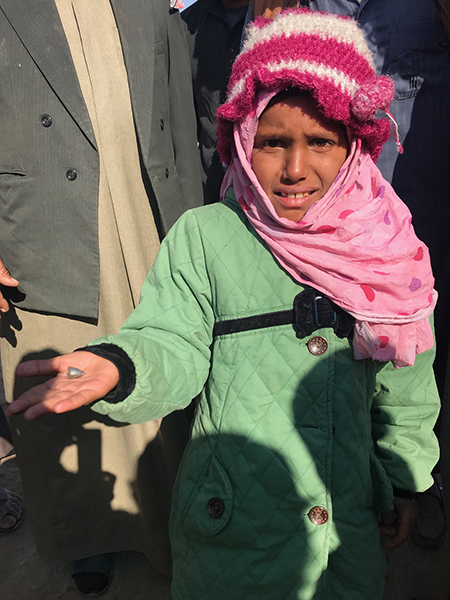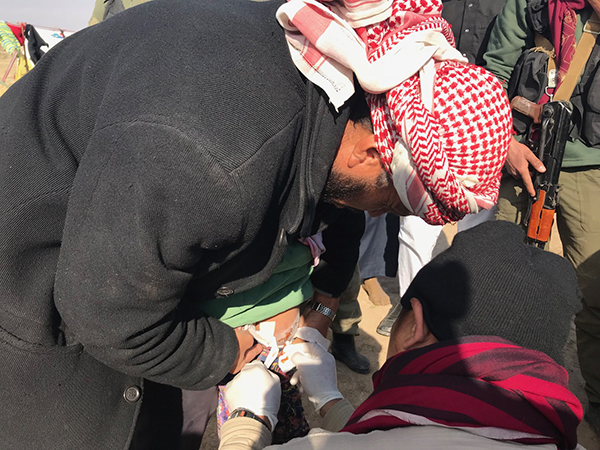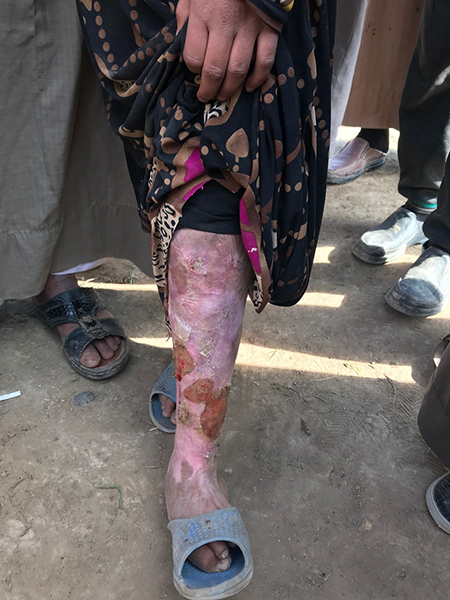 We also saw a destroyed house in a rear area that ISIS attacked the day before with six suicide vehicles. Local supporters had helped them launch the attack. As we were looking a group of men approached us and began tugging on me asking for help.
"We will do our best and can I pray?" I asked.
"Yes, please do," they replied.
I got on my knees and I said, "Lord, Jesus, please help these people be able to go home and please help those who can help do all they can."
I got up and a man came to me and started pulling on my chin and kissing me with tears in his eyes. He said, "Thank you for coming and caring. We feel like the world has forgotten us." He got down on his knees and picked up dirt and began to kiss it and sprinkle it over him, saying, "This is my land that I love. This is my home."
I got down on my knees with him and grabbed the dirt and sprinkled it over me saying, "We love it too, we love you, and we are very small but we are with you."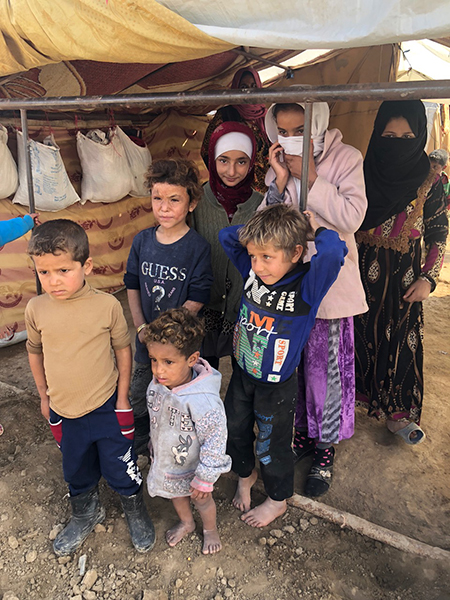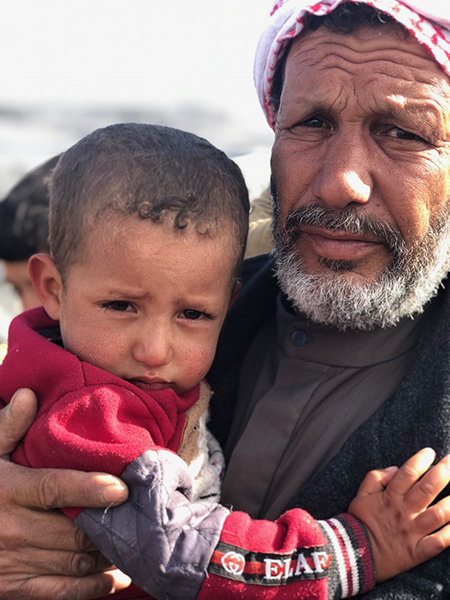 After promising to tell their story we got back into our trucks and went to the front line positions. There we met local Arabs as well as Kurds and Yezidis who were holding the line. They are fighting for their lives and for their country. They were armed with light machine guns and RPGs and had a few heavy machine guns but no larger weapon systems nor organic artillery. They asked for more weapons and air support. "We need more air support and sometimes we have to wait a long time when we call for help from the air," they complained.
The United States has said one of the main goals in Syria is to defeat ISIS. But here on the ground, people feel that the US is not doing all it can. We could see that the US forces are doing an excellent job of supporting the battle against ISIS and helping the local population, but we could also see that more help was urgently needed. The Arabs and Kurds are dying because they do not have the power to defeat ISIS quickly. We could see and feel the agony of the people, many of whom are simple farmers and asked why the US does not put more troops and fire power into the battle. The SDF fighters face a fanatical ISIS who will kill many people before they are defeated. Making the situation worse are the Turkish and FSA attacks on the SDF along the Syria/Turkey border that has drawn off many SDF troops from the Hajin front.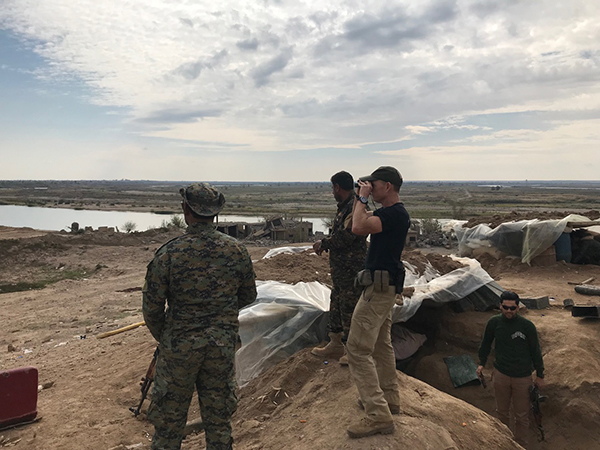 At the front line of Hajin we gave out medical supplies and helped restock the casualty collection point (CCP). The CCP was a small abandoned building with very little medicine. While we were there sporadic firing broke out but there was no major advance for either side.
"ISIS will wait until it is raining or foggy and attack us then," they explained. They thanked us for supplies and Free Syrian Ranger t-shirts.
We told them, "God willing we will be back with a larger team to help you and in the meantime we will tell your story."
It took us 24 hours of movement to rejoin the congressman and delegation before we crossed back to Kurdistan together. Kurdistan is an oasis of freedom, peace, and prosperity in the Middle East and we could feel it right away.
Thank you for being in this with us and praying as we go in Jesus' name and in His love. Without your prayers and help we could not do this mission.
God bless you,
Dave, family and the Free Burma Rangers