Clash Summary: Battles Continue in Northern Shan State Throughout August
13 September 2018
Shan State, Burma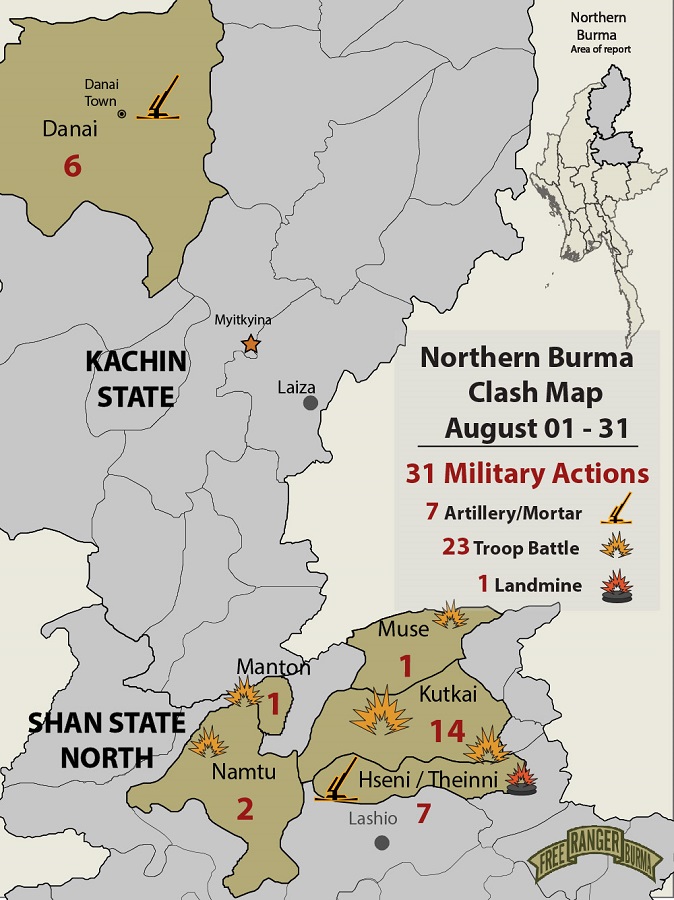 The combined forces of the Kachin Independence Army (KIA), Ta'ang National Liberation Army (TNLA) and Myanmar National Democratic Alliance Army (MNDAA) have been defending northern Shan State against Burma Army advances during the month of August. However, these ethnic armed groups (EAGs) continued to lose territory to Burma Army attacks, while the Burma Army sacrificed 20 soldiers' lives to keep advancing.
Conflict in Danai Township in August was similar to July in that the Burma Army limited their actions to artillery attacks against the KIA 14th Battalion and 2nd Brigade. Rains and flooding are limiting factors for troops and vehicles to patrol in the north.    
In August, troop-on-troop conflicts in Kutkai, Theinni (Hseni), Manton, Muse, and Namtu townships in northern Shan State were more frequent than in Kachin State, where fighting is usually heaviest. Of the 25 attacks that occurred in northern Shan State, 23 were troop-on-troop battles, one was a landmine explosion, and one a Burma Army artillery attack.
Active Units and Major Battle Reports
In Kutkai Township, northern Shan State, Burma Army Light Infantry Divisions (LID) 55, 11, and 88 are active with Light Infantry Battalion (LIB) 417, 10, and 77 under the command of LID 88.
On 14 August, Burma Army LID 11 and the MNDAA fought between Tingkaw Bum and Hpakawn Bum, 25km northeast of Kutkai Town, resulting in 10 Burma Army soldiers killed and others reported injured. A series of battles were fought along this mountain chain from the 13th until the end of the month.
Another clash on August 21st was between the Burma Army and TNLA in Man Kang Village, five kilometers northeast of Kutkai Town; this led to five TNLA soldiers being wounded.  Man Kang villagers fled to safety in villages in neighboring Theinni Township.
Burma Army soldiers from IB 114 and 115 operating around Nawng Ping Village in Theinni Township banned villagers from going outdoors, preventing them from working their fields.
In Theinni (Hseni) Township, LID 99 units, including their LIB 420, are active, and on August 17th, LIB 420 clashed with TNLA and MNDAA troops near Mung Yaw Village in a battle that left four Burma Army soldiers dead.
On the 27th, the Burma Army LID 99 fired three 60mm mortar rounds at the KIA's 17th Battalion headquarters in Theinni Township. Later that day, at 1830, a Burma Army soldier stepped on a landmine that killed one soldier and injured another. It is unknown who planted the landmine.
Civilians Caught in the Middle
Landmines continue to plague the various battlefronts and the civilians caught in the middle.  On August 2nd at noon a woman (age 52) and her two sons (ages 23 and 20) were riding on two motorbikes when they ran over a landmine. All three were injured, with the 23-year-old sustaining serious injuries. They were admitted to Lung Tung Hospital in Mohnyin Township, Kachin State, for care. It is unclear who planted the landmine.
On August 5th in Muse District, northern Shan State, a Burma Army unit reportedly told Kawng Sahti Village the soldiers had planted landmines. 
"We planted landmines around Dung Aw and Uraw Hkyet. Don't go up there," the Burma Army soldiers said.
On the 16th of August a 43-year-old man from Man U Village, Kutkai Township, was arrested, punched, and beaten by Burma Army LID 99 soldiers while returning from his farm-field to Hu Hpyet Village. The soldiers suspected him of providing food for ethnic armed groups.
In Waingmaw Township, Kachin State, Burma Army IB 250 led by Captain We Lin Phyu forced three Shan people to be route guides and lead the Burma Army to the KIA on August 28th.
At the end of the month in Danai Township, Burma Army soldiers targeted villager property.  Soldiers stationed at Nambyu Village shot and killed the villager's buffaloes and cows, causing the villagers to flee the village from the attack. The Burma Army then asked a man from Nawng Lung Kawng Ra Village to sell the meat from the animals.