Syria Report, Part Three: Friendships Across the Lines of War
7 August 2018
Syria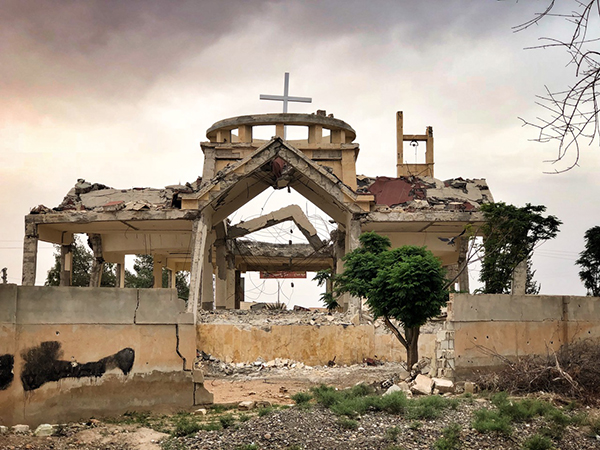 Background
Syria is in its seventh year of civil war; 500,000 people have been killed and over 11,000,000 displaced (over 6,000,000 internally and over 5,000,000 refugees have fled the country). The resistance to the Syrian dictatorship of Assad is a complex mix of pro-democracy, radical Islamist, Arab tribal and Kurd forces, some of which are also against each other. And the fighting escalates: Assad's regime with Russian and Iranian support is regaining lost ground and continues to pound rebel-held areas outside of Damascus, Idlib and now has launched an offensive into the southern border areas with Israel.
The Kurd led Syrian Democratic Front (SDF), made up of Kurd and Arab Syrians, are trying to finish ISIS forces in the east. The US supports the SDF, as they are the most effective force against ISIS. Also, the SDF's attempt at a democratic and egalitarian society, freedom for women and a separation of church and state have opened new opportunities of governance in Syria. However, cracks are growing in the SDF Kurd – Arab alliance as some of the Arab groups in the SDF resent Kurd control and have begun to push back. The SDF and Assad's government have an uneasy truce as each fights ISIS, but that is unraveling as Assad gains strength. Recently, the Syrian Democratic Council, the political arm of the SDF, has held meetings with Assad's regime to discuss deals that would maintain Kurd-controlled areas in Syria.
Pro-Assad forces and Russian mercenaries have already attacked the Kurd-led SDF in the Deir Ez-Zor area of eastern Syria. These attacks have been stopped by the SDF with US air support, but Assad's government has threatened to attack again unless the SDF submits to Syrian government control. The Russians and Iranians are supporting the Assad regime and helping his forces as they try to regain control of all of Syria.
The Iraqi military and militias are involved along the Iraqi/Syria border in the attempt to crush remaining ISIS strongholds there.  On the Syrian government side in this border area, Iranian militias are also engaged in this fight. They have been hit by Israeli airstrikes in retaliation for Iranian attacks against Israel far to the southwest, in the Golan Heights area.
The Turkish Army, along with elements of the Free Syrian Army (FSA), which includes radical Muslim groups and some remnants of ISIS, has taken over the northwest area of Afrin and are now presiding over an ethnic cleansing in massive proportions there. The Turkish government has led this onslaught in order to crush the Kurds there and to block their access to the Mediterranean Sea. They consider the Kurds a threat to Turkish security and also have no regard for the 3,000 Christians and 35,000 Yezidis they drove out of this area. The Turkish government also supports the FSA against the Syrian government.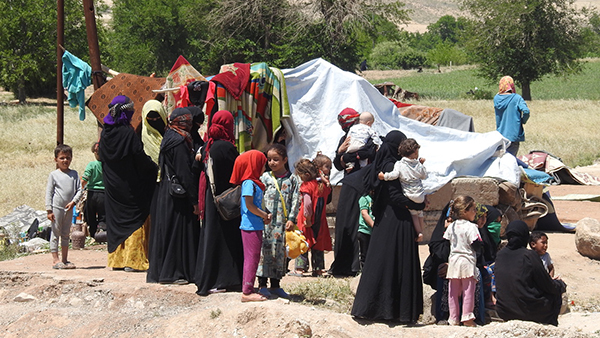 The Syrian regime views the Kurds as a threat to their power, but the Syrian government sent pro-Assad militias to help the Kurd's losing effort against Turk forces in Afrin. While the U.S. stands with the Kurds and is against the Assad regime, Turkey, a NATO ally, is against the Syrian government and the Kurd-led SDF. Now the US and Turkey have agreed to Turkish control of the key city of Membij on the west side of the Euphrates and for the SDF to be moved back along the Euphrates and eventually only be on the east side. All this makes Syria a complex and difficult place to engage and help.
In the midst of this, we believe that God will show the best way for all of us and we go in the power of God's love. As new fronts and fighting develop, the people caught in the middle of it all are trying to rebuild and survive.
Our role
In the midst of this, we share the love of Jesus, provide emergency medical and humanitarian care, support orphanages and playgrounds and work to build friendships across different groups. On the last mission we were in the Deir Ez-Zor, Kobane, Hassaka, Qamishli, Raqqa/Tabqa, and Membij areas of Eastern Syria. We are friends with Arab and Kurd leaders, and in a surprise for both sides, we met some of Assad's Syrian Army. In between, we ride camels and horses with generous Bedouin herders. Below are stories we want to share of what God has done in answer to prayer.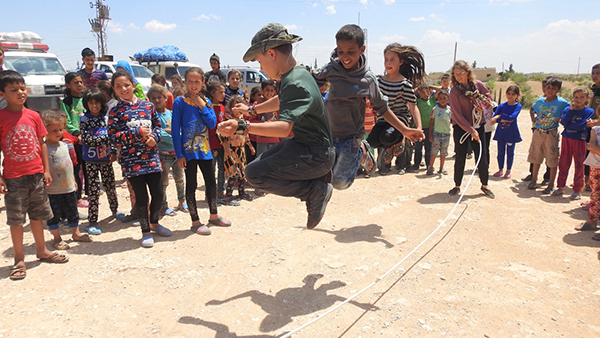 Crossing the border
Crossing the border from Iraq to Syria is not easy and we thank all of you who pray for us. Once into Syria we coordinate with the SDF, but the control of the border is shifting. On this last trip to Syria in May 2018 we found our way blocked and had no way to cross. There are times to sneak across borders, but due to our relationship of love and respect for the Iraqi Army and the present situation, this was not one of them. I asked Jesus for help and then went to one of our Yezidi friends who lives near the border – this was Eado, the same Yezidi man whom we had taken into Burma in April. We had lived with him on the front lines of Sinjar Mountain during the siege by ISIS while our family and others on our team were up on the mountain in tents with his family and the other Yezidi IDPS.
"The Iraqi commander is a good man, we will pray and ask him," he said. We drove up to the border together to meet the Iraqi commander.
"Daoud (David), welcome!" he said. He came out and embraced me. I recognized him as a battalion commander whom I had met during the battle for west Mosul in 2017. 
Due to heavy casualties in our brigade, his unit had been sent to reinforce the unit we were with in an attack near the northernmost bridge. We had then been pinned down together and on one of the worst days we rescued and treated 22 of his troops who were wounded and caught out in the open. He was also wounded and Eliya treated him. Now he embraced me and said, "We missed you so much and we thank God we can be reunited. Come into our base for lunch." I told him how I thanked God we could be reunited and how much of a hero he was to all of us. During the battle he never lost his cool under fire and was a steady, caring and brave commander.
He asked me where I was going. "To Syria to help people," answered Eado for me.
"Syria? No problem, of course you can go. We have been through tough times together and are brothers. You can go as you like." We were all amazed and thanked God for this meeting and the open door. We finished lunch and prayed together and then crossed into Syria. For us it felt like God's way of love.
Deir Ez-Zor: a flashpoint on the Euphrates
Deir Ez-Zor city and the surrounding area is one of the main areas of oil production in Syria. The east side of the Euphrates River and the oil fields there are controlled by the SDF while the main city of Deir Ez-Zor on the west side of the Euphrates is controlled by the Syrian Army and was surrounded by ISIS for three years. ISIS has now been defeated in this area and has been pushed up along the Iraqi border. This leaves the Syrian Army poised and ready to reclaim the east side of the Euphrates and the oil fields there.
There have been clashes between Syrian militias and the SDF and in February 2018 an Assad-backed force of Russian mercenaries and Syrian militia tried to take the oil fields on the east side. They were defeated by the SDF who had US air and ground support. We went to visit the SDF there and see how we could help.
We met the local leaders and planned medical support and a playground for kids. It was a very friendly meeting and they told us they felt they were between dangerous forces. "We will be attacked by the Syrian Army, but what can we do but pray and prepare? Please pray for us."
At the end of the meeting we prayed and the leader came to me and said softly, "I love to read the Bible. Thank you for coming in love and with faith in God."
Kobane, Raqqa and Tabqa
Kobane is a Kurdish city that was besieged by ISIS and mostly destroyed. The SDF, backed by US and coalition air, held off ISIS and eventually drove them out. Now the people there are rebuilding and we were invited to help support the two small churches and the orphanage there. We have done multiple medical, dental and food outreaches, and with the help of Reload Love we were able to put in a playground and provide beds and furniture for the orphanage. We also met with the two Christian churches, who are helping Christians and others who have fled the attack in Afrin.
In the former ISIS strongholds of Raqqa and Tabqa (across from Raqqa on the west side of the Euphrates) we ran medical and children programs, and with the help of Reload Love we put in playgrounds. When we were in Tabqa in February, after a Good Life Club program the teachers asked us to check what they thought might be an ISIS landmine in the corner of the school yard. We carefully cleared away the dirt around a protruding piece of metal, and as we dug down we discovered it was not a landmine but part of a weapons system. We dug deeper and uncovered an ISIS weapons cache of mortars, RPG rounds, AK and machine-gun ammunition and a US TOW anti-tank missile. We turned all these over to the SDF and the teachers thanked us profusely.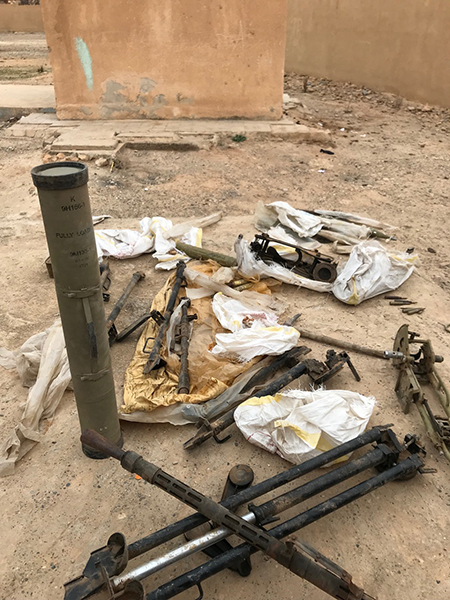 This May we were back in Tabqa, and after we put in one of the playgrounds, a man came up to us holding his child. "Thank you for this playground. It is not only for us, it is for all the children of Syria," he said with a warm, deep smile. "We have seen so much destruction, our future is so uncertain, this playground, children's program, and medical care give us a day of happiness and hope for a better future for our children."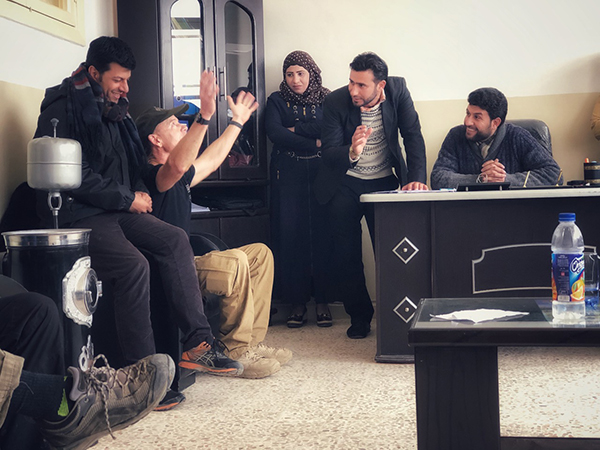 Meeting with Assad's Syrian Army
We had finished a children's program in Tabqa, and the Kurds we were traveling with asked us if we wanted to see the Syrian Army positions on the Kurd / Syria Army front. "Sure," we said. We drove to within a kilometer of the Syrian checkpoint and looked at them through binoculars.
"Can we get any closer?" I asked one of the Kurd soldiers. "If you dare to go, yes!" was his answer.  So we got back into our trucks and drove down to the checkpoint. There our team got out and the Syrian guards looked surprised to see us, and especially our children, Sahale, Suu, and Peter. There we were, an American family and team meeting with the enemy, the Syrian Army of Bashar Assad.
I walked up to them and put out my hand and through our Syria FBR coordinator and translator Bashir, I said, "My name is David and we are here as friends. We believe God sent us and we have been working in Iraq and Syria to help people under attack by ISIS. We believe in God and hope we can be friends." The Syrian soldiers looked at us with wonder and suspicion. I told them the purpose of our mission and that we hoped not to fight them. "We want to be friends and find a new way for Syria." We gave out Free Syria Ranger t-shirts, Gospel MP3 players, and GLC bracelets and they began to warm to us.
As we talked, an officer came up and he was very nervous. "No pictures," he said. I asked him if I could pray and he looked at me quizzically and nodded. "Yes," he said. I asked God how to pray and what to say and felt impressed to get on my knees. So I got down on my knees on the road at the Syrian Army checkpoint and prayed. Our interpreter Bashir translated, and I asked God to help us all find a new way for Syria. I asked for protection and blessing for the soldiers and love for all of us. I finished the prayer and stood up. I hugged each Syrian soldier and said goodbye. We all got back in our trucks and went back to the SDF lines. We do not know what will happen in the future, but on that day God gave us a gift to be able to meet with and pray with our enemies.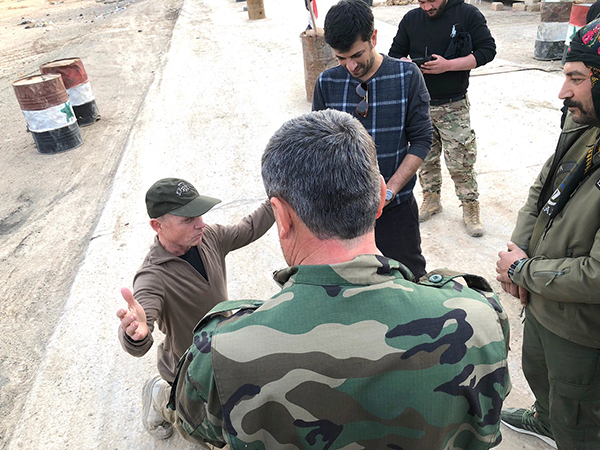 Iraq families trapped
Later we were doing a family program for Arabs north of the city of Membij, which is on the west side of the Euphrates (northwest of Raqqa) and is contested between the SDF and Turkish forces that invaded Syria in this area in 2016. (As of July 2018, the Turks and the FSA, their proxies there, have taken over the outskirts of Membij, where we were, and there are negotiations between the Turks, FSA, SDF and US forces. The Turks are demanding that the SDF retreat out of Membij and back to the east side of the Euphrates.) But before this happened we were able to get to the front lines between the SDF and FSA and were on the main northern route that goes toward the Turkish border.
There, in 'no-man's land', we met 40 Iraqi families stranded between FSA and SDF positions. They said they fled ISIS in Iraq when ISIS took over Mosul. They went to Turkey, then to Syria, and now are trying to go home to Iraq, but they are trapped between the FSA who will not let them move and the SDF who will not allow them to enter their area in order to proceed to Iraq. For one month they have been stuck living under tarps in the reeds beside a muddy stream in no-man's land. Some of the children were sick and they were all afraid and desperate. One man showed me where he was beaten in the head by the FSA, and they told us that two of their group were taken away by the FSA and have not been heard of.
They begged us to help, but when we asked the SDF there they refused to let them cross. Maybe they are ISIS families – we do not know.  We only know they are families with kids in a bad place and need immediate help. They told us that those with money can pay smugglers to get them across, but these families are too poor so they are trapped. We prayed with them and asked Jesus to help them and told them to ask Jesus too. We said we would do our best. We got no response from the SDF in Membij – military or civilian council – except, "No, they cannot cross."
We know it is complex as all things are, but these are people and children and they should be helped to go home. We pray and try for that.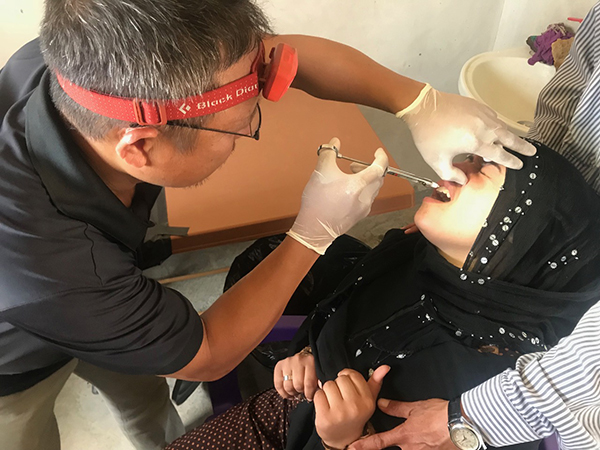 Camels and Horses
Syria has a long history and love of camels and horses, and we share that love. The kids prayed to be able to ride both, and we had many opportunities. In between missions when we were driving through the desert and saw camels or horses we would stop and ask to ride. We were always greeted with surprise at first and then welcomed to ride. When the owners of the animals saw the kids could ride well, they would bring out their fastest horses and race us.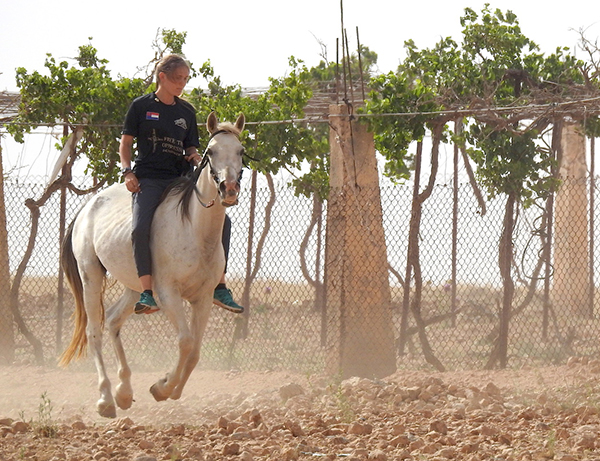 'Daughters of the wind,' is what Arabian horses are called, and when you gallop at full speed across the desert you learn why. They love to run, are very fast and we felt and heard the desert wind in our ears in a way we had never experienced. I joined a race and lost to our kids and the Arab riders, but it was a deep joy to race across the desert as the sunset. We have made friends across Syria and brought back bridles as gifts on successive trips. We also got on camels every chance we could, and although we could not control them very well it was fun and unique for us. As we rode, the herders rode with us or ran alongside laughing – they and we were amused to see our team of Karen, Karenni, Kachin, and Americans take turns riding these lumbering desert animals.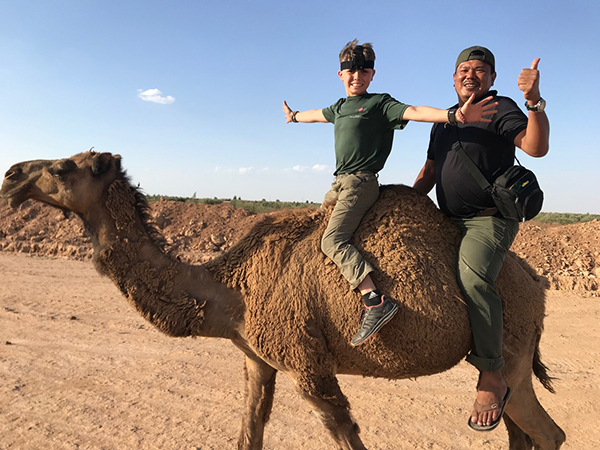 We found the camel and horse people to be open, generous, brave, close to the land and welcoming. We felt at one with them, and even though we could not speak each other's language, our love of animals and the outdoor life bonded us. 
These people have so far weathered the war, trying to survive as each faction gains, then loses, control. We prayed together and left, each time missing each other.
We thank all of you who make these missions possible. We go there with your love, prayers, and help and could not do this alone. We are thankful to you all and feel you with us as we go. We feel that God is moving in Syria and we love and pray for the people there.
God bless you,
Dave, family, teams and all in FBR