Burma Army Tortures and Kills Six Female Medics, Continues Campaign Against Civilians
26 July 2018
Kachin State and Northern Shan State, Burma
TNLA Medics Brutalized and Killed
According to a Kachin Independence Army (KIA) report, the Burma Army captured, tortured, raped, and killed six Ta'ang National Liberation Army (TNLA) female medics on July 11 after the Burma Army ambushed vehicles carrying the medics. 
The Burma Army also killed one TNLA soldier in the onset of the attack, and another TNLA soldier and two civilians fled the Burma Army assault against the two timber trucks that transported the group.   
Burma Army Light Infantry Battalion (LIB) 301 under Light Infantry Division (LID) 88 ambushed the vehicles as they traveled from Magwe Baw Bum to Oi Law Village in Namkham Township. 
The medics were captured around 1330 on the 11th, and their bodies were discovered near a pipeline outside of Oi Law Village on July 14 with severe wounds to two of the medics' heads, multiple cut wounds on their bodies and signs of mutilation and rape.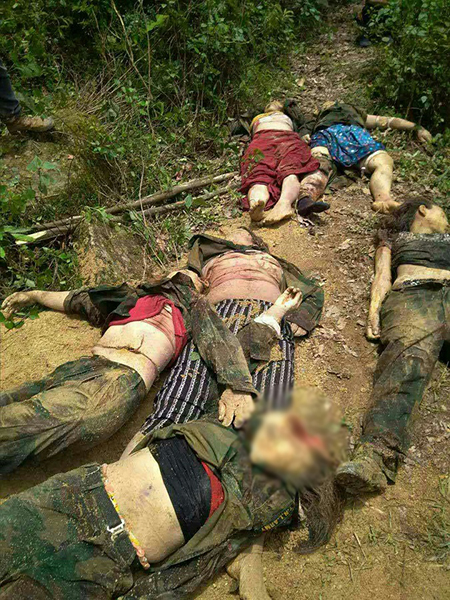 The Threat of Attack: Civilians Caught in the Crossfire
On July 2nd, Burma Army Commander Col. Soe Myint Aung met with and threatened eight village administrators from Lidu Kumtsai and Kumtsai Zup villages northeast of Kamaing Town in Hpakant Township.
The Burma Army Officer told the administrators, "Your villages are well known. If any explosion is heard, we will fire mortar/artillery rounds into the villages. I don't want to cause any problems during my stay."
Amidst the ongoing Burma Army advances into Kachin and Shan territory, three civilians have thus far been wounded by the Burma Army in July.
On July 9th, in Kutkai Township, Northern Shan State, the Myanmar National Democratic Alliance Army (MNDAA) attacked a Burma Army column traveling from Lashio to Laukkai with a remote mine, killing one Burma Army soldier. In response, the Burma Army indiscriminately fired small arms toward the nearby Nam Um Village, wounding a 13-year-old girl.
On July 13th, a 19-year-old Mr. Aik Nye and 17-year-old Ms. Aye Soi were injured when their motorbike hit a Burma Army landmine outside Nam Hkye Village in Namtu Township.
Landmines continue to be planted by the Burma Army in civilian areas. On July 3rd the KIA received a report that in Waingmaw Township anti-personnel mines were being placed along the Nam Sang River and anti-vehicle mines on Zi Kahtawng road.
On July 2nd, villagers near 5-mile post were used as porters by the Burma Army to bring food to Nawng Nyang Village.