Syria Report, Part Two: Gunshots and Playgrounds: Children's Programs and Simmering Unrest After ISIS
12 July 2018
Raqqa and Tabqa, Syria; Khanasor, Iraq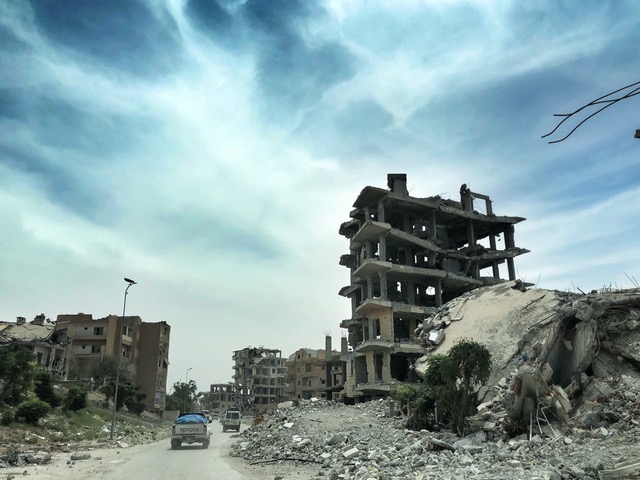 By November 2017 ISIS was defeated in Raqqa. The city had been its birthplace and became its headquarters and one of its final strongholds.  The people who had not fled had endured four years under the occupation of one of the most destructive combinations of brutality and organization seen in history. The religion of the people had been turned against them and used to build a cage of fear and hate around every aspect of their lives. Raqqa was where we came for our first program on this mission: a children's program, to dedicate a playground that had been donated by our friends at Reload Love, a Good Life Club program to share the message that good life comes from God.
Seven months after liberation, Raqqa is still dominated by piles of rubble that used to be buildings. And while there is no fighting, there is still unrest. Coordinating with the local leaders, we had installed the playground in a park near the city center, close to both a destroyed church and the town square that had been a public execution site for ISIS. Children were playing on the playground when we arrived and we had just started to set up when shots rang out. We realized they were not aimed at us but at a Syrian Democratic Forces (SDF) position further down the street. It seems someone took an opportunity to get off a few shots and then fled.
There is a simmering resentment among some of the indigenous Arab population against the Kurdish forces of the Syrian Democratic Front (SDF) that drove ISIS out. This is due to the ethnic and religious differences, the fact that many here still support ISIS, the perceived injustice of SDF rule, and instigation by Assad's regime and Iranian allies.
Nothing came of the shooting and we continued the preparations. We broke out a jump rope to break the ice while we planned our program. We soon had an enthusiastic group jumping and, by the time we began the program, around 200 kids were barely managing to stay seated, brimming with curiosity and energy. There were curious moms and dads and other onlookers as well, who joined in the laughter at the Good Samaritan skit, were entertained by both us and their kids as we sang songs together and taught health and hygiene – and were eager to see what gifts we were giving out at the end.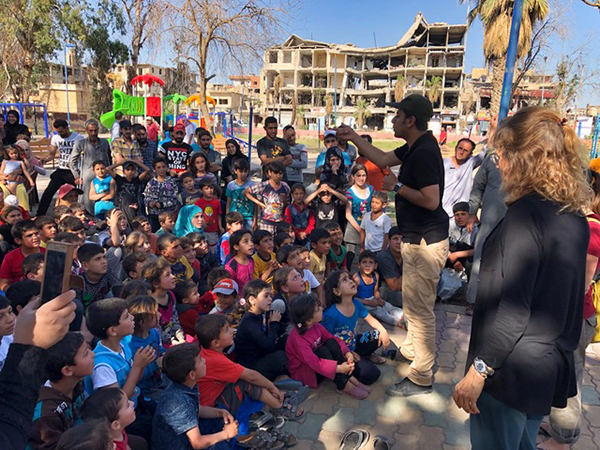 For gifts, we had snacks, GLC bracelets and two kinds of shirts: one said "'Let the little children to come to me.' ~Jesus" and the other "Good life comes from God." We had handed out around 30 of these, funneling the kids one by one through our distribution line, when a local council member stopped us. The shirts, he said, were a problem. We couldn't hand them out. There was discussion, and while he agreed that it did not say anything against his religion, he was afraid – the words could cause a problem. We agreed that next time we would write something different: "Love each other" – and the distribution continued without shirts.
Even so, we gave away some 50 more shirts, to parents who came to us on the side, and kids who managed to sneak in and snatch one. Not everyone was afraid.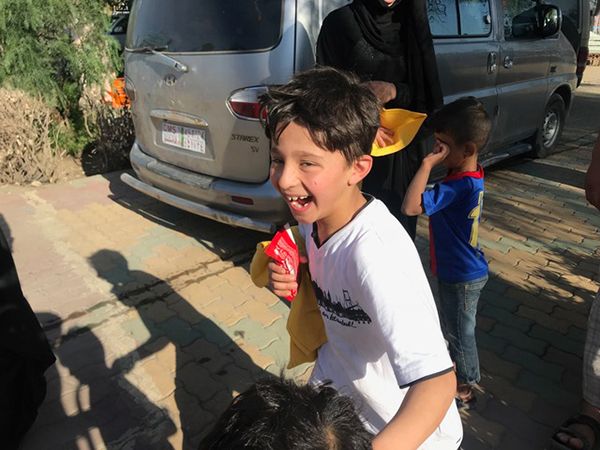 Joseph and Eliya, our FBR medics from Burma, had pulled out their medicine and set up a small clinic in the park, where they saw around 70 patients. Common cold and skin complaints were among the most common ailments, with hypertension and diabetes being prevalent in older patients.
The next day we did a similar program in the city of Tabqa, west across the Euphrates, which had also been held by ISIS and was liberated a year ago, in May 2017. This area had been a strategic priority for coalition forces because of the large airfield and Tabqa Dam. Lake Assad, created by the dam, provides power, drinking water and irrigation for surrounding towns, cities and farmlands. At the city park in Tabqa we were joined in our program by a local NGO. These men were happy to help us with keeping the kids' attention and distributing GLC bracelets and snacks.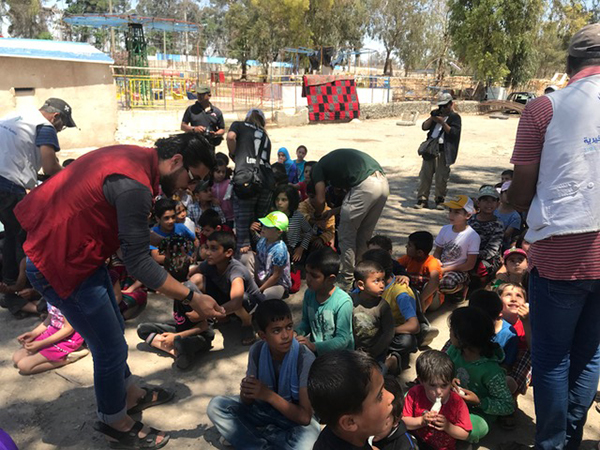 Our final playground program was back in Iraq, in the Iraq/Syria border town of Khanasor, in the Sinjar mountain area. The people here are mostly Yezidi and ISIS took this town in 2014 when they overran the entire area. Now the people are returning and last February Dave had met a widow who lost both her husband and son to Al Qaeda and ISIS. Dave talked and prayed with her and offered to put a playground in as a memorial to her husband and son and all who had been killed. "This will be very good for the children and good for all of us," she said. We coordinated with the local Kurdish leaders to install the playground and dedicate it. The kids and adults were enthusiastic here, and the local YPG leaders interviewed several of our team to find out more about our organization and why we were building playgrounds.
In the days since we've left, Raqqa, Tabqa, and Khanasor/Sinjar have all been in the news because of unrest: threats, protests, shootings and bombings. These places have strategic value for many competing interests and regional as well as world powers: the Syrian government and its allies, Russia and Iran; Turkey; Iraq, Jordan, Saudi Arabia and Israel, Islamic forces, the U.S. and western coalition. For the people living there this unrest means just that – no rest. It means no routine, it means uncertainty about the future, it means every aspect of daily life requires extra work – finding food, finding water, finding shelter, going to school, staying alive.
Spending a couple hours with the kids singing songs, playing games, entertaining and teaching them – I hope and pray that we were able to provide a couple hours of rest in these places of unrest. And I pray that this can point the way to God's promise of rest that no political group or army can take away. This is the peace of God's presence: "My presence will go with you, and I will give you rest" (Exodus 33:14). Please pray with us for our friends living here.