War, Flooding, and the Civilians Impacted in Northern Burma – June Report
Kachin State and Northern Shan State
3 July 2018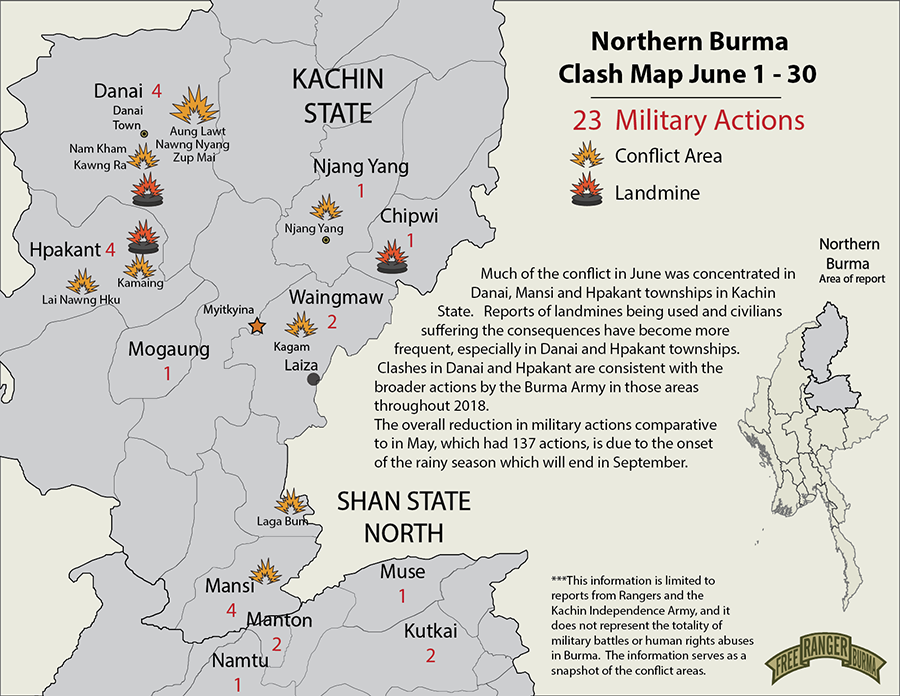 The 23 military actions that the Kachin Independence Army provided record of during June in Kachin and Northern Shan States are a significant reduction of hostilities comparative to May's 137 actions. The onset of the rainy season has impacted the volume of fighting this June, yet civilians still suffer greatly from insecurity due to conflict and recent flooding throughout northern Burma. 4925 people from 612 families and 116 houses are affected by floods in Hpakant Township.
Total Military Actions – 23
Clashes (fighting between troops) – 7
Attacks (one-sided provocations such as artillery, landmines, small arms, remote mines) – 16
Troop Deaths: 9 Burma Army Soldiers, 2 Kachin Independence Army (KIA) Soldiers, 2 Ta'ang National Liberation Army (TNLA) Soldiers
Troop Injuries: 25 Burma Army Soldiers, 1 KIA Soldier
Civilian Landmine Casualties – 1 killed, 8 wounded
Landmines and Clashes
Civilians and soldiers in the Burma Army and ethnic resistance forces fell victim to the use of landmines and the proximity to fighting in June.  Read FBR's recent report about landmines in northern Burma.
Seven villagers were wounded and an 8-year-old boy was killed during fighting between Burma Army Light Infantry Division (LID) – 88 and the TNLA on June 28.  The young boy was in his village when a mortar landed nearby, spraying him with shrapnel. The clash occurred near Man Ning Um Village in Manton Township.
On June 18 at 1330 Burma Army soldiers stepped on two KIA landmines near Ye Aye stream, resulting in three soldiers being killed and three being wounded in Hpakant Township.  The patrol shot indiscriminately around them in response.
A civilian, Mr. Lashi Gam, stepped on a landmine on June 17, injuring his left arm and left leg, while out searching for edible mushrooms near his village. He is 65 and from Hu Hpyet Village in Hpakant Township.
In Danai Township on June 14, two backhoes involved in road construction struck two landmines planted by the Burma Army on Mile-18 road outside of Kawng Ra Village between Dap Shawa Yi and Lep Dawng Hill.  The backhoes were damaged and, fortunately, no one was injured.
Flooding in northern Burma
Flooding in Kachin State is widespread this rainy season and civilians consider it an additional security threat.
Between June 23 – 26 landslides washed down from Udang Bum (Worship Hill) in Sik Mu Village of Seng Zup tract, Hpakant Township.  27 people from 19 households had to flee for safety.
Five houses were swept away by flood waters in Ye Aye Chaung in Hpakant Township on June 22 at 1200.  Two people were killed and five were injured.
Over 30 jade scavengers were swept away by floodwaters and heavy rains in a mining area on June 22 at 10:40.  The mine location is run by Tsi Thu Company near Maw Mung Sut Awng Maw, Hpakant Township.
The two videos below were taken by a civilian during flooding in Lawnghkang Village, Hpakant Township on July 2.
Houses burned in April 2018
The Burma Army launched an offensive in Njang Yang Township during April and May that has displaced thousands of civilians in villages surrounding Njang Yang Town.
The Kachin Independence Army recently provided photos of two houses in Njang Yang Township that were burned down by the Burma Army.
On April 28 a Mr. Samra La's house was burned down by Light Infantry Division (LID) – 33 in Sanitu Yang Village. On the same day a Mr. Chyinghkrawng Tu Ja's house was burned down by LID – 33 in Tangbau Yang Village.