Eubank Summer and Fall Schedule 2018
23 June 2018
U.S.A.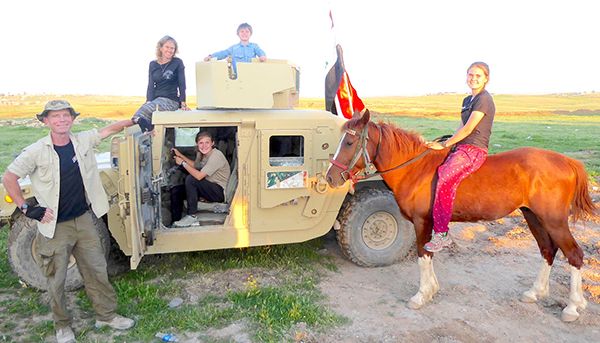 Dear friends and family,
Thank you for your love, prayers, help, and being in this with us. We just came off back-to-back missions in Iraq, Syria, and then Burma, and are now heading to the United States. You can see photos from these missions in our newsletter,
the Jungle Chicken
, and our schedule for the next few months is below. We look forward to seeing and thanking any of you that we can in person. We will keep you updated on any changes to the schedule below.
God bless you,
Dave, family, and FBR
+1 (360) 712-9248
June 
23: Seabeck, WA
24: Speaking at both morning services at Snoqualmie Valley Alliance Church in Falls City, WA, then driving to Ephrata, WA
25-28: Diamond J Rodeo Camp near Oroville, WA
29: 8 a.m. program at Litch house in Yakima, WA, followed by an afternoon climb of Pinnacle Peak in Mt. Rainier National Park
30-2 July: Driving to Jackson, WY
July
2-4: In Jackson, WY
5-7: Climbing in the Tetons, WY
8-11: Competing in a rodeo in Cody, WY
12-14: Driving to Napa Valley, CA
14-15: Napa Valley and Yountville in CA
16: Driving to St. George, UT
17: Evening program at Calvary Chapel St. George, UT
18-19: Driving to Colorado Springs, CO
20: 9 a.m. meeting with EIG and then at noon go to Free the Oppressed (FTO) board meetings outside of Colorado Springs, CO
21-22: FTO board meeting
23: Climb Pikes Peak, CO
24: Colorado Springs, CO
25-27: Hsin house north of Denver, CO
27: 6 p.m. program at Hsin house, CO
28: TBD
29: TBD in NM or UT
30/31: Traveling to Malibu, CA
August
1: Program at 7 p.m. at Calvary Chapel Murrieta, CA
2: Evening program at North Coast Calvary Chapel in Carlsbad, CA
3-5: Malibu, CA
7: Kingdom Air, Sutton, AK
8: Morning at Kingdom Air and a 7 p.m. program at Glacier View Church near Victory Bible Camp, AK
9: Victory, AK, with Lee family
10: Anchorage, AK
11-17: Port Alsworth, AK
18: Anchorage, AK
19: Anchorage, AK – FCC or Clearwater or both
21 August to 7 September:  Thailand and Burma
September
8-9: Traveling to Malibu, CA
9: Morning programs at Malibu Presbyterian Church, CA
10-15: Phoenix, AZ, and to Midland, TX
16: Morning church programs at First Presbyterian Church, Midland, TX
17: Midland and pm with Crumps
18: Evening program, Midland, TX
19-23: TBD in TX
24-28: Back to Phoenix, AZ
29-30: Santa Barbara, CA
October
1: Santa Barbara
2: Malibu
3: Fly to Thailand
3-26: Thailand and Burma
26-31: Alaska missions conference
November
Iraq/Syria or Washington D.C. if no emergency in our mission area in Iraq/Syria