Northern Burma Conflict Update: 18-25 May 2018
31 May 2018
Kachin State and Northern Shan State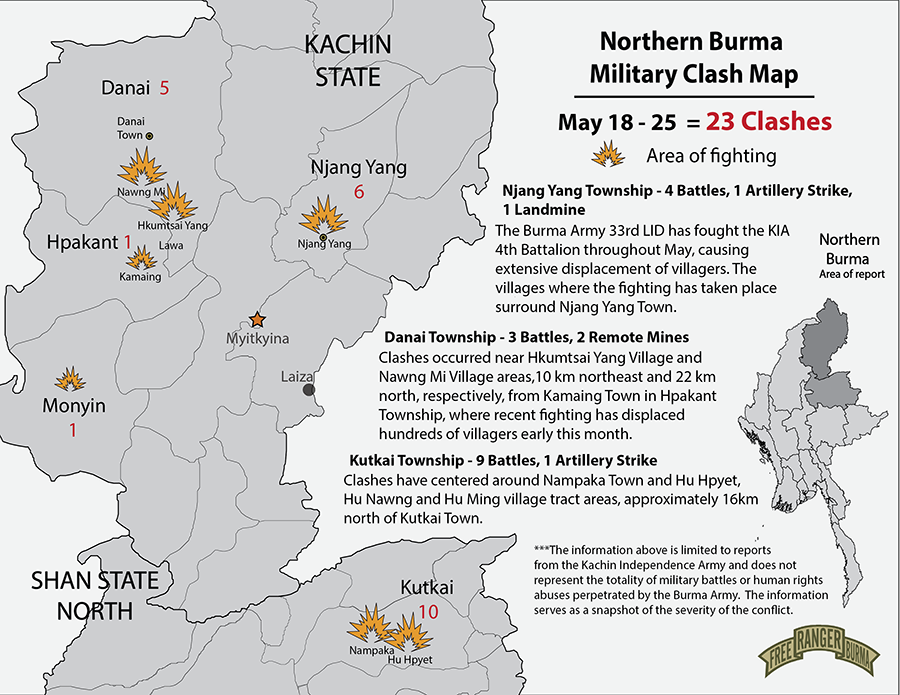 Total Military Actions – 23
Troop Clashes – 17
Artillery Attacks – 2
Remote Mine Attacks – 3
Landmines – 1
Burma Army Helo (Troop transport and resupply) – 4
Burma Army Drones (Recon) – 1
Burma Army Killed – 3
Burma Army Wounded – 5
Kachin Independence Army Wounded – 2
Civilian Casualties
Civilians Killed – 1
Civilians Wounded – 2
From May 18 – 25 there were three civilian casualties resulting from clashes between the Burma Army and Kachin Independence Army (KIA) / Ta'ang National Liberation Army (TNLA) forces. On May 20th in Kutkai Township a Mr. Mg Mg and Ms. Nan Hke Hke from Kawng Sa Village were shot and injured during a clash, both of whom are receiving medical care. On May 24th Mr. Jam Htai from Na Ling Village was shot and killed.
Danai Township Clash Update
Danai Township has had numerous clashes between Burma Army Light Infantry battalions (LIB) 298 and 425 near Hkumtsai Yang Village and Nawng Mi Village areas, 10 km northeast and 22 km north, respectively, from Kamaing Town in Hpakant Township, where recent fighting has displaced hundreds of villagers early this month. Villagers from the Awng Laut Village in Danai Township are still hiding in the jungle throughout Danai. 
Hpakant Township Burma Army Buildup
A high ranking KIA officer said on May 26 that Burma Army 33rd Light Infantry Division (LID) rotated from Injangyang Township to Hpakant Township on May 23rd, joining the 101st LID and 7th Military Operations Command (MOC). The KIA officer said the 33rd LID convoy was laden with loot stolen from villagers during the recent displacement of more than 21 villages in Injangyang Township. Furthermore, the officer warned of an impending Burma Army surge in Hpakant Township. Between May 18 and May 21 the Burma Army 6th Battalion LID in Hpakant Township had frequent helicopter resupply of arms and troops, as well as wounded soldier evacuations.
Kutkai Township Clash Update
Fighting from the 18th – 25th was heaviest in Kutkai Township. Burma Army Light Infantry divisions 11, 55, and 88 clashed extensively with KIA 8th and 9th Battalions and TNLA troops in the Nampaka Town and Hu Hpyet, Hu Nawng, and Hu Ming village tract areas, approximately 16km north of Kutkai Town.
Burma Army troops also assaulted KIA 2nd Brigade, 2nd Battalion area, resulting in two KIA soldiers being wounded. There were ten clashes in Kutkai Township between the 18th and 25th.
Njang Yang Township
The Burma Army 33rd LID in Njang Yang Township has fought the KIA 4th Battalion throughout May, causing extensive displacement of villagers. The villages where the fighting has taken place surround Njang Yang Town. The 33rd LID has looted many of the villages and KIA sources have said the 33rd has recently moved to Hpakant Township on the 23rd.
Kachin State Townships
Hpakant – 1 Artillery Attack
Inhangyang – 4 Troop Clashes, 1 Artillery Attack, 1 Landmine
Mohnyin – 1 Troop Clash
Tanai – 3 Troop Clashes, 2 Remote Mine Attacks
Northern Shan State Townships
Kutkai – 9 Troop Clashes, 1 Remote Mine Attack