Northern Burma Conflict Summary – March 2018
8 April 2018
Northern Burma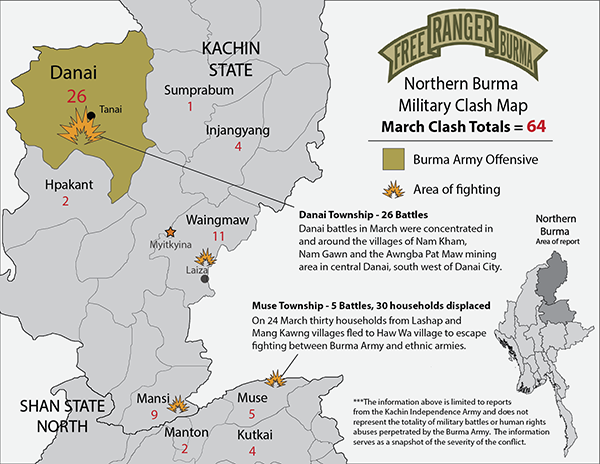 Violence against civilians
On 8 March Burma Army troops from LID 88 stationed at Ngwe Kaba Kyaw fired four 60mm rounds toward Man Jap Village, wounding Mr. Tar Ku Lwi (aged 60) and his wife Ya Mar Lwi (aged 55) in Mandung (Manton) township.
On 25 March Ms. Aye Han (age 32) of Daw Hpye village, who is a mother of two children, went missing near a coffee farm she worked at in Kutkai Township. On 27 March, her dead body was found near the farm with shrapnel wounds from a mortar round. KIA reports claim the Burma Army is responsible.
On 30 March three soldiers from LIB 316 were accused of raping a Ms.Yinan Hkawn (age 60), married to Mr. Maji Gam, from Na Chyu village in the Tamoenye area, Kutkai Township.
Danai Township – Burma Army Offensive
According to March data from Kachin Independence Army (KIA) field reports, central Danai Township had 26 battles, whereas one year ago, in March 2017, there was one.
Danai Township is within the Hukaung Valley, an area known for its jade, amber and gold deposits, and the Burma Army has fought the Kachin Independence Army (KIA) for control since June 2017. The Burma Army made advances this March by pushing out the KIA's 14th Battalion, which demolished their base and withdrew further into the Danai mountains.
Danai battles in March were concentrated in and around the villages of Nam Kham, Nam Gawn and the Awngba Pat Maw mining area in central Danai, southwest of Danai City, and toward the end of the month along the Danai – Myitkyina road (Ledo road). These areas house civilians that have been caught in the crossfire.
On 5 March Burma Army units at Tsanlun Village supported their troops with mortar fire against the KIA, yet two rounds impacted within the Nam Kham Village school campus.
Eastern Kachin State
Conflict in Waingmaw Township took place north of Laiza town, KIA headquarters, with Burma Army LIB 309 and other units using indirect mortars, artillery and small arms in the areas surrounding Burma Army Sama Base.
IDPs at Woi Chyai IDP camp near Laiza town are suffering severe weather conditions. On the 3rd of March, 25 IDP houses and 10 IDP kitchens were destroyed due to a hailstorm, wind and downed power lines.
Farther north in Hpare IDP Camp in Chipwe Township, the people, including the elderly, children and mothers with infants suffered from sub-zero temperatures and a lack of blankets.
Mansi Township clashes were less frequent in March, and areas around Mahtek Village, Madang Yang town and Kaihtik town saw the bulk of the fighting.
Muse Township's Mongkoe City saw a resurgence of fighting at the end of the month. On 24 March, 30 households from Lashap and Mang Kawng villages fled to Haw Wa Village to escape the fighting. This area hasn't had heavy conflict since the 2016-17 Northern Alliance counter-offensive against the Burma Army.
***The information above is limited to reports from the Kachin Independence Army and does not represent the totality of military battles or human rights abuses, etc. perpetrated by the Burma Army.