Celebrating New Life: 12 Rangers Baptized
6 February 2017
Karen State, Burma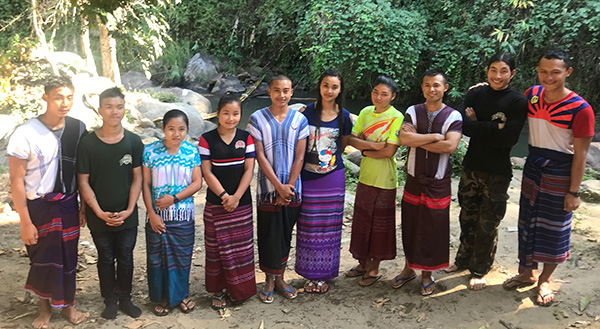 This year 12 rangers asked to be baptized as they came to the end of the training; some were new students and some staff with wide experience. Christmas Eve morning, after church, 10 men and women came down to the river for a cold water baptism and just five days later, the last two followed them. Thank you for your prayers for these Rangers and their open hearts. Here are some of their stories.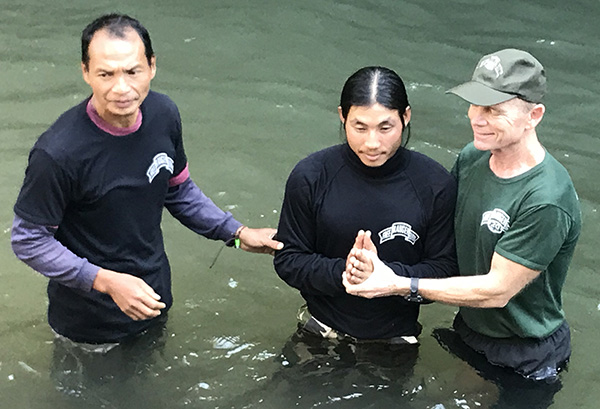 Saw Joseph was one of FBR's best students and went on to become one of our better medics. His range of skills and competence led us to ask him into other duties as well, such as helping manage training. When we started doing missions in Iraq, he became one of our main medics there, where his patience, competence and love made the Iraqis love him. He was born into a Christian family but never was baptized because, he says, "I doubted God. I saw a lot of things that made me think God was not real. I thought, God, if you're real, why do you allow so much suffering to Christians?" God, he said, answered his questions, personally. He realized that when he called out to God about a problem, he was helped with peace and his sadness was taken away. And so, he says, "Jesus was born in my heart." He was the first one we baptized on that Christmas Eve morning.
Sai Ann is a young Shan man, 19 years old. He had heard of Christianity but knew nothing about it because his village was all Buddhist, as are most Shan people. On his way to FBR training he spent some time at an FBR leader's house and found a book that told the story of the Bible in comic-book style – he read it and the story of God's creation and His step-by-step plan for the world changed his heart. Now that he's baptized he says he is 'stronger at forgiving' – before he felt he was hard, but now he is better at understanding others.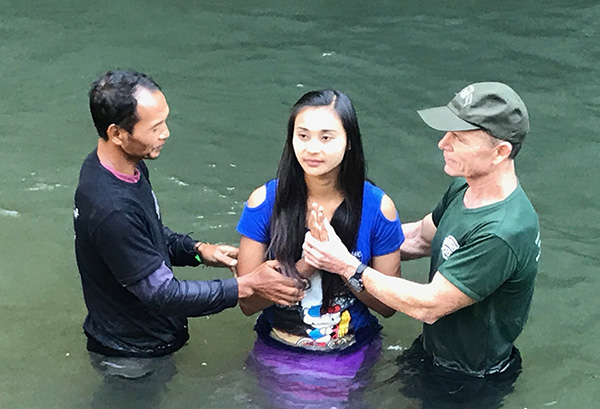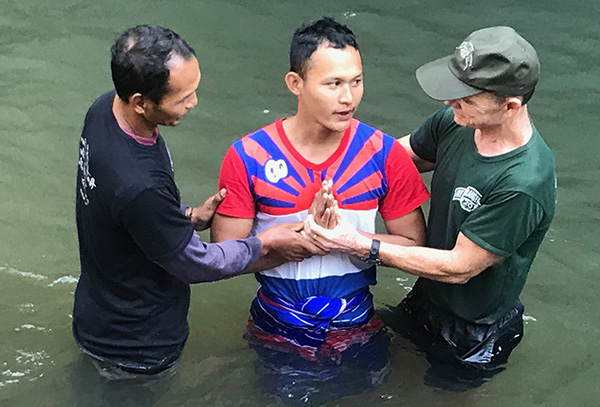 Naw Shwe Zin Win is a 21-year-old Karen woman who was born and raised in No Po refugee camp by Christian parents. She felt that she had reached the right age and place, and afterwards she felt very happy. Saw Pa La Pon, 23, is a young man from a farming family in a Buddhist village but has had opportunity to earn a bachelor's degree in Myanmar studies from his district university. As he attended church during training he felt a voice of encouragement in his heart about becoming Christian. Finally, at the end, he felt his heart open to it. Afterwards, as he came out of the water, he had a powerful and strange feeling of cleanness and newness – he could feel that his sins had been washed away and he had a new life. Since then he feels like God is talking to him in his heart.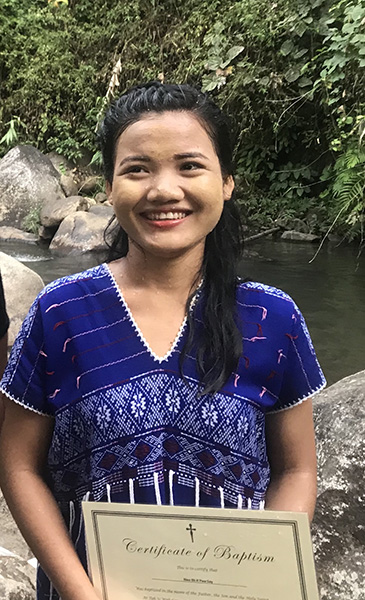 Another young man, Saw Dah Buh, 18, decided to get baptized because his mother asked him to long ago and something in camp opened his heart to this being the right time. Afterwards he felt he had moved from darkness into light. Naw Eh K'Paw Say is 21 years old, from a Buddhist family. She is an advanced student who has been working at the clinic in Lay Ton Ku and first started going to church there. During this time she began to ask God for help when she had problems, and her prayers would be answered. So she actually wanted to be baptized last year at the training but thought she would wait, until she could be independent from her family. But this year she decided to go ahead. When asked how she felt, tears came to her eyes and she said she couldn't explain but knew that now she was a Christian.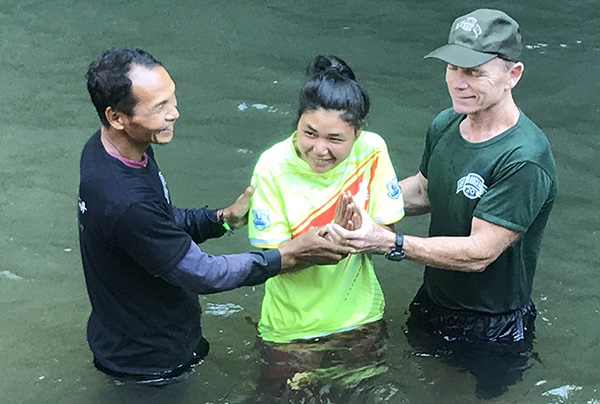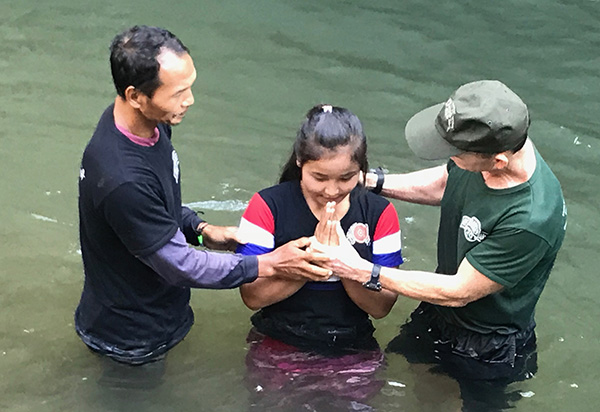 Naw Christina and Naw Bwey Way Paw are both 20 and are both aspiring medics. The both came from Christian families and felt that the training was the "right time" to be baptized. Naw Christina was happy to be baptized by Dave and Doh Say. Naw Bwey Way Paw asked for prayer that because she is a new believer, temptation will stay away from her.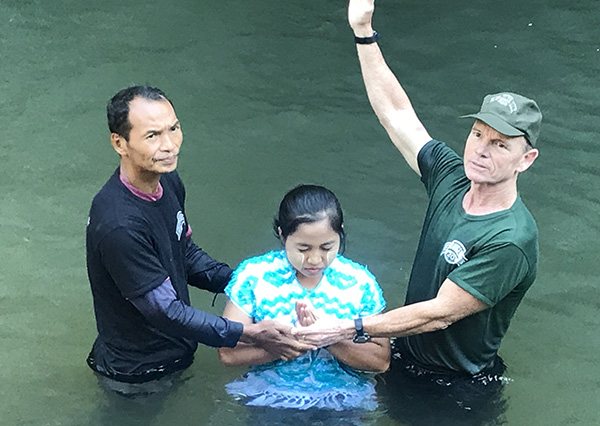 Naw Wah Gay Paw is a 19-year-old woman from the Delta area of central Burma who is interested in studying politics. She had been baptized a year ago but wanted at this time to be closer to God. She saw her prayers answered in camp, during the final training exercise: her team had just dug up a stash of contraband food they had bought and pre-hidden when an instructor popped up over the hill yelling at them to stop resting. They dropped the food and ran but were sure they'd lost it. She prayed – they had spent a lot of money on it and didn't want to lose it. Later they went back and it was still there!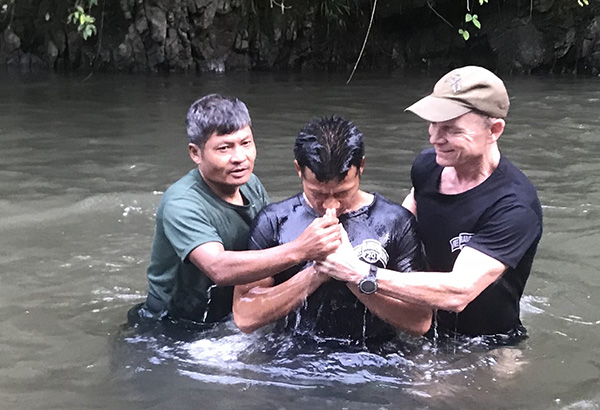 Kwee Po is an FBR headquarters medic who also helps lead FBR training. He has been thinking and searching for a long time and finally decided to go ahead this year – because, he realized, "In our life, we all need someone to guide us."
We are grateful for these and all the Rangers who are committed to action, to helping their people, to fighting oppression and working for freedom – and yet are also humble enough to turn to God and commit to following Him, the one from whom all freedom springs.