Behind the Numbers: Stories from the Rohingya
13 November 2017
Cox's Bazar, Bangladesh
In 2012, interethnic violence exploded in Arakan State, in western Burma, between the Rohingya and Rakhine people. In October 2016 the Burma Army launched a major clearing operation against the Rohingya people in response to an attack on a military outpost. Thousands of people fled and widespread human rights abuses were reported. On August 25th, 2017, the military alleged another series of attacks on several posts in Arakan State and retaliated with another major military operation. Since August 25th alone, some 600,000 Rohingya people have fled into Bangladesh. The following is a report from FBR's second mission to Bangladesh, in which we conducted interviews and distributed food packs for 150 families.
The Teknaf Peninsula, with the Bay of Bengal on one side and the Naf River on the other, is largely jungle and rice paddies, with abrupt rock cliffs forming something of a spine down the west side. One main road circles the peninsula and there are two or three small towns. Travel sites advise you to bring your headlamp when you visit the town of Teknaf, as the electricity is unreliable. Paddy farming and fishing supplement intermittent tourism to form a meager livelihood for the locals; the average yearly income is around $1600.
Into this remote and beautiful and poor spit of land, a number of people roughly equal to the population of Seattle has fled; most of them have only the clothes on their backs. An estimated 14,000* of these families are headed by a single mother, while another 3,600* are 'headed' by a child. These numbers are signposts to shattered lives.
We did our first interviews in Kutapalong refugee camp – the largest camp amongst the several that have sprung up on the peninsula, and also the holding site for new arrivals. Our translator met us at a designated spot by the side of the road – as we pulled up, a 30-minute downpour was just ending. The road and edges of the camp were full of people, now mostly drenched. We jumped out and followed our translator into the camp. Tarp shelters climbed the hills on raw, red-dirt, newly-dug terraces. We passed a row of tarp 'long-houses' – each about 10'x60', black tarp stretched around stick frames. Our translator pointed to one and said that was where his family lived, along with five other families. He spoke English well and we learned that he had worked for Médicins Sans Frontières in Burma for 12 years. MSF was kicked out of Burma a few years ago and life became dangerous for him. He felt a target on his back and eventually he fled with his family.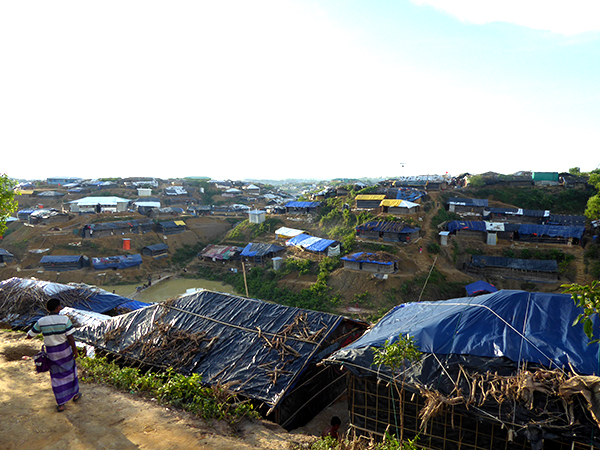 After about ten minutes of walking we were on top of a small hill with a newly built shelter on it. The view in all directions was the same: freshly cleared land dotted with mostly blue-and-orange tarps. A few trees and bushes had been left and most of these helped hold up clotheslines or one side of someone's 'house'. We had brought a Rohingya friend with us, a woman who spoke English, Rohingya and Bengali. We quickly split into two groups, women and men, and moved to opposite sides of the shelter, divided by a blanket wall. I was with the women and Razia, my translator, had quickly narrowed the group of women down to three to begin the interview with.
And so the numbers I'd read began to give way, to faces, to names, to tears, to lives shattered. The first woman had lost her husband and two of her sons. The second had lost her husband. The third was a girl really, and was pointed out in hushed tones as one who had been raped. They were from the same village. They said they had been subject to restrictions for the last four years or so, but in the last year these had increased. There was a Burma Army outpost of about 50 soldiers in their village. They needed permission to travel anywhere, and a 6:30p.m. curfew had been established. In the days leading up to the attack they had heard rumors of attacks on villages. Finally some eye-witnesses said soldiers were coming their way. In the middle of the night, they fled. They hid in a nearby grain barn and the Burma Army found them the next day.
The women estimated around 200 soldiers surrounded the barn and opened fire. The concrete walls mostly repelled this initial burst, though a couple of people were hit by bullets coming through the wooden door. The owner of the barn was found, along with a couple of other men, and executed on the spot. The people were trapped and the soldiers began pulling them out of the barn in groups of ten or so, men and women. They used the women's scarves to tie the men up and then executed the men. The women were returned to the barn – except for a few of the younger ones who were taken back to the village. As night came the soldiers left, and all those who had survived fled. They reached the border after nine days of walking.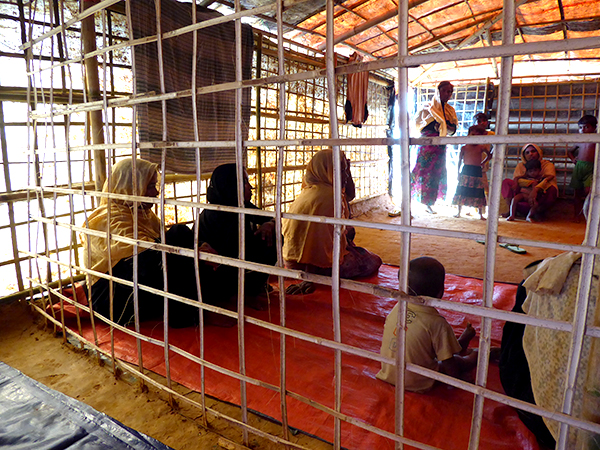 The girl in this group was one of those who had been pulled aside. She is 18. When the soldiers pulled her aside, she had at first tried to run. She was quickly caught and beaten with a rifle. She was taken back to the village, put alone – that is, separate from any other girls – in one of the newly-abandoned houses, and gang-raped by a group of eight or nine soldiers. Some of these she recognized as belonging to the army post that had been stationed in their village. Others were new. Afterward, they left her alone and she too escaped in the night with some of the other girls.
We interviewed one other woman that day, who was eight months pregnant when she fled with others from her village. She told us of meeting on the way a group of young men, not soldiers, dressed identically in white shorts and shirts and armed with guns like soldiers. These 'boys' opened fire on their group. Her 19-year-old son was shot next to her, went down; she held his head in her lap until they started coming towards her. She tried to drag him and run but didn't have the strength. She ran to cover, then turned and watched as they shot him again and again, his body jumping with each bullet. She cried as she told this story, cried at the memory of him calling her, cried at her failure to save him. She had borne a baby girl just three days before I talked to her – they brought her in and showed her to us with joy! – but the life she had saved could not make up for the one she'd lost.
And so the stories go. Later, in a Cox's Bazar hospital we interviewed two young boys, seven and eight years old; one was shot by soldiers in the leg and the other was asleep when soldiers set his house on fire and part of the roof collapsed on his leg before his father rescued him. We talked to a man who was shot in the leg; he was fleeing his village with his family when his five-year-old daughter was shot dead right behind him. He turned to help her and soldiers came up and shot him in the leg. His brothers came back for him and carried him in a hammock for eight days to the border. We talked to a man whose wife of 35 years was killed as they fled together. His eyes had a bewildered look as he cried over the life he had lost. 
We prayed with these people and gave them Good Life Club bracelets. We gave food-packs for 150 families. We gave out Good Life Club school packs to a refugee school that included about 30 orphans. Our message was, "We are small, but God is big." One man thanked us for coming and for listening to their stories. He said, "No one has asked us our story and when you listen, it helps us to understand these feelings we have, to deal with our grief. Thank you." Others looked at us with uncomforted eyes and said they were worried about winter coming. They needed warm things.
So: the faces of the statistics – 14,000 single mothers. They are positive numbers, numbers of people that can be counted. They don't say: 14,000 dead fathers. Here, the dead have been left behind. They are a rumor, sometimes even to their families. A woman will hear from a friend: "Yes, I saw the body of your son." Or they hear – some boys hiding from the army in the jungle saw them bury many bodies. Or they hear nothing, and the status is 'missing, presumed dead.'
And so we must listen to the voices we can hear – the voices of people standing in lines waiting for food, for a tarp, thinking of the living, but holding in their hearts the precious voices of those they've left behind. And we must also let those voices be heard. God help us listen well; God help us respond.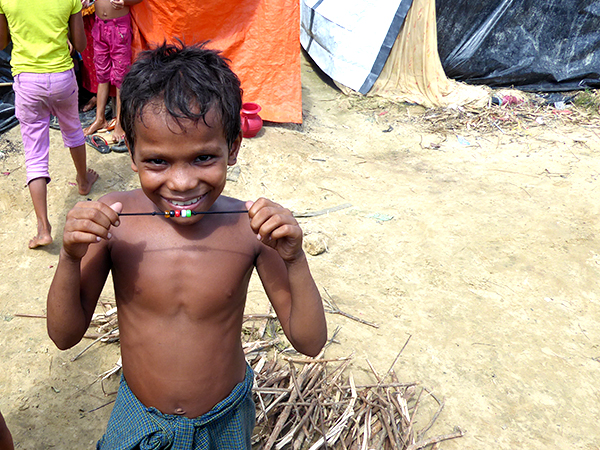 ---
*For more information about the numbers regarding the Rohingya, please see these updates from the UNHCR and ISCG.