Interview with a Rohingya Refugee: One family's story of brutality and survival
Cox's Bazar, Bangladesh
4 October 2017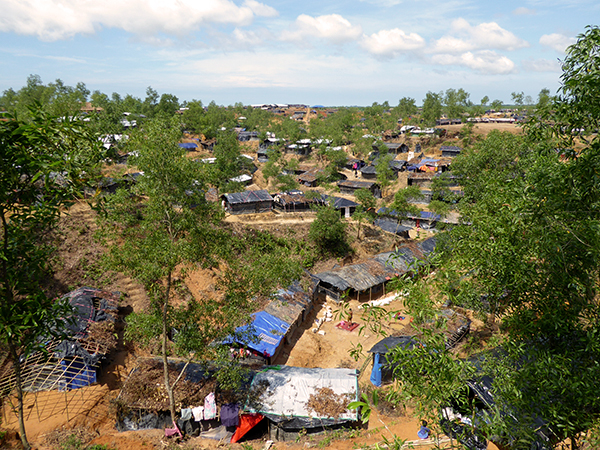 With the ongoing violence in Arakan State spilling over into a refugee crisis in Bangladesh, the Free Burma Rangers sent a small team into Cox's Bazar, Bangladesh, to see first-hand the state of newly constructed refugee camps and hear first-hand accounts of the increasing crimes against humanity committed by the Burma Army against the Rohingya people. Each person they passed in the overcrowded camps had their own story regarding the growing violence. This is one such story and one man's perspective.
Abu Ahmed, a 28-year-old Rohingya man, is one of the half-million people who have recently fled Burma, along with his wife and four children, aged 10 years to 4 months. Their home is in Kiariparang Village, Maungdaw Township, where he was born and which houses 2500 families. According to Abu, his ancestors lived there since the 1300's. He earned a living as a day laborer doing various odd jobs like working in rice paddies and construction, and hauling supplies and equipment for others.
On August 28th Abu's family's quiet, peaceful lifestyle came to an abrupt end with the explosion of a rocket-propelled grenade as it struck a nearby rooftop during their daily 4 p.m. call to prayer. Abu estimated that between 100-200 Burma Army soldiers in uniform entered their village without warning, and began indiscriminately firing their weapons all around the village and into the houses. According to Abu, Buddhists, who were armed and in civilian clothing, also took part in the violence against those in the villages.
Abu witnessed the death of his best friend, who was shot with many others on the village streets. He saw old men shot and people having their throats cut with long knives. Young children had their limbs hacked off by soldiers with machetes just prior to having their throats slit. Women were violently raped and left to bleed to death. Families were padlocked in their homes from the outside which were then torched by the soldiers to let those inside burn, suffering a horrible death.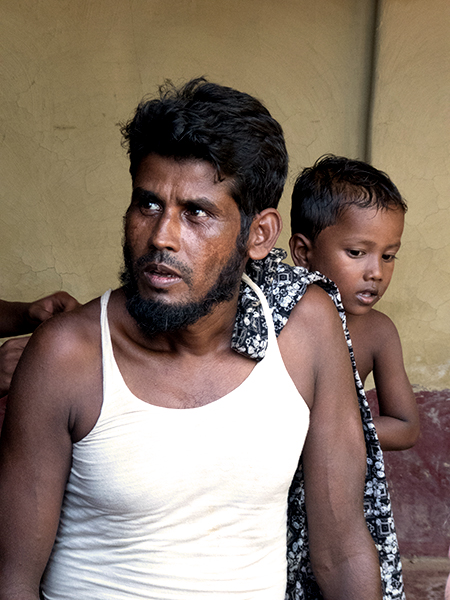 At some point during the chaos, when Abu saw the opportunity, he gathered his family and escaped the assault by fleeing into the jungle. Later, Abu would learn that 1200 of his fellow villagers were brutally killed that horrible day as part of a larger campaign of ethnic cleansing perpetrated by the Burma Army.
Traveling in fear, Abu and his family arrived at another village the next day. They sought shelter and food from their fellow Rohingya neighbors who took them in. However, it was a short lived stay as the Burma Army showed up a couple of days later, continuing the systematic killing of anyone unlucky enough to be caught in the soldiers' sights. Again they fled, moving north towards the Burma-Bangladesh border.
In all, they fled five different villages before running out of villages that could shelter them. Their last option was to begin the trek through the jungle in hopes of reaching Bangladesh. They spent nights sleeping in rice paddies while foraging for anything edible the jungle had to offer.  Monsoon rains increased the trek's difficulty, especially as they crossed the mountain that separates northern Arakan State from the Naf River and as they had to carry their two smallest children. The rains, however, also provided a blessing as they allowed them to collect fresh drinking water. 
In total, Abu and his family spent 20 days fleeing from the Burma Army with little more than the clothes on their backs in order to reach the Naf River, the physical divide between Burma and Bangladesh. Once there, Abu paid a Bengali fisherman the equivalent of $740 USD to take his family on the 20-minute ride across the river. There, they joined the tens of thousands of other Rohingya refugees in the Leda Refugee Camp.
Like many others, Abu sees the Burma government as responsible for the persecution of the Rohingya people. He asks that the international community come to their aid for justice and to pressure the Burma government to give them their rightful citizenship so they may return to their homeland to work and live in peace. Without that help, Abu fears that he and his family will have no choice but to live in the squalid conditions of these refugee camps for years to come.