This article originally appeared in the ENTERPRISE-JOURNAL, McCOMB, MISSISSIPPI, Sunday 9 April, 2017 — www.enterprise-journal.com  (PDF version)
Rangers Rescue War-Battered Saluki Dog in Iraq
THE FREE BURMA RANGERS are a Christian humanitarian organization who work in front-line war zones in Burma, Iraq and other regions. They normally minister to human victims, but below is an account of rescuing a war-battered dog in Mosul, Iraq.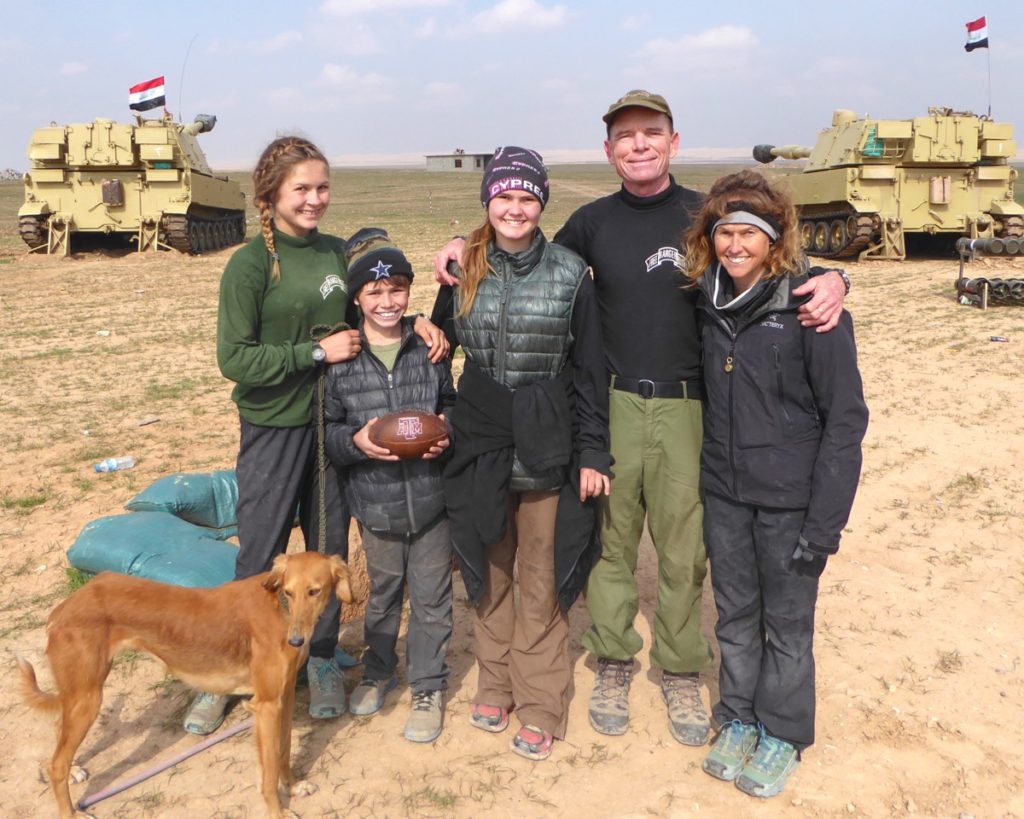 In January 2017 we were with the Iraqi army as they liberated East Mosul when we found a Saluki hound starving in a neighborhood ISIS controlled. She was very thin, would not or could not stand, and trembled when anyone approached.
There was a lot of fighting, bombing, machine gun and tank fire, and all the noise and violent death of a full Iraqi armored assault against a dug-in and murderous ISIS. There were dead bodies in the streets, and who knows what Nineveh had seen?
My children hugged her and loved her, feeding her by hand. Someone said she may have been held by a ISIS emir who took her from a villager, but now all in the area were gone or dead.
No IDP (internally displaced person) knew anything more than that, but we really are not sure.
We found her in the same area where we rescued a 6- year-old Yazidi boy earlier this year. The Iraqi general we were with asked our children Sahale, Suu (named for Burmese leader Aung San Suu Kyi) and Pete if they wanted the dog.
"Oh yes, yes, we love her," they said as they hugged her neck and stroked her gently.
The general asked Karen and me, and I said yes immediately as I felt very sorry for the dog, our kids loved her, she needed love, and I have always loved and admired Salukis. And here was one — wow! — so beautiful, elegant, calm, athletic, sweet and swift.
We named her "Nineveh" for the province Mosul is in. The kids covered her in love, and day by day she grew more lively and happy. She went with us on the advance across the Tigris to West Mosul as my family helped IDPs with our team.
All the IDPs and villagers loved her, as did the soldiers, and every day troops offered to buy her. Members of the Karen (ka-REN) from Burma in our team say she understands human language but just can't speak it.
They said she is part human — and when you look into her eyes you see something deep. I see love, the desire to be loved and a kind of innocent wisdom. But she can also bite, as other dogs who tried to push her around soon found out!
So we did all the needed paperwork, most of all my wife Karen, who missed flights and had to send the kids back alone to Thailand from Kurdistan, Iraq, so she could get the right-equipped plane and accompany Nineveh back home.
Once in Thailand at our "ranch" with four other dogs, two monkeys and six horses, Nineveh thrived, and races around with no equal. She spends a lot of time swimming in our ponds, too, and loves the water!
Now I am back in Mosul with other volunteers, while most of our teams are helping in Burma.
— David Eubank
SALUKI
Also known as Persian greyhound
Originally bred in the Middle East
Sight hound known for speed in running down prey