Kachin and Northern Shan Update: Civilians Caught in the Middle
3 April 2017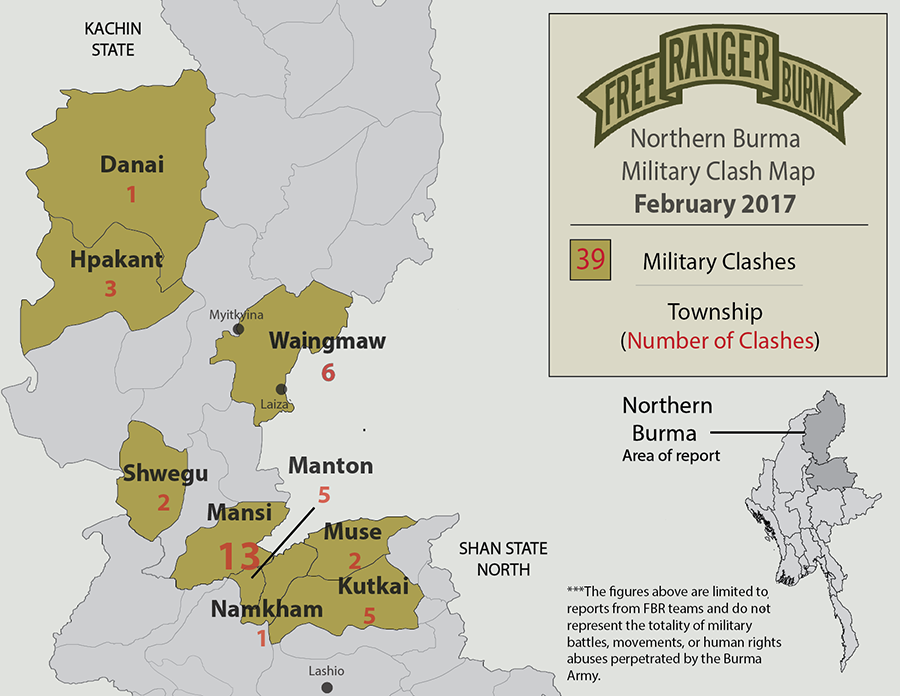 In Kachin and northern Shan states, checkpoints are a routine part of life. Along roadways, civilians endure extensive searches of their personal belongings and shipments of supplies, and are frequently forced to pay bribes imposed by soldiers from the Burma Army. 
Concerning the recent ban on boat permits in Danai Township, one Kachin soldier, LaSang, said that, "All engine boats run legally. They have already paid money (taxes) to authorities for permission to run. But a corruption of bribe-taking from civilians is common to Burma Army. When Burma Army soldiers have no money, they do like this. When they have got money from owners of engine boats, they let them go."
The PTTs (local Burma Army militias) also threaten to conscript villagers unless family members agree to pay a bribe, which is one more form of extortion done by a military actively waging war.
In addition, Burma Army soldiers firing indiscriminately around villagers, landmines that threaten children playing, and fighter jets screaming overhead are realities the villagers in Kachin and northern Shan States are forced to endure. Farmers are at risk of their huts and rice stores being burned, or their property stolen due to the ongoing  abuses of the Burma Army. 
These abuses against civilians are documented daily and are perpetrated by an army operating unrestrained by any law or other authority. The extortion and conflict detailed in this report are rife in Kachin and northern Shan states and it is the men, women and children just trying to survive in their homes who are paying the biggest price.
February 2017 Conflict Report
Military Clashes – 38
Burma Army Soldiers Killed – 5
Burma Army Soldiers Wounded – 1
Kachin Independence Army Soldiers Killed – 3
Kachin Independence Army Soldiers Injured – 2
Burma Army Jet Flights(Recon/Supply) – 41
Burma Army Helo (Recon/Supply) – 7
Burma Army Oppression Against Civilians
Checkpoint (Mandatory stop and search of civilians) – 7
Civilians Killed – 2
Civilians Wounded – 3
Civilians Extorted – 3+
Civilians Theft – 3+
Civilians Forced Labor – 2
Civilians Property Destroyed – 1 house (burned), 9 farm huts (burned), 400 sacks of paddy (unhusked rice)(burned), rice husker machine
Civilian Arrested for Connections with Ethnic Armies – 1
Displacement – 60+
Landmines, Fighting, and Civilians Caught in the Middle
Between 1315-1630 on 04 February, soldiers from Burma Army Infantry Battalion (IB) 4 and Light Infantry Division (LID) 33 battled with Kachin Independence Army soldiers near the Roman Catholic Church, Bang Htan Village, in Mansi Township. Four Burma Army soldiers were killed.
At 1600 on 10 February civilians were stopped at Nga Udang, Bang Sai, at a Burma Army checkpoint. Zahkung Zau Sam from Kut Hkai ran away during the searches and the Burma Army responded by opening fire at him. Bullets struck Zahkung Zau Sam in the rib and thigh, killing him. The body was buried on 11 February.
At 1000 on 12 February a soldier from Burma Army IB 271 operating around Ja Pu stepped on a landmine and was injured. He was admitted to Waingmaw Hospital.
At 1330 on 12 February soldiers from Burma Army IB 228 stepped on landmine at Lahkum Bum, Mansi Township. The soldiers reacted by firing their rifles and mortars in all directions.
At 1000 on 17 February a man named Sau Ta, age 54 from Hkalen Village, was injured by a landmine planted by LID 11 near She Shang Village above Hpai Kawng Village in Muse Township.
At 1040 on 18 February, Burma Army soldiers from Light Infantry Battalion (LIB) 424 operating between Gauri Village and Hkasan Village stepped on a landmine, leaving one dead and one injured. Burma Army soldiers reacted with rifle and mortar fire in all directions. At 1230 the soldiers set fire to the kitchen of a nearby civilian woman's house in Hpakant Township.
At 1100 on 19 February two boys from Mung Gu Village, San Awng (age 14) and Hpung Yu (age 12), received serious injuries by stepping on a landmine planted near Burma Army Mung Gu Byuha Base. The two boys have received treatment for serious injuries at Munggu Hospital.  
Checkpoints, Thievery and Extortion Accounts
On 02 February the Burma Army stationed at Nam Lim Pa stole a metal-plate roof from a civilian home and used it in a Burma Army base in Mansi Township.
On 02 February 10 Burma Army soldiers from IB 86 positioned at Tarung Hka Bridge in Danai Township searched through the food supplies of civilians and merchants passing by.
Between 1230-1700 on 03 February, 10 Burma Army soldiers from IB 238 positioned at Mung Hkawm Post in Danai Township extorted 1000 Myanmar Kyat from civilians passing through Sut Chyai Pa in Danai Township.
On 03 February, Burma Army soldiers from IB 123 searched civilians passing by the front of Nam Hpak Ka police checkpoint in Kutkai Township.
Between 0950-1011 on 17 February an unknown unit of Burma Army troops were searching civilians as they were planting at Mahkaw Pa in the jungle above Nam Um Yukalip in Kutkai Township.
On 20 February Burma Army soldiers positioned in the jungle along the Danai
River near Hka Lung banned engine – powered boats going to and from the soldiers ' position in Danai Township.
On 22 February Burma Army soldiers from LIB 426 searched and extorted civilians for money at Nam Ya village. LIB 421 also carried out extensive checks at Htoi San Yang and Lawng Hkang old bridge in Hpakant Township.
On 22 February more than 60 villagers from Bang Htan, Loi Hkam, Man Jak, Dung Hkung, Loi Seng Hpaga Kawng, Nam Ngawn and Ba Hpang villages were stopped and searched by Burma Army soldiers at Je U Village, Mansi Township. The IDPs were fleeing to Mung Hkawng IDP Camp due to the nearby clashes between the Burma Army and ethnic militias.
On 24 February 30 Burma Army soldiers from LIB 336 searched civilians going to and from Ja Ra Yang and Ga Ra Yang in Hpakant Township.
On 24 February six Burma Army soldiers from IB 250 stayed at Tamahkan Base and demanded money from nearby business owners in Hpakant Township.
On 25 February the Burma Army militia in Kawng Hka, the PTTs, conscripted villagers within Kawng Hka Village and its nearby villages in Kut Hkai Township.