Evidence of Things Not Seen: Hope of Abundant Life in Mosul
March 22, 2017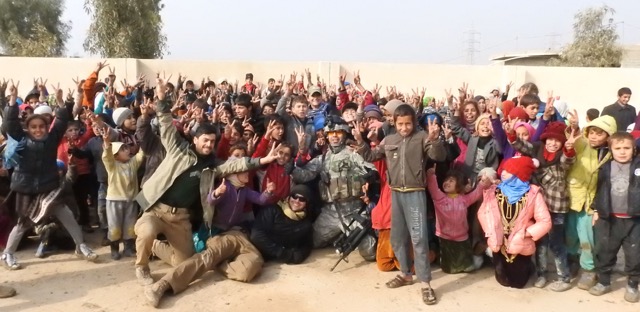 "Now faith is the substance of things hoped for, the evidence of things not seen." Hebrews 11:1
On 30 January, we presented a Good Life Club program in Al Rashidia, a northeast Mosul neighborhood newly liberated from ISIS. We invited the kids to their old school, currently the Iraqi Army headquarters and clinic. We sang songs, did a skit, and played games with some 100 bright-eyed, curious children. They were curious about us. What did smiling, singing, foreigners, teaching about the deep and wide love of God ("deeper and wider than the Tigris!"), what did they have to do in this place where fear had stalked the people for so long, where violence had been the air they breathed? The children here who had gone to school under ISIS had learned math by figuring out how to divide a limited number of bullets between various kinds of infidels. Violence wasn't only a cloud they had lived under, scurrying along, head down, hugging walls and staying low to stay safe; it was a poison ISIS had used to try to corrupt them from the inside out. Now, they looked on as we reenacted the story of a traveler beaten by robbers – but wait, that's not the punchline! – who is helped, not by an NGO or a rich man or a priest, but by a villager, just like them. This we can all do for each other – this is part of the secret of abundant life, we told them.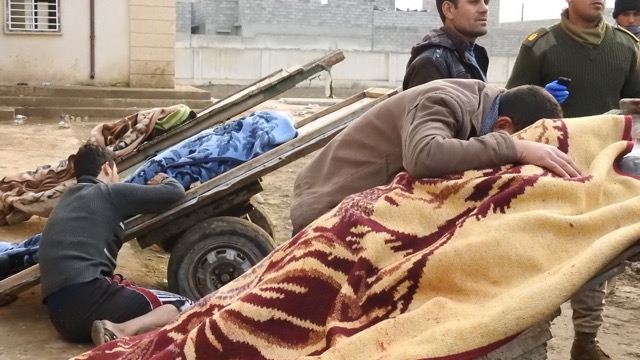 Then we played games. No lessons here, just running in the sun, for fun. Still they watched us carefully, but they also ran freely, they also laughed. The Iraqi soldiers – most of them dads who were regularly showing us pictures of their kids or having us say hello to their families during a phone call home – some of these laughing, goofy guys joined in as well, hamming it up with their AKs slung over their shoulders. What did those curious kids think? Laughing soldiers and playful adults, an afternoon event devoted to them, even as mortars and gunfire could be heard in the background. We gave them a bracelet with five colors through which we shared about God's good plan for us, which the enemy wants to destroy; and God's love, which can overcome that evil and give us a destiny and hope that no man can destroy. We gave them a shirt that summed it up with the words, drawn from John 10:10: "Good life comes from God." This day of fun and joy, overflowing and untainted by the surrounding conflict, felt like life irrepressible, like the table prepared in the presence of the enemy, felt like victory.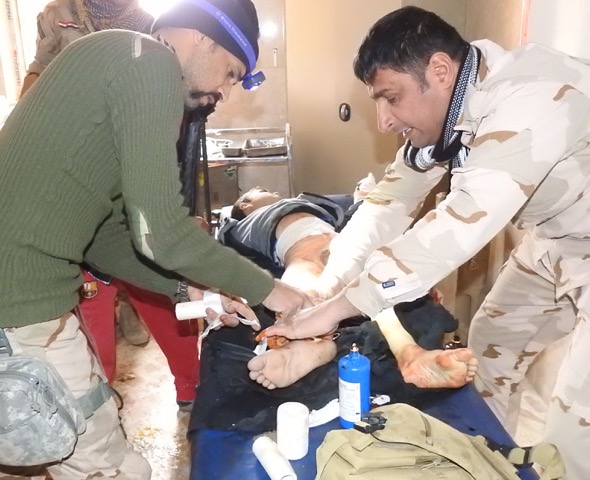 The next morning ISIS fired a mortar that landed less than a kilometer away from us, landed in the midst of a group of kids playing. From the roof where I was standing to get a cell signal, I suddenly saw people running, heard yelling – a group was rushing towards us, some pushing awkward hand carts with bodies on them. Four children and one adult were dead or nearly so before they got to us. The first boy I came to in our improvised clinic was about eight and wasn't moving; as I leaned over him he let out a single gasp and shuddered. I pulled back his shirt and saw part of an intestine protruding. I turned to gather gauze, sterile water and bandaging materials and when I turned back one of the Iraqi medics was looking at him and gestured that he was dead. Seven kids came in alive and wounded; for these we controlled bleeding, cleaned wounds, patched as well as we could and mostly tried to get them to the hospital as quickly as possible. Two more died in the hospital that same day, young sisters, and we drove their bodies back home with their grieving father.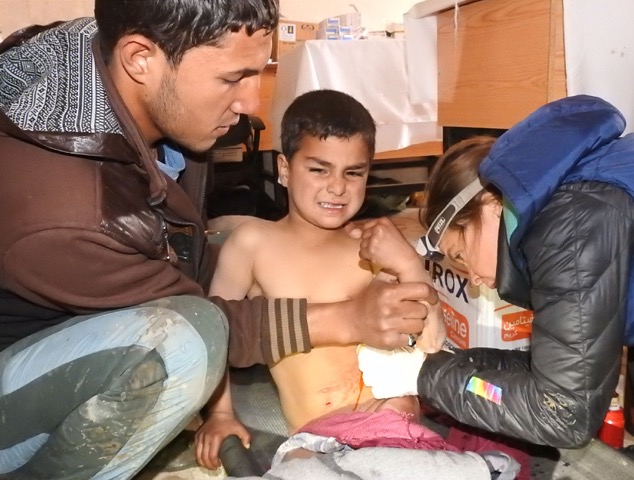 And so our five-colored GLC bracelet had come to life: we talked about the gold bead, God's good creation, His good plan, His value for each of us. We were given a golden day, full of laughter and joy. We talked about the black bead, sin, hatred – our enemy. We were given a black day, with stilled, broken bodies and frenzied grief. We talked about the red bead, and love – God's great love that embraces and shares our suffering, and, we believe, has the power to redeem and transform that suffering and our lives together. And we clung to that one, as we tried to patch together broken bodies, and prayed over broken hearts. We talked about the white bead, a clean heart, untainted by hate or anger, loving God and the world with clear eyes. And we prayed for that heart clarity. Finally, we talked about the green bead, the hope of new life. And we hoped that the message had dropped like a seed into the heart of each child we met, to sprout like a young shoot growing towards the sun, rooted in the Spirit and ready for whatever the next day would bring. We talked about all these things and gave each child a bracelet, to take with them into their next day.