The Liberation of Faizalia
30 October, 2016
Kurdistan, Northern Iraq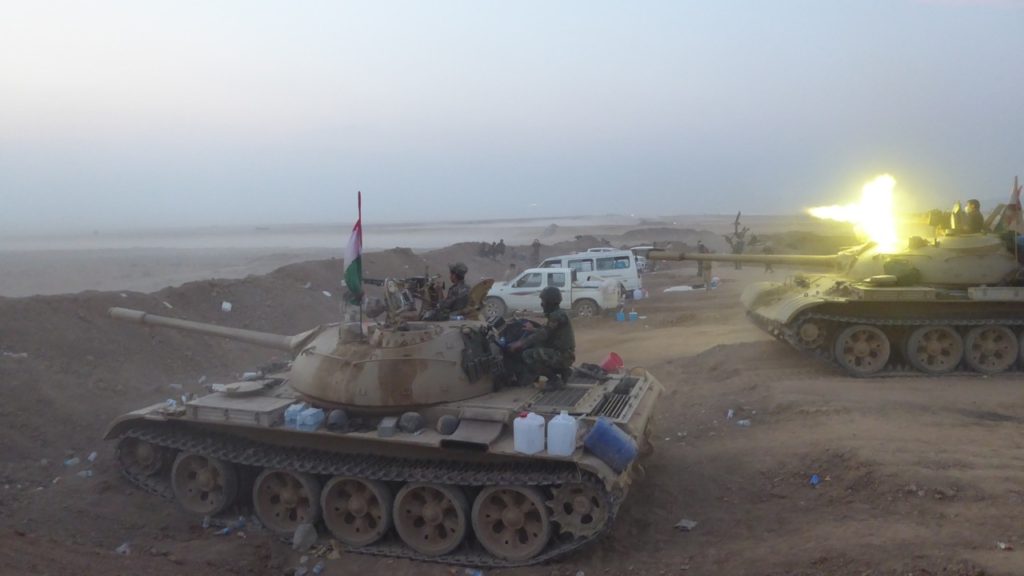 Dear friends and family,
Yesterday the town of Faizalia, 13 miles northeast of Mosul was liberated by Kurdish Peshmerga forces. The people poured out into the streets cheering and thanking us as we entered. Mothers came up to us and give us their babies to hold and kiss. Women ululated, expressing joy and gratitude.  One old lady began to cry and between sobs, said," We have been like prisoners for two years, it was so terrible under ISIS, now we are free, now we are free." Many of the Peshmerga who took the town were reunited for the first time in two years with family and loved ones. They held each other and laughed and wept.
Earlier that day we divided into a medical team that would follow the assault with our ambulances and a small team that would go with the main Kurd element as they entered the town. As we first approached the town ISIS fired mortars and rockets at us as well as detonating four roadside IEDs. None of us were hurt even though they all exploded very close to us. The RPG rockets flew over our trucks. One truck was hit but could keep moving, none were wounded.
The Peshmerga returned fire with tanks, machine-guns and small arms and as we turned off the main road to enter the town, ISIS retreated. One ISIS gunner abandoned his motorcycle and ran. The Peshmerga swept through the town in multiple columns and once the town was secured the people began to come out and cheer. This is the same town we asked for prayer for yesterday since the over 1,000 inhabitants were being held by ISIS. As the Peshmerga began their attack ISIS fled, leaving the people alone so that none were lost. We thank God for this answer to prayer.
To be so thankfully received and so loved was a wonderful experience. We feel like there is now hope here. As we walked through the town we saw the Peshmerga with a captured ISIS fighter who had been hiding. He was taken away while the people cheered, gave us bottled water and thanked us. After posting a security force in the town the Peshmerga main force left to prepare for the next place to be liberated. We followed them out as the sun set. As we approached our strong-point in the desert, we were shelled by ISIS fighters in the towns that are yet to be cleared. There will be many challenges after ISIS is defeated and we are still a long way from that defeat, but today was a great day of liberation. We thank God, the Peshmerga, the coalition and all of you who help and pray. Photos of the advance in the town and liberation follow.
God bless you,
Dave, Family, and the team in Kurdistan