GLC in Sinjar Report: Playground Rises above the Shells of War
27 September 2016, Sinjar City, Northern Iraq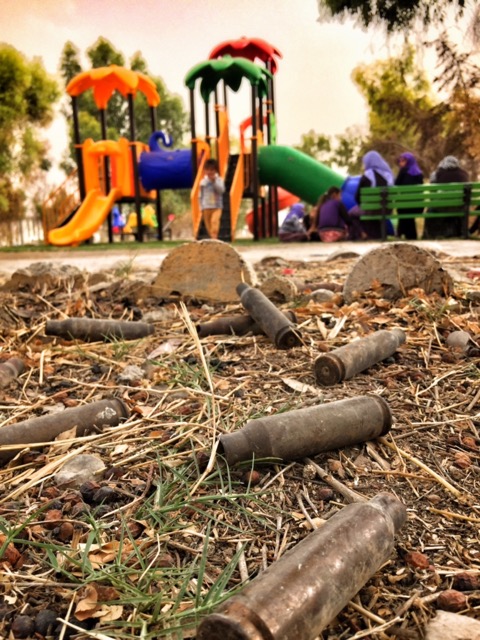 On August 3rd, 2014, ISIS fighters swept into Sinjar City, sending tens of thousands of people fleeing and capturing thousands more. For the next 15 months Sinjar was a battleground. ISIS held most of the city with Peshmerga and Yezidi soldiers pressuring them from the north and coalition air support preventing them from making further progress into the Sinjar Mountain area. For 15 months the city was pounded by those trying to drive the enemy from their homes. Finally, in November of 2015, ISIS was pushed out and the city was liberated.
It was a vastly different place than the thriving town of 50,000 ISIS had taken over: the extremist fighters had intentionally destroyed parts of town that were Christian, Yezidi, Jewish or Shia Muslim. Sunni areas were treated more lightly. Points from which ISIS had launched attacks had been pounded by coalition airstrikes. Much of the city is now rubble. This, along with the fact that the new ISIS line is only about 5km away, has slowed the recovery of the city and today, 10 months after the city's liberation, only some 200 families have returned.
FBR and Reload Love combined efforts to build a new playground in the city in June 2016. It was the first new construction project to be completed since the ISIS occupation and stands a bright, colorful anomaly amidst the destroyed buildings surrounding it. The local leaders chose to place it in a park that had previously been the site of a playground and across from what once had been an ice cream factory. Naim, the owner of the factory, says that ISIS destroyed all of his equipment. However, he came back and today is using his facility to make windows and doors to help rebuild the city.
At the playground's dedication in June, some 80 kids came. Three months later, we came back for another Good Life Club program and this time more than 200 children showed up. People are moving back to the city. The kids came in truckloads, by car and some on foot. As we made final preparations, they swarmed over the playground, sliding, swinging, running around. Parents stood around chatting. FBR medics Eliya, Toh and Joseph set up a clinic. As the kids gathered for the program, we asked what was their favorite playground activity and shouts came from all through the group: "Swinging!" "Sliding!" "Climbing!" We sang our introduction song, played a game and gave a health lesson. They sang and laughed and listened, and their parents, standing around at the edges, were entertained as well.  We told them, remember this playground can remind you that many people around the world care about you and are praying for you.  Also, we can remember to thank God for giving us a good life and good health to run and play even in the difficult situation of your homes. Their eyes and smiles shone more brightly than on any visit we've had with them previously.
As we prepared to do a skit, booms were heard in the distance, and within minutes the word came: ISIS was attacking. The program was over. Half of our team, including medics and cameramen, headed towards where the mortars we dropping to help. Parents and drivers gathered their kids and everyone flooded through the gates of the park. We quickly decided to give out the GLC shirts we had brought, and as everyone filed through the gates of the park, they received a shirt. Soon the street was empty, except for our group and Naim, the former ice cream maker, with his workmen.
The attack, launched on a Peshmerga position about 5kms away, soon quieted.  Naim brought us tea and we stood in the empty street, chatting and taking photos as the sun set on a quiet, rubble-filled city. The bright playground on one side stood out as a bold step of faith and hope, next to the destroyed buildings around Naim's factory; the laughter and fun and chatter that had filled the street just moments before was also filled with this same hope and faith. Yet the sudden quiet highlighted that it is a hope fraught with fragility. Thank you for standing with these courageous people and adding your faith and hope to theirs as they begin the fight to bring life again in this vulnerable place.
God bless you,
The Free Burma and Free Kurdistan Rangers