Syria Story — Children Wounded, Special Forces Helping, Families Fleeing and Orphans in Need of Love
11 June, 2016 Syria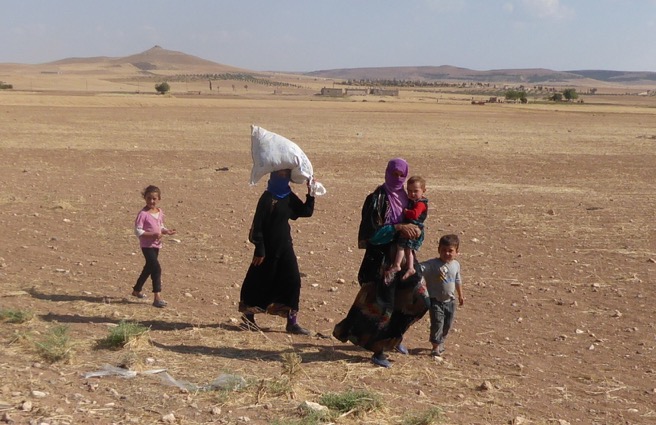 Dear friends,
Thank you for your love, help, and prayers. We were able to go on a short mission to Syria after our Kurdistan mission and are grateful to all who made it possible. Below is what we saw as immediate needs and a short story.
Immediate medical care for civilians caught in the middle of the conflict. After we crossed the Euphrates river on our trip to the new front line area, we were asked to help with a mass casualty situation. Some families who had been fleeing the ISIS controlled area were hit by an ISIS land-mine/EID. There were 12 people hurt, 8 of them seriously. Eliya our Karen FBR Medic from Burma joined the US Special Forces medic  already there to keep those who were injured alive. One little girl of about 5 years was hit in the head, chest and extremities. She had a brain injury, and serious internal injuries and bleeding. The Special Forces medic, Eliya and others of us there worked to save her life.There were brain trauma, sucking chest wounds, internal injuries, broken limbs, shattered arms and jagged flesh wounds. The Special Forces medic was outstanding as he attended to the most severely wounded and near death, dividing his duties with Eliya and delegating duties to the rest of us. His competency, coolness under pressure and humility was life saving for the victims and enabled all of us there to be put to maximal use. This was one of the many acts of service I have seen American soldiers do and is what the world needs to know about. There are children and families being injured and killed every day here and without the help of this medic and the other Special Forces here, many more would be dead. As we helped the medics treat and stabilize the patients and as I prayed for them one by one, I could see how great the need was for more medical help along the front lines.
Immediate food, humanitarian assistance and protection for people in front line areas especially where ISIS is being pushed back. On this mission we crossed the Euphrates river behind the forces driving back ISIS and in one area alone, we saw over 1,000 women and children wandering around empty villages. Some were from these villages, and some were from other areas that ISIS had been pushed out of.They had been living under ISIS control until ISIS was driven out. They ran to us begging for food, telling us that had not eaten for 10 days.
Daily care for the displaced people and especially orphans. In Kobane alone there are over 1,000 orphans who need food, clothing, education and most of all love. Our recommendation is for more NGOs to partner with the local organizations and provide daily contact and care for the refugees and especially orphans. They need regular visits and in addition to material relief they need attention and love.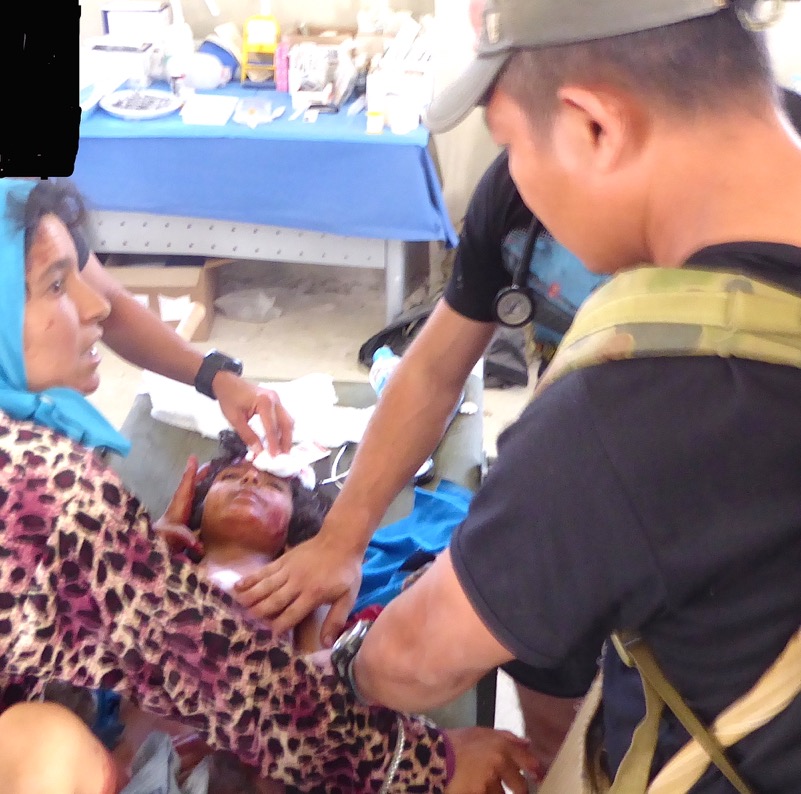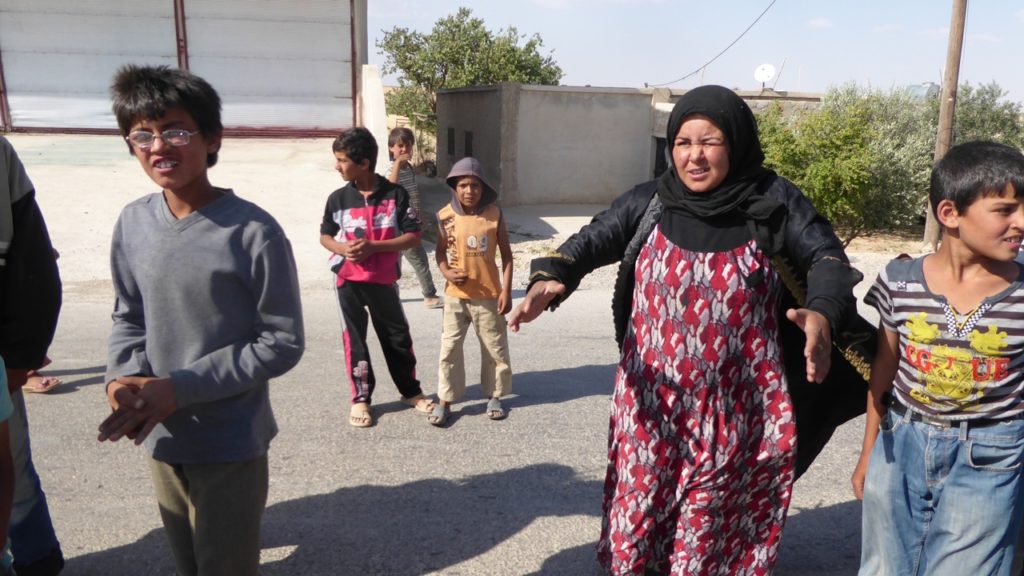 Syria Story
The way to Syria was blocked, initially; but due to the good will of our friends in Kurdistan we were given permission for a short relief mission to Kobane, Syria to help the orphans there. Since we have come back, the way has been opened for general humanitarian relief and we thank all involved for that. We crossed the Tigris river by boat and loaded all our supplies into a truck which broke down a few miles down the road. As we waited for another truck, the kids befriended some local villagers and raced their Arabian horses across the fields, much to the bewilderment and delight of the locals and our kids.
Another truck showed up to help out and we drove on to Qamishli and then along the Syria- Turkish border to Kobane, a city captured by ISIS and liberated last year. Much of the city is still in ruins but the people there are doing their best to rebuild their city. They need more help for reconstruction, sewer and water systems.
We met with local leaders and then went to visit the refugee camp on the edge of the city. All here have horrible stories of what ISIS had done to them and their families. One group of children told us that when ISIS came, their father was shot and killed outside their house. The mother ran out of the house and was shot to death also. The five children age 2-11 years old ran with their Aunt to her car and escaped.
We met some of the orphans and did a Good Life Club program with them- their hunger for  attention and love was heart breaking. After the program we gave out shirts, jackets, school supplies and for those that wanted them, story books and bibles in Arabic and Kurdish. Eliya our dentist/medic drilled and filled teeth and treated patients until late into the night.
The following day Karen and the kids stayed back in Kobane to do another program, hand out more supplies to the rest of the orphans and interview victims of ISIS attacks and occupation. Eliya and I went west to the new front lines, crossing the Euphrates river to learn the situation at the front. When Eliya and I crossed the river, we were asked by the people there to respond to a mass casualty situation where a group of civilians had been badly wounded by an ISIS land-mine/ IED.
An American Special Forces medic was already taking care of the casualties and Eliya went to work with him and the volunteer medics who were already there, trying to keep the casualties alive. The SF medic was not only caring, highly skilled and humble, he had the ability to organize all of us to best help the casualties. He reminded me of a conductor of an orchestra- a life saving one. The mother of one of the children who was severely injured, was herself in shock. When we gave her a bottle of water to drink, she put it up to her cheek, missed her mouth and dribbled the water down her chin, all with a terrified and bewildered look on her face. Her child was near death and there was nothing she could do. I prayed with each patient and all the who were conscious looked at me intently. As our eyes met and some smiled back, I hoped each person knew we came to love them.
After the patients were stabilized and evacuated back to Kobane, Eliya and I continued west to the front area to see another casualty collection point. ISIS was being pushed back towards Manbij and coalition aircraft were providing air support. On the way back we saw over 1,000 civilians wandering the streets and fields of abandoned villages and when they saw us they ran up to our vehicle begging for bread. One woman told us they had not eaten in 10 days and that all were desperate. We had no food with us and felt terrible and could only pray with them and tell them we would tell their story and try to get help. Further on we saw a group of two women and three children carrying their possessions across a dusty field. The seemed to wander aimlessly and looked at us fearfully. I tried to approach them but they shuffled away in terror. I called out to them and ran after them, pressing money into their hands as that was all I had to give. I told them in broken Arabic and English that God loved them and we would try to help. They understood at least the money and stopped and thanked us. They then walked on and as we watched, they changed direction three times and seemed to not know where to go to get help or be safe.
The orphaned children, the families wounded by ISIS and the villagers caught in between ISIS and advancing forces and those in areas recently liberated by ISIS all need help desperately and immediately. On the way back to Kurdistan, we stopped in Qamishli and did a broadcast and Sahale sang on ARTA radio station, a voice of hope in Syria.
Please pray with us for help for these people and for how FBR should respond.  While Burma is our main mission we are also committed to helping in Kurdistan, Syria and Sudan when we can. Our plan now is put together another team and come back in September to help. There is not yet complete freedom in Burma and the Burma Army continues its attacks especially in the north and yet some our team members feel called to help in places like Syria, Kurdistan and Sudan.
Thank you for praying with and helping us for all of this.
God bless you,
Dave, family and all of FBR