Multiple forces in the Divide, An Update on Karen 7th Brigade Region
Karen State, Burma, May 20, 2016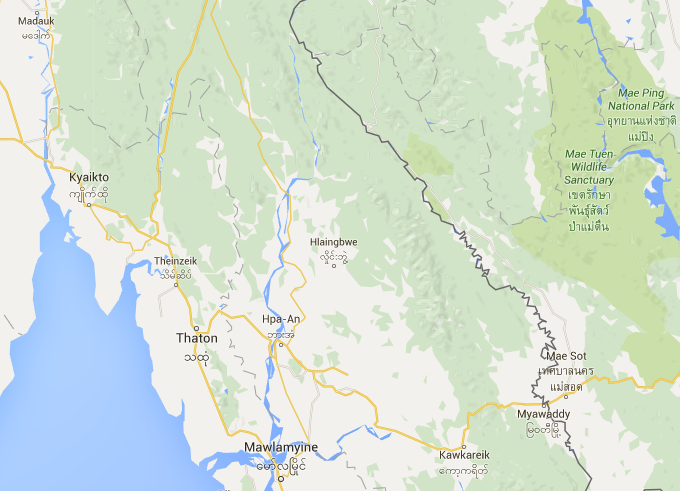 Overview
Once one of the strongest regions in Burma for the Karen National Liberation Army (KNLA), the area around KNLA 7th Brigade now stands as one of the most divided. As of March, 2016, the area is now split into six different territories controlled by six different armed groups: the Burma Army, the KNLA, the KNLA PC, the Democratic Karen Benevolent Army 1st Brigade (DKBA 1), a rogue faction of former DKBA soldiers known as the DKBA 2nd Brigade (DKBA 2), and the Border Guard Force (BGF). Despite the divisions the ceasefire is still holding and with the exception of the DKBA 2, all military organizations are maintaining peaceful relations and maintaining a positive line of communication.
Within the gaps however, instances of lawlessness have arisen, and there are still many unsolved problems that continue to affect the 7th Brigade region.
Landmines
Neither the Burma Army nor the KNLA are laying new landmines in the area, however, the issue of old landmines and minefields still persist.
Military Update
Burma Army
Size – More than 20 battalions
Activity – Stays in camp, not patrolling often
Location – Hilltop 962, Hilltop 913 (close to Mannerplaw), Kawkawhtaw
Unit – Light Infantry Battalion 204 and Division 44
Equipment – Small Arms, RPG's, 120 mm mortar, armored riverine patrol boat (.50 caliber mounted), no tank/airplane/helicopters. 16/17 supply trucks
Karen National Liberation Army PC
Size – Unknown
Activity – Stay in Camp
Location – Tohkawkoe
Unit – Unknown
Equipment – Small Arms, 81mm mortar, 60 mm mortar, RPG's
Democratic Karen Buddhist Army Brigade 1
Size – Unknown, varies due to conscription
Activity – Occasional patrols
Location – Walley
Unit – None
Equipment – Small Arms, RPG
Notes: Will randomly conscript villagers to go on patrol with them. Some villagers give consent, some do not indicating forced conscription.
Democratic Karen Buddhist Army Brigade 2
Size – Unknown, possibly around 50
Activity – Taxing people in their region, not patrolling
Location –  Hteekaneh
Unit – DKBA 2 2
Equipment – Small Arms, RPG
Notes: According to local sources the DKBA 2 is no longer officially associated with the DKBA, and have become an rogue isolated faction in K7. Their main activities have involved them levying a tax on local villagers: amount unknown. The DKBA 2 has also withdrawn from communication with other major armed groups.
Border Guard Force
Size – 1 battalion, 60/70 soldiers
Activity – Taxing, charging for a temporary license for cars or trucks: 100,000 Kyat (~ $84USD)
Location – Bobawhtah
Unit – 1016
Equipment – Small arms,  RPG, .50 caliber machine gun(s)