JSMK Staff Report: JSMK Staff Vaccinate Children in Local Villages
8 September, 2015 Karen State, Burma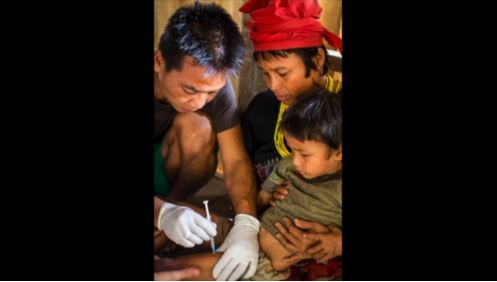 Within the next month FBR medics will have completed the full series of vaccinations for children living in two villages near our school. A third village has consented, and vaccines are being purchased for them. Though vaccination is a basic public health measure in much of the world, most children in Karen State, Myanmar have never received them, leaving them susceptible to illnesses that have been largely avoided in more wealthy countries. This shortfall is the result of isolation brought on by many years of war. Vaccines must be kept refrigerated or they spoil within hours. The lack of reliable refrigeration and electricity along with lack of easy access by roads are finally being surmounted.
That doesn't mean that children enjoy getting immunized. Each village visit by our vaccination team elicits unhappy anticipation by young children and tears with protests at the moment followed by a small candy as reward for all the pain. We number and photograph each child so as to avoid any duplication or mixups
Kawthoolei Vaccination Project — 2015 from Free Burma Rangers on Vimeo.
More than 90 children have been immunized. We are grateful to the many who have made this challenging task possible. Hope has led the effort, gathering generous funding, purchasing supplies and equipment, and developing the team. Several foundations have provided backing, and the Jungle School of Medicine – Kawthoolei's medics with leadership by Saw EhBee have been trained and carried out the immunizations. Keeping the fridge charged and cold during the rainy season has been a daily effort for others. Our efforts join those of the Karen Department of Health and Welfare who are vaccinating children in other villages in the region.
Outbreaks of illness here in Karen State are still common, and it is exciting to hope that in these villages (and more to come), some protection can be afforded these isolated and well-loved children.